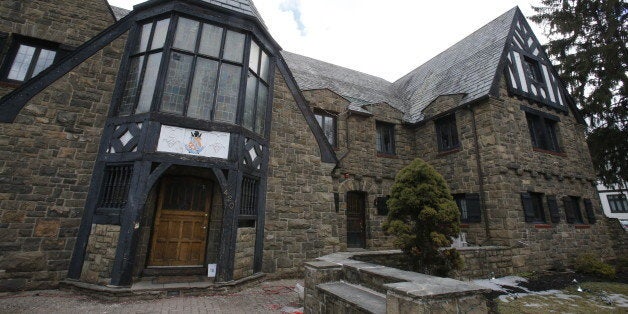 Penn State University on Tuesday booted the Kappa Delta Rho fraternity from campus for at least three years after an investigation into the distribution of nude photos of unconscious women, hazing and harassment.
School administrators overruled the student-led Interfraternity Council and imposed the suspension after finding evidence fraternity brothers used drugs, tolerated hazing of new members, posted humiliating photos of members and non-members, shared pornographic pictures of women, and used "demeaning language to describe females."
"The investigative report makes clear that some members of the KDR chapter promoted a culture of harassing behavior and degradation of women," Damon Sims, vice president for student affairs, said in a statement. "These are not acceptable actions within a student organization that is recognized and supported by Penn State. We must respond accordingly, and we hope by doing so it is clearly understood that our University will not tolerate such actions."
The frat initially came under scrutiny after a brother tipped police in January to two private Facebook pages, where members for more than a year discussed drug sales and sexual conquests, shared photos of strippers and passed-out naked women, and chatted about hazing. The university's investigation confirmed members of the fraternity were aware of the Facebook accounts, and uncovered more bad behavior that included public harassment of members and non-members.
State College Police Lt. Keith Robb told HuffPost on Tuesday that the investigation of the Facebook pages remains unfinished.
The university announced its decision after the KDR national office erroneously said its Penn State chapter would not be removed from campus on the Intrafraternity Council's recommendation. The council had recommended allowing the frat to remain on campus with educational programs and new local advisory board members.
The council said in a May 13 document that brothers "were aware of the expectation that the new members publish, on a regular basis, a document titled 'Stall Stories' where active members and, in some instances, unaffiliated students were harassed and degraded in flyers left in public view throughout the chapter house."
The university said Tuesday that its probe found that pledges were forced into boxing matches, and had to "plank with bottle caps on their elbows," pressing the caps into their skin with their body weight. "Pledges also were made to create stories containing pornographic images and a 'sex position of the day'; members regularly posted embarrassing photos of women; used demeaning language to describe females; and cultivated a persistent climate of humiliation for several females," Penn State said.
KDR's national office said in March that it would expel misbehaving members, implement new education programs and join a consortium of national organizations that maintain a hazing hotline.
On Wednesday morning, KDR National Executive Director Joseph Rosenberg issued a statement saying the national office respects the university's decision. He did not explain why his office had initially said, the day before, that the fraternity would not be removed from campus.

"We agree completely that the conduct described in the statement is unacceptable," Rosenberg said. "As stated in the Report of the Inter Fraternity Council, only a few of our members were accused of such misconduct. As we outlined previously, we have initiated disciplinary proceedings against members accused of any wrongdoing, and have established educational programs and other measures, such as a hazing hotline, to address and prevent future misconduct."
Read the May 13 letter from the Penn State IFC to Kappa Delta Rho:
Read the May 26 letter from Penn State administrators to the IFC:
This story has been updated to include comment from KDR's national office.

Calling all HuffPost superfans!
Sign up for membership to become a founding member and help shape HuffPost's next chapter