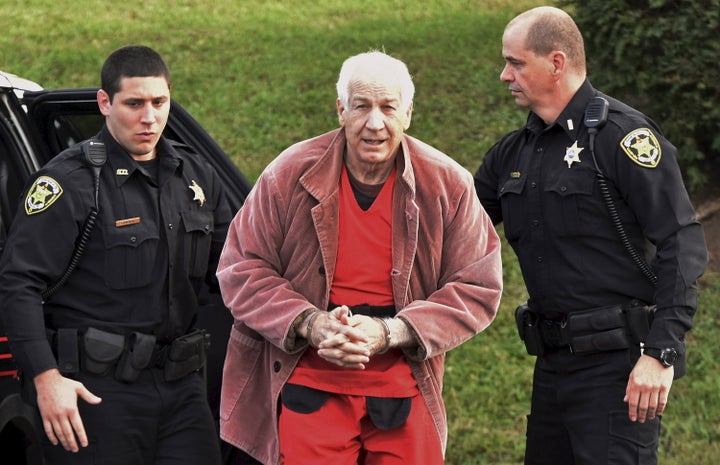 NEW YORK, Nov 3 - Penn State University is facing a $2.4 million fine for mishandling child sexual abuse complaints against convicted former football coach Jerry Sandusky, the U.S. Department of Education said on Thursday.
The department said it is seeking to impose the penalty and issued a scathing 239-page report that capped a five-year investigation into how the school complied with a federal law, the Clery Act, requiring schools to report campus crimes and warn students of any danger.
The school violated the law when it failed to alert its students and employees that Sandusky was going to be criminally charged in 2011, according to the department. Sandusky was convicted of 45 counts of child abuse, and several Penn State officials face separate charges for not reporting Sandusky earlier to authorities.
Although the fine is the largest the Education Department has ever levied under the Clery Act, it is a fraction of the penalties imposed on Penn State because of the Sandusky scandal.
Last week, a Pennsylvania jury awarded more than $7 million in damages to a former Penn State University assistant football coach who said the school retaliated by firing him after he implicated Sandusky as a child abuser.
The school also agreed in 2012 with the National Collegiate Athletic Association to pay a $60 million fine to benefit victims.
The Department of Education probe examined Penn State's compliance from 1998 to 2011, during which prosecutors said Sandusky engaged in acts of child abuse, sometimes on campus. The report faulted officials for allowing Sandusky full access to the school's facilities even as criminal charges were imminent.
"In short, a man who was about to be charged with violent crimes against defenseless minors was free to roam the Penn State campus, as he pleased," the report said.
Investigators also said Penn State failed to provide crime statistics required by the Clery Act, named after a 19-year-old woman who was raped and murdered in her dorm room at Lehigh University in 1986.
In a statement, the school said it has taken significant steps since then to fix the problems identified in the report, including 18 initiatives focused specifically on combating sexual assault and misconduct.
"While regrettably we cannot change the past, today the university has been recognized for significantly strengthening our programs since 2011," Penn State said. "The safety and security of our university community is a top priority."
Sandusky, who was convicted in 2012 and sentenced to between 30 and 60 years in prison, is due back in court on Friday to continue his bid for a new trial.
(Reporting by Joseph Ax and Laila Kearney in New York; Additional reporting by David Shepardson in Washington; Editing by Lisa Shumaker and Steve Orlofsky)
Calling all HuffPost superfans!
Sign up for membership to become a founding member and help shape HuffPost's next chapter
BEFORE YOU GO
PHOTO GALLERY
Bella Russe, The Goat From Penn State