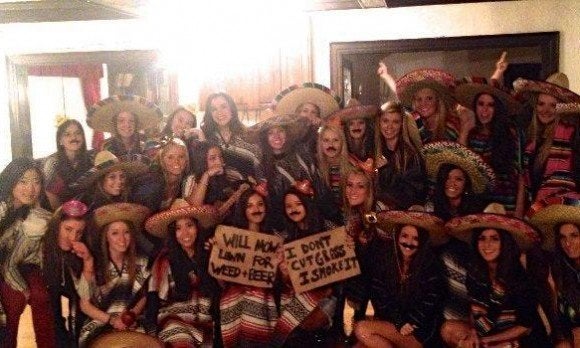 The sorority (which technically considers itself a women's fraternity) faced backlash in December 2012 when a photo circulated online of roughly two dozen members dressed in stereotypical Mexican garb, complete with fake mustaches and signs reading "Will mow lawn for weed + beer" and "I don't cut grass I smoke it." The photo was taken around Halloween 2012 at a social event. Chi Omega remained on probation by its national office since the December 2012 incident, according to the Associated Press.
The university did not punish the sorority at the time.
The sorority's national organization said in a statement last week the decision to close the Penn State chapter was made after a Feb. 11 campus visit:
Members of Nu Gamma Chapter have participated in activities that are not congruent with Chi Omega's values and purposes. Chi Omega alumnae volunteers and Executive Headquarters staff members have worked closely with the chapter members to provide the highest level of support in order to move the chapter forward. However, many members did not adhere to the mandated requirements.
DeMallie told HuffPost in an email, "The Nu Gamma chapter had problems in the past and had been working with their National Organization to meet Chi Omega's National values and purposes. ... The National Organization was hoping that the Nu Gamma chapter would have further developed in the terms of these values and purposes."
This post was updated to include new comment from Meaghan DeMallie.
Clarification: Language was added to explain that while most people would consider Chi Omega a sorority, it does technically consider itself a women's fraternity.
Related
Popular in the Community