 Penn State University students and alumni are outraged at the punishments handed down on their beloved football program by the NCAA over the cover up of Jerry Sandusky's years of child sexual abuse.
The Philadelphia Inquirer describes the scene:
First, the $60 million fine elicited whistles and "Oh's." The four-year postseason ban and reduction in scholarships was met with louder wordless groans. When Emmert said all the team's victories from 1998 through 2011 would be wiped from the record books, one young woman cried out, "What!?" From that moment, the reactive buzz grew. Several students stalked away in disgust. As Emmert concluded his remarks, noting that the punishment would inevitably harm "many who had nothing to do with this case." His words were drowned out by a parade of students and parents who had been led into the HUB on a campus tour.
Maria Wolfel, a freshman, told the Daily Collegian she felt like she was "punched in the gut."
"I was shaking when I was watching," Wolfel said. "I was trying to hold back tears. It's terrible."
The punishments certainly affect students and fans uninvolved in the scandal, but NCAA President Mark Emmert said they wanted to send a message to collegiate athletics programs nationwide.
"No price the NCAA can levy will repair the grievous damage inflicted by Jerry Sandusky on his victims," Emmert said. "We can make clear that the culture, actions and inactions that allowed them to be victimized will not be tolerated in collegiate athletics."
The recent Freeh report indicated there was a culture that existed at Penn State that held the football program's importance too high -- an opinion shared by critics of other universities for separate reasons.
By deciding against the Death Penalty, which would've canceled PSU's football season altogether, the NCAA spared local businesses who rely on the regular games for income.
"[The sanctions are] severe, but I can't disagree with them," Jacob Ross, an incoming PSU freshman, told Bloomberg. Ross added that shutting down football "would have just victimized people who didn't deserve that," like the marching band, the town and players.
"I'm really upset. It's shocking, and it's sad that they are penalizing the players who were at the time maybe five to nine years old," Gabby Coll, another freshman, told the Collegian. "The current players of our teams that make up all the athletics here are being penalized for something that five men did."
Julie Behr, a PSU senior, was leading a tour of high school students Monday who were visting the campus for a program called "Spend a Summer Day With Us." The news of the penalties caused her to break down and cry, and Eric Greene, another tour guide, came to comfort her, the Inquirer reported.
"We have been through so much over the past year as a community," Behr said. "It's just hard to know we're going to continue to struggle with this going into the future."
Some students worried the $60 million penalty could result in higher tuition. Penn State is already the most expensive four-year public university system in the country, according to the U.S. Department of Education.
Alumni expressed grief as well.
"It's a shame that, as with a lot of things, you have a few culprits, and the carnage tends to really affect those that aren't involved," Nikos Phelps, president of the Harrisburg-area chapter of the Penn State Alumni Association, told the Wall Street Journal.
Another alumnus told the WSJ they are afraid to wear Penn State gear in public, a common sentiment reflected in other news reports as well.
Anthony Lubrano, a member of the PSU Board of Trustees said the school "rolled over and played dead."
"It's really simple: I am frankly outraged as a member of the board of trustees that the university entered into a consent agreement without discussing it with the board in advance of signing,'' Lubrano told USA Today. "If I'm going to be held accountable, I feel like I should've been part of that process. I think it's fair to say that a number of board members are upset."
Before You Go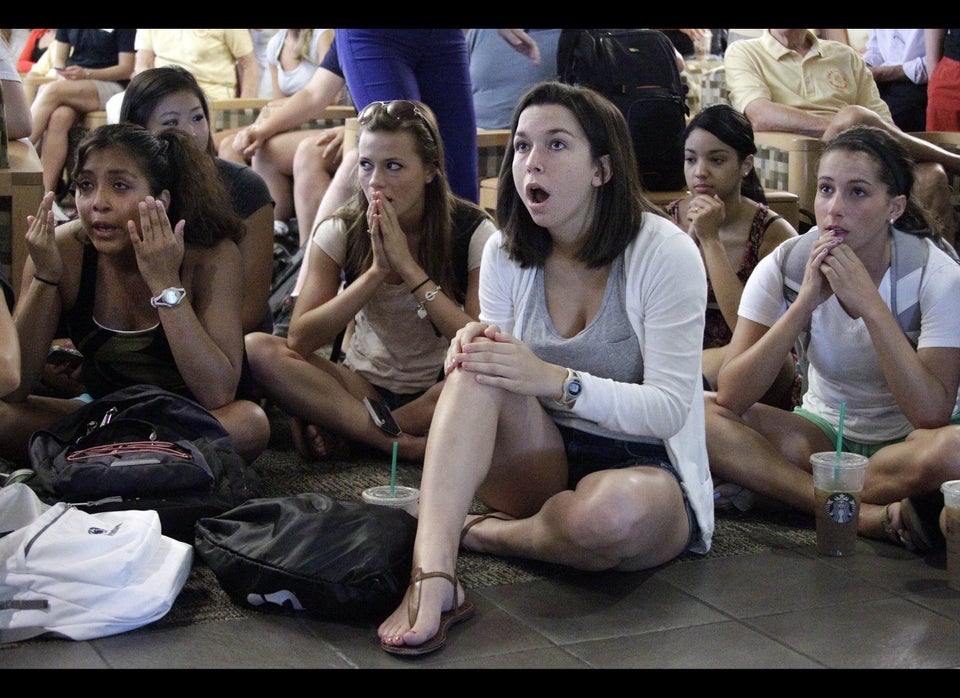 Penn State University Community Reacts To NCAA Santions Against The Football Program Over Jerry Sandusky Scandal
Popular in the Community