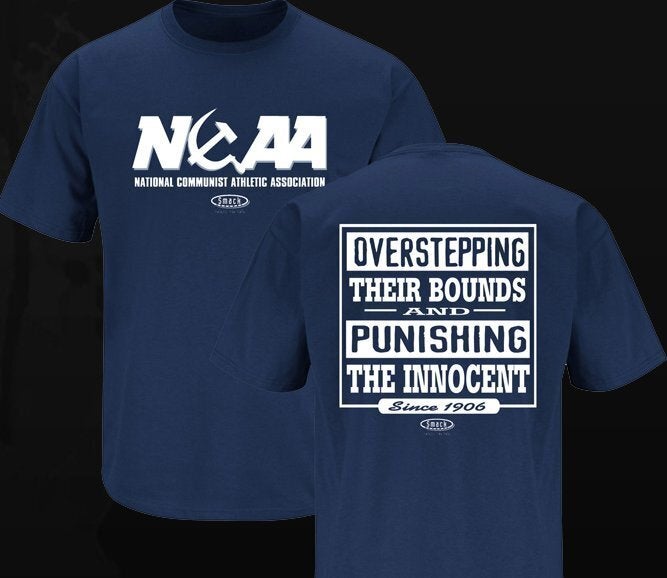 A Penn State T-shirt that somehow equates the NCAA with communists is available for $17.99, comrades. No class struggle required.
The Student Bookstore, an unaffiliated off-campus outlet, and manufacturer Smack Apparel (online) are peddling the shirts to protest what some supporters feel is an overly severe NCAA punishment of the university in the wake of the Jerry Sandusky scandal, according to several reports.
The front of the shirt features "NCAA" with the Bolshevik hammer and sickle replacing the "C". Under the "NCAA" reads: "National Communist Athletic Association". The back says: "Overstepping Their Bounds And Punishing The Innocent Since 1906."
The NCAA crippled the school with a $60 million fine, scholarship restrictions, and a four-year postseason ban. It also struck from the record the football team's victories since 1998.
The shirt is neither licensed nor endorsed by the university, it should be noted.
Apparently the pinko reference apparently didn't go over big with some critics. The Big Lead called out the T-shirt makers for playing the "victim card" . Deadspin asked,"Why would anyone ever buy this?"
Onward State blogger Kevin Horne, whose tweeted photo of the shirt got the media ball rolling, apparently had to defend himself. He tweeted, "Come on you guys, I thought we all hated the @NCAA?" reported the Atlantic.