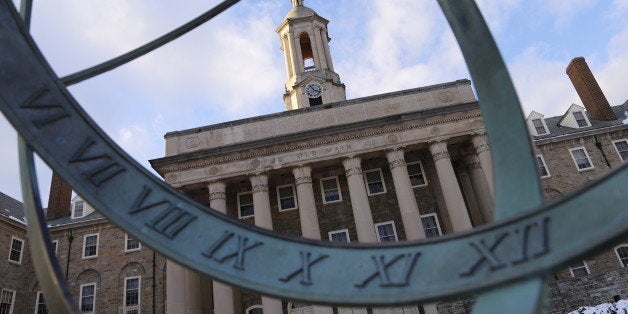 Penn State University should reveal more information about how the school punishes sexual assault, change how it investigates rape claims and survey students on their experiences with sexual violence in college, a task force said Thursday.
The Penn State task force on sexual assault report makes 18 recommendations, including improving employee training, identifying which staff members must report assault cases, hiring a full time Title IX coordinator to oversee improvements, and releasing expanded data on sexual misconduct punishment.
"Right now, in the absence of information, people fill in their own gaps," Danny Shaha, senior director of Penn State's student conduct office, told The Huffington Post on Wednesday.
Alexandra LaMont, a student member of the task force, said the campus gets text messages each time an assault is reported, but nothing is shared when a sexual violence case is adjudicated. Penn State should provide more information to "bridge the gap," she said.
The handling of sexual assault cases at Penn State and 94 other U.S. colleges and universities is under review by the U.S. Education Department's Office for Civil Rights, prompting many schools to examine their policies.
Penn State's task force was set up in 2014 and includes students, faculty and staff members. Following meetings and conferences to gather feedback, the task force released its report to the Penn State president on Jan. 23, and to the public on Thursday. President Eric Barron will consider the group's suggestions.
Few other universities share information about how sexual misconduct is punished, the report notes. But that's changing. Some Penn State students, according to the report, believe "the consequence for plagiarism, for example, was often more severe than the consequence for sexual assault, and cannot understand why."
Several task force members denied there's a punishment disparity. But they said they want to reevaluate sanctions for sexual assault and share more information with the campus community. Damon Sims, vice president of student affairs and chair of the task force, noted that light sanctions often come at the request of victims, which he said was an important consideration.
"Admittedly, the redemptive purpose of the University's student discipline process discourages harsh penalties," the report says. "But the seriousness of sexual misconduct must be met with appropriate consequences."
Legislation introduced in the U.S. Senate last year would require colleges to release data on the outcomes of sexual misconduct cases. Schools currently have no obligation to do so.
The task force suggests that Penn State consider a restorative justice process in some cases, which encourages an accused student to acknowledge wrongdoing, and that the school change how misconduct charges are applied in other cases.
The school's current model for handling sexual assault cases, with a hearing panel, doesn't fully inform accused students about charges, the report says. The process also allows "inflammatory statements about students' prior sexual histories, emotional and psychological difficulties." To fix this, the university should move toward a single investigator model, with a trained staff member to interview witnesses, collect testimony and evidence, and make a presentation to a panel that would adjudicate the outcome.
"Not everybody has gone in that direction, but we're going that way as quickly as we possibly can," Sims said.
The task force calls for the university to begin surveying the campus climate on sexual assault as soon as April. Penn State was one of many schools that declined to participate in a survey created by the Association of American Universities, an elite higher education trade group, which was criticized by faculty researchers nationwide.
Sims said Penn State leaders are "glad" they chose not to take part in the group's survey. The Penn State task force hopes to establish its own survey, influenced by a White House pilot survey at Rutgers University, and may work with peer institutions in the Big 10 Athletic Conference on administering it.
The task force report also criticizes university efforts to prevent sexual assault. The report says students are already adults by the time they arrive on campus, with "relatively little prior education on sexual assault." Many already have been socialized into unhealthy and risky practices, the report says.
Some of the current education programming is ineffective, the task force says. Melissa McCleery, a student member of the task force, noted that many students fail to pay attention to the required online modules on sexual violence. Penn State should reconsider its programming and emphasize bystander training to help compel students to stop an assault when they can.
"In a party situation, where someone has been drinking and someone else is trying to take advantage of them, you don't have to step in and be a hero and change the entire world," McCleery said, describing bystander intervention. "It can be, 'Hey, I think your friends are looking for you, can you come over here with me?'"
Sims said the task force considered changes likely to result from the federal investigation. The possibility of new federal or state laws may require further changes, he said.
Calling all HuffPost superfans!
Sign up for membership to become a founding member and help shape HuffPost's next chapter