Thirty feet above the floor of the Pegula ice skating rink, in a lounge that usually houses hockey commentators and coaches, a more curious group of people gathered on a golden April afternoon. The well-dressed crowd included Andrew Sears, the Dean of the Penn State college of Information Sciences and Technology (IST), the CEOs of Weebly, Reddit, and other Silicon Valley stars, and dozens of students representing a multitude of colleges, majors, and ideas. They were gathered for the final round of judging in the Ideamaker Challenge, the crux of IST Startup week-a five-day event centered on innovation and entrepreneurship in the tech industry. The challenge was this: students identified a big problem that they saw in the world and created a potential solution that leveraged information technology as a component of their business model. Judged by award-winning IST professors and the founders of billion-dollar tech companies, the students in the Ideamaker Challenge were competing for a formative trip to Silicon Valley, where exposure to workshops, demo days, and more would accelerate their project from an idea on a poster to a real profitable business.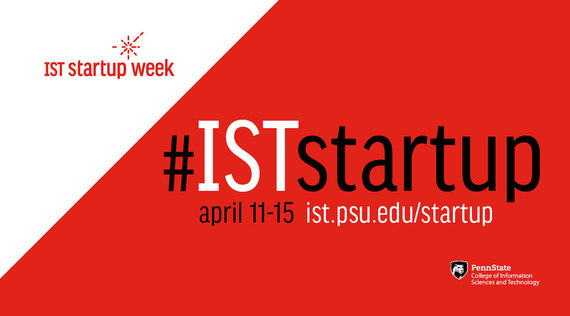 The results were astounding. Ambitious and intelligent, the multi-disciplinary teams of students produced projects that ranged from the automated resume creation service provided by Nametag to the production of robotic-assisted speech devices for people with non-verbal disabilities launched by Project Vive. Among the crowd of impressive ideas, however, two projects, eMed and Parking Bee, attracted the attention of the judges, winning the top prize of a paid trip to Silicon Valley. EMed, created by juniors Prashant Maddeineni, Nathaniel Snyder, and Joshua Ellwood, is an app that provides smart phone users in Nepal with easy access to life saving medical documents. Parking Bee, described by creator Mike Black as "an Air BNB for parking spots," is an app that allows users to rent or sell parking spaces. As part of their trip, funded by PSU alumni and Weebly founder David Rusenko, the teams will participate in a mini-accelerator program, including demo days, and networking with other tech professionals.
Almost every student at the event knew each other, since startup students at Penn State tend to belong to the same subculture, circulating around student-driven entrepreneurial efforts. One of these organizations, Innoblue, is a Penn State Student org that focuses on creating a formative space for thinkers, hackers, creators (whether just starting out or experienced) and anyone with an innovative mind and an entrepreneurial spirit. Not only do they expose students to the nuts and bolts of student entrepreneurship, but they also empower them to have the courage to join the growing ranks of Penn State students who have founded a startup company while still in school. Innoblue's culture inspires this mindset of energy, bravery, and the reckless belief that they can change the world radiates from the students at the poster competition, a mindset that has been promoted by Penn State's promotion of student entrepreneurship.
However, Penn State, like many universities, struggles to keep pace with the roaring demand for programs that foster and support student businesses, especially IT startups. While Penn State does have an established academic program that seeks to teach entrepreneurship in the classroom, students like Victoria Babb, the vice president of Innoblue, want less to see financial and academic support and more of a mentoring program. Babb stated that entrepreneurship at Penn State was "started with students and fostered by students." However, she also said that she felt the Penn State administration, while enthusiastic in its support of student business leaders, tries to provide resources that most entrepreneurs do not actually need. Most of the students that develop businesses at Penn State don't need money, but they do need advice.
IST Startup week seeks to provide students with this much-needed guidance from leaders in the tech industry. Now in its fifth year, this event has drawn speakers from around the country, including many alumni, who have created well-respected and valued businesses and products in today's technology market. Straight out of Silicon Valley, the speakers included Steve Huffman, the CEO and founder of Reddit, Matt Brezina, founder of Xobni, and all three founders of Weebly, David Rusenko, Chris Fanini, and Dan Veltri. In addition to inspirational talks, Startup Week includes pitch competitions, entrepreneur office hours, an innovation expo, and networking events.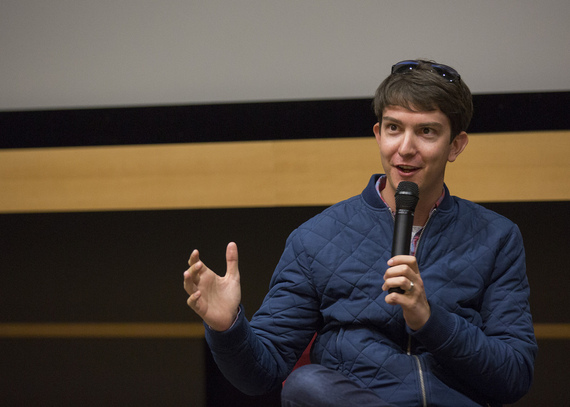 David Rusenko, CEO of Weebly, speaks to Penn State students. Photographer-Emilee Spokus


By connecting students with innovative alumni and pioneers who are achieving success--through startup initiatives of their own or with new ventures in already established organizations--Startup Week inspires students to go beyond what is expected of them and expand their minds to think more broadly in whatever career path they choose.
According to Matt Brezina, co-found and CEO at Sincerely, programs IST startup week "are exactly what colleges and universities should be doing to promote entrepreneurship." Brezina, himself an alumni of Penn State, founded the Summer Founders program as part of a university-wide effort to nurture innovation and entrepreneurship. This program, modeled on the wildly successful venture capital firm known as the Y-combinator, provides teams of students with $10,000 and other resources for an entire summer. "The goal is to eliminate their distractions," said Brezina, "if we can get them focused on solving the problem at hand I know they can do incredible things." The Summer Founder's Program, like IST Startup week, provides the invaluable opportunity to connect to the incredible people at Penn State. According to Brezina, "physical space and financial support doesn't matter as much as the networking connections these young entrepreneurs form during events like this Startup Week."
Chris Fanini, David Rusenko, and Dan Veltri, the founders of Weebly would agree with Brezina. Rusenko, a IST major, first developed Weebly as part of a project at Penn State, and teamed up with Fanini and Veltri to create one of the most successful websites today. The three all spoke at IST Startup week, and met individually with students to give them advice on their entrepreneurial ventures. The three alumni provide these opportunities to students because, as Fanini said, "IST is all about furthering people's education of the world we live in today, and that's a cause we're happy to give back to."
While these tech-focused alumni are hugely impressed by Penn State's leadership in actively shaping brilliant and hardworking tech entrepreneurs and business leaders, other influential people in Silicon Valley have started to gain new respect for the university. Evan Stites-Clayton, the founder/CEO of Teespring and a graduate of Brown University, has been involve in many tech events at Penn State, including Penn State's Hackathon. "The scale and quality of projects students complete is really exciting," said Stites-Clayton. "Penn State has one of the best track records of producing successful entrepreneurs. The whole community in Silicon Valley has been blown away by Penn State grads, so they have a very positive recommendation within the industry."
The world is changing. While in days gone by, places like Harvard or Yale were the only places for brilliant tech entrepreneurs to graduate from (or drop out of), Penn State has proven its capacity to adapt to a world where technology, innovation, and entrepreneurship are the new essential skills for successful professionals. At IST Startup week, the alumni and professionals who attended have been wildly successful in their own respective fields; however, in just a few years, the students who were presenting at the Ideamaker Challenge, inspired by the attitude of innovation fostered by Penn State, will be the CEOs of tech companies, the founders of million dollar startups, and the people who lead our world into a new age of technological innovation.
REAL LIFE. REAL NEWS. REAL VOICES.
Help us tell more of the stories that matter from voices that too often remain unheard.