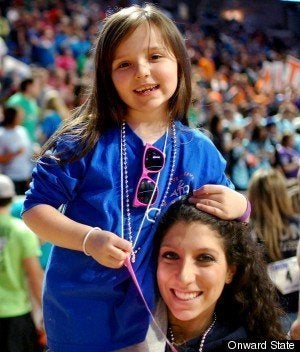 Tomorrow, the energies of an entire campus will be devoted to one thing: curing pediatric cancer. This is the real Penn State; this is who, "We Are."
The IFC/Panhellenic Penn State Dance Marathon, (more affectionately known as THON), is the largest student run philanthropy in the world. Over 15,000 students are dedicated to raising funds to benefit the Four Diamonds Fund. Established by the Millard family after the loss of their son Christopher, the Fund provides monetary support for the families of children battling pediatric cancer. The fund also supports state-of the art research centered on finding a cure. When a child is diagnosed with pediatric cancer at the Hershey Medical Center (located in central Pennsylvania) they automatically become a Four Diamonds Child. The fund will cover all expenses after insurance, including travel expenses and lodgings for the family. In addition to providing monetary support, there are also trained professionals, such as social workers and specialized therapists, who care for the emotional needs of the families. Last year alone, Penn State students raised $9.56 million bringing THON's cumulative contribution to the Four Diamonds Fund to over $78 million. As we enter THON's 40th year, hopes are high to surpass what we have accomplished in years past.
Coming to Penn State as a freshman, students are instantly bombarded with various activities they should join. However, one stands out among all others: THON. Many people have different ways that they are involved. Some choose to take leadership positions within THON overall, the governing body of THON. Many other organizations, Greek and independent alike, also actively participate. However, in the past few years, there has been a rise of special interest organizations - groups that exist solely to fundraise for THON. I am a part of Atlas, one of these THON centered organizations.
Atlas has enhanced my THON and college experience in ways I could have never imagined. THON organizations have the chance to sponsor Four Diamonds families. Since Atlas is a large group, we are fortunate to have two inspiring families - each with a daughter who has battled cancer - that we have supported through treatment and into their remissions. Atlas has created incredibly strong bonds with both of our families; our members frequently visit one of our families' houses each week to eat dinner and play with the kids. Although many students get caught up in the fantasy world of college life and stress about an exam or quiz, our families easily put our trivial problems back into perspective. The strength of our girls and their families in the face of such austere obstacles at their young ages has been a source of motivation and inspiration for all of our members.
Our families are the reason we fundraise throughout the year. They are the reason why we spend hours planning bake sales, contact companies and stand on the sides of streets with cans collecting spare change. The results can be seen in the life-saving drugs and treatments provided to children like the ones who have become part of our Atlas family.
In February of each year, months of fundraising and support culminate in a 46-hour no sitting or sleeping dance marathon. This is meant to be a celebration of all the hard work performed throughout the year. More importantly, it is meant to be the one weekend of the year these children can have fun and play like normal children, with the advantage of 15,000 college friends. For one weekend, the cancer floor at the Hershey Medical Center and their treatments do not exist and instead the kids are celebrated and made to feel like rock stars. For Four Diamonds children, THON is better than Christmas.
To show our unwavering support, each organization is allotted a specific number of dancers who make the pledge to stand in solidarity with those who have pediatric cancer for all 46 hours. This year, I was selected to dance for Atlas. Representing my organization and our families is an immense honor. My fellow dancers and I will endure aching feet and exhaustion because we know our pain is nothing compared to the battles these kids face on a daily basis. Words cannot express my excitement and I have been anxiously preparing, mentally and physically, to make the most of this once-in-a-lifetime experience.
If you would like to learn more about THON, please visit our website at THON.org! There you could express your support by making a donation via a secure server. If you like, you can credit my organization, Atlas! Donations will be credited for this year's total until this Saturday at noon. You can also tune in this weekend and watch the live webcast of THON at THON.org!
Together we are making a difference in the life of a child!
Calling all HuffPost superfans!
Sign up for membership to become a founding member and help shape HuffPost's next chapter