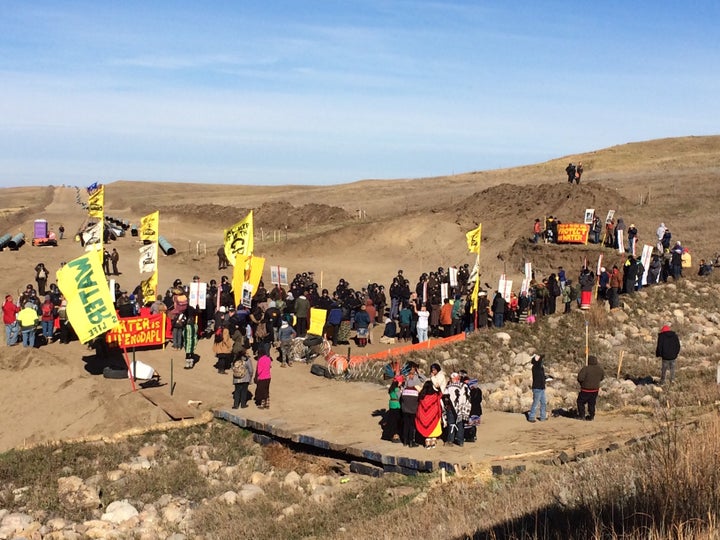 Oceti Sakowin Camp, Standing Rock, ND.
Monday morning October 10, 2016,
"WAKE UP WARRIORS!" blared the loudspeaker through the frigid morning calm. "Last night the injunction was lifted! The time has come for action. This is what we are here for. Meet at the south gate. We. Must. Kill. The. Black. Snake."
On the morning of October 10, 2016 (Indigenous Peoples Day here, formerly known as Columbus Day), my friend Carla and I are awoken by the commotion and the call to join hundreds of campers in a caravan to the Dakota Access Pipeline (DAPL) construction site in the town of St. Anthony – the front line of the battle against Energy Transfer Partners' 1170 mile, 30-inch diameter pipeline that would cross the Missouri River and connect the rapidly expanding Bakken and Three Forks production areas in North Dakota to Patoka, Illinois. In the process the Dakota Access Pipeline will desecrate traditional sacred lands of the Standing Rock Sioux tribe and threaten the region's water supply.
Our fight to protect the Delaware River Valley from the PennEast Pipeline has involved opposition, on many levels: individual, community groups, environmental groups, expert reports, attorneys, etc. Our participation in the public consultation process with the Federal Energy Regulatory Commission has been frustrated by a lack of consideration as our involvement has been met with adversarial posturing. When we learned about the situation in Standing Rock, we felt compelled to show our solidarity with their struggle and learn from their peaceful, non-violent methods of civil disobedience.
The Oceti Sakowin camp is one of three activist settlements located along the Cannon Ball River about 30 miles south of Bismarck. It is the largest and most diverse, home to an assortment of Native Americans, activists and international visitors who have converged in support of the NODAPL cause.
The main gate opens to the Avenue of Flags, a wide dirt lane lined with hundreds of flags representing tribes all over North America who have come to Standing Rock to show their support. At its height, over Labor Day weekend, the camp had swelled to thousands, the largest gathering of Native Americans ever.
"This event has changed everything," declares Lew Hastings, founder of the Native Now Foundation, whose family lives in Standing Rock. "There is no comparison in history to compare with what has happened in Standing Rock. When 300 out of 570 Native American tribes stand in solidarity – nations who've been enemies for centuries standing together ­­– well, this has not happened in recorded history. And no matter what happens, nothing can ever go back to how things were before."
That weekend in early September culminated in a series of events – the arrival of armed National Guard soldiers to enforce "security", the brazen bulldozing of native American sacred sites, the independent news channel, Democracy Now's video of private security forces using guard dogs to attack peaceful demonstrators; a pair of conflicting court decisions, including the temporary injunction to halt pipeline construction near sacred lands that catapulted the relatively obscure DAPL into an international cause célèbre.
Now, in mid-October, Standing Rock camp populations have shrunk. With the cold weather setting in, supporters are returning home. Efforts to build more permanent structures to house those who hope to stay through the winter are underway. Sturdy teepees are replacing the flimsy canvas tents that dot the camp, which will allow dwellers to cook and heat with open fire.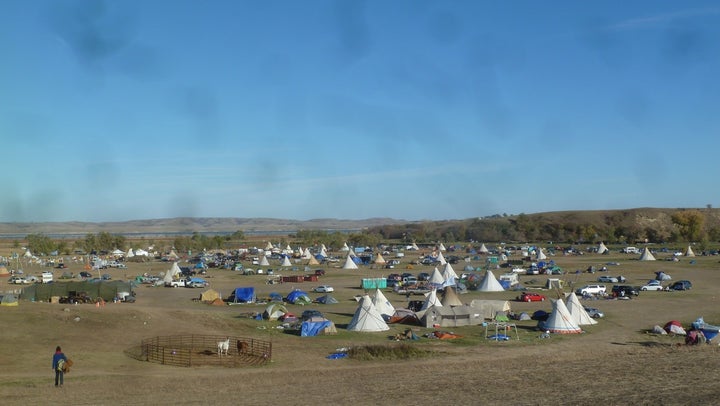 The timing of the judge's decision to lift the injunction – allowing pipeline construction near ancient tribal lands to begin again – was especially poignant. It was the Sunday night before the national holiday celebrating Christopher Columbus.
Carla and I rouse our camp neighbor Bea, start up our minivan and cross the prairie to the "action" site. The land has already been cleared, and pipeline segments are lined up for burial. As we approach, the shadows and pipes do resemble a black snake winding across the landscape.
A young Native American named Olive from Appalachia asks to ride with us. She arrived at camp three weeks ago and is here "to stop the ecocide," she says, "the self-sabotage of our race." Like many with Indian blood in their veins, her family had "white washed" themselves and she spent many years researching her native ancestors and reclaiming her indigenous heritage. She hopes that by stopping this pipeline, it will inspire others and have a ripple effect throughout the world.
When Carla and I arrived at camp the previous morning, the first person we met was Beatrice "Bea" DeWing, an impish grandmother from New Jersey. A stalwart Bernie Sanders supporter, she learned of Standing Rock through Facebook and felt "a calling, almost a compulsion It was like the tower in the movie "Close Encounters of the Third Kind," I have to go there . . ."
In August, she hitched her camper to her old Subaru Outback and drove with her dog, Suzie, to Standing Rock. She set up camp with a small stove, cooler and bought solar panels to generate electricity to keep computers and cell phones charged.
On September 28, as Bea sat on the side of (what she thought was a public) road observing an "action" where police pulled guns on peaceful demonstrators, she was arrested and charged with criminal trespassing. Her dog was taken to the pound, the car was impounded and she spent the night in jail. Her court date is December 20, and she plans to stay to plead "not guilty."
In the camp, young Native Americans treat Bea with the reverence reserved for elders, watching out for her, checking in on her throughout the day, and serving plates of food to her before the younger folk can eat. She has attended many "actions", but her arrest has earned her special respect among the Standing Rock community.
The Columbus Day call to action seems particularly urgent, and when we arrive at the construction site, a contingent of Native Americans have already set up wooden teepee lodge poles in the pipeline right-of-way zone. On "private" property.
Under the poles, in a circle, are more than a dozen activists sitting in prayer. In front of them are approximately 100 self-declared "water protectors" standing defiantly, holding banners and waving flags. On the sidelines, are more than 100 others chanting, "Mni Miconi ("Water is Life") and singing their support for the warriors ("Black Snake Killers!"), urging them to be strong.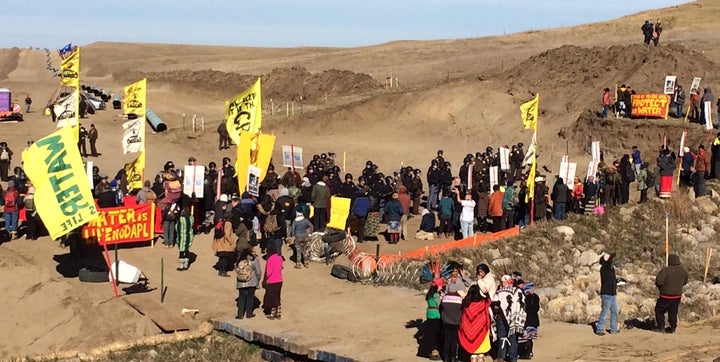 Eventually, dozens of law enforcement officers swoop down and arrest a few of the perceived leaders, and position themselves in formation between the teepee and those who refuse to retreat to the protection of the public roadway.
The standoff lasts two and a half hours. The main message is clear "Protect our water. Respect our land. Honor our treaties." But many chants are directed at the police: "As you protect the corporations, we will protect the children . . . the land . . . the water . . . you." Prayers are delivered. Drums are beaten. Dances performed.
Finally, as those in the prayer circle are arrested and led away – a peaceful resolution is negotiated and the crowd disperses and returns to the camp. In all, 27 people including "Snowden" actress Shailene Woodley are arrested (bringing the total of arrestees to 130 since the struggle began). But the warriors vow to return . . . to kill the Black Snake.
The Prophecy of the Black Snake (Zuzeca Sape) has many variations. Native American elders from many tribes have predicted that one day the big Black Snake will appear across their land bringing destruction and ruin to the people and the earth. For some, it signals the end of the world. Others believe that snake will unite all nations as one, but the only way is to slay the Zuzeca Sape and cut off its head.
I first met Carla in front of a banquet hall along an isolated county road in New Jersey, where we were protesting the PennEast pipeline. Inside, impacted property owners were being served lunch and subjected to a presentation by the pipeline's public relations staff extolling the many benefits of the pipeline. Carla had received an invitation to the luncheon.
Why wasn't she inside? I wondered aloud.
"I can't handle that crap," she replied. "It just makes me want to vomit."
I liked Carla immediately, and knew exactly what she meant.
For Carla, me, and many others in our community, our struggle is linked to the Standing Rock protest.
"All around the Delaware River water shed is evidence of indigenous existence. Lenape Indians lived in and around the river valley," explains Lew Hastings. "But since the Native Americans were driven from their land, and as theirs was an oral tradition, nothing was written down. Consequently, the only way to verify the remains of Native American settlements would be to dig them up."
That evening, back at the camp at Standing Rock, the assembled camp dwellers will feast on moose, elk, deer and buffalo, as well as tomato soup, rice and beans and traditional fry bread. The food is prepared and served in large khaki green tents by volunteers. Chairs are makeshift – scattered among the cinder blocks, milk crates and five-gallon tubs are fold out chairs. Many sit on the ground.
Food donations have poured into the camp; a large storage tent is full and overflow supplies are stacked high on palettes: tons of flour, beans, grains, canned goods, fresh produce, condiments, etc. On Monday afternoon a large tractor trailer of $15,000 worth of food donated by Fry's Food Stores. With no equipment or skid steer to off-load the goods, passers-by volunteered in to manually unload and stack the packages.
Kei Kurimoto, a former Philadelphia restaurateur who was searching for spiritual fulfillment when she heard the call for Standing Rock, runs the kitchen. She and a group of seven women ― the Sacred Feminists for Revolution – caravanned across the country. Many of her friends returned to the East Coast, while she took over the Big Camp's kitchen. She feels comfortable in the matriarchal culture and plans to stay. "No way I'm going back to Philly."
The BBQ pit master is Richard Fisher from South Dakota. "I pretty much was born to be here." His mother was a Sioux Indian activist, his father, a Black Panther. He left a "good paying job" to follow the call and move to Standing Rock. "For some reason it seemed I had to be here." He relishes his work firing up the smoker and cooking the meat. "I know my role here – to stay behind with the women and children, to feed and protect them."
Other denizens are warriors who've come prepared to give up their lives for the cause. Roger Fontana, a retired truck driver and seasoned Native American Movement activist from the Oglala Lakota tribe ("Crazy Horse's people") in Champlain, IL, believes that the DAPL will be stopped but that he may not live to see it. He arrived on August 30, after the National Guard was activated to enforce "security" on the pipeline construction site and traffic points. "It was like a siege. I came here to die," he says impassively.
As Fontana describes, "we thought that they were getting ready to roll in and wipe us out, or starve us our like at Wounded Knee. We were convinced that it was going to be an invasion ― but we won."
"We had a big celebration after September 9th, and the elders got a chance to rest," says Fontana. "And then came the tourists," he adds with a good-natured laugh.
Since then, thousands of non-natives from all over the world have descended on Standing Rock to show their support, most are passing through like Carla and me. In our two days there, we spot license plates from dozens of states; we met a Swedish photojournalist, a Brazilian photographer living in London who received a grant to photograph the camps, an Icelandic musician and indigenous people from across the continent.
Where the DAPL would cross the Missouri River is ancestral lands belonging to the Sioux nation. And according to Harold Frasier, Chairman of Cheyenne Reservation, treaties from the 19th century are still in effect. "The reality is that the pipeline is crossing treaty land."
The Prophecy of the Black Snake
Later that night I stop by the Health and Wellness tent for some tea to calm my throat. There, I meet Uma Wilkinson, a Lakota from the Cheyenne River Reservation. She and her husband have been visiting on off and on since the uprising began in the spring.
"This is not just a political, environmental or native rights issue, it's also an international social issue, it's human rights issue. We all have a right to water. Why allow a few to make these decisions for us all?"
As for the Prophecy of the Black Snake, Uma Wilkenson relates a story about her husband's grandmother who nearly died from the West Nile Virus last year. As she slipped in and out of consciousness, she claimed to have passed over to the spiritual realm and met Crazy Horse who swept his arm across the landscape and in the distance she saw oils rigs on the land and fires flaring in the skies that scorched earth and killed the birds.
He asked her to bring a message back to her people:
"Tell your people to stop the Black Snake. Tell them they cannot back down."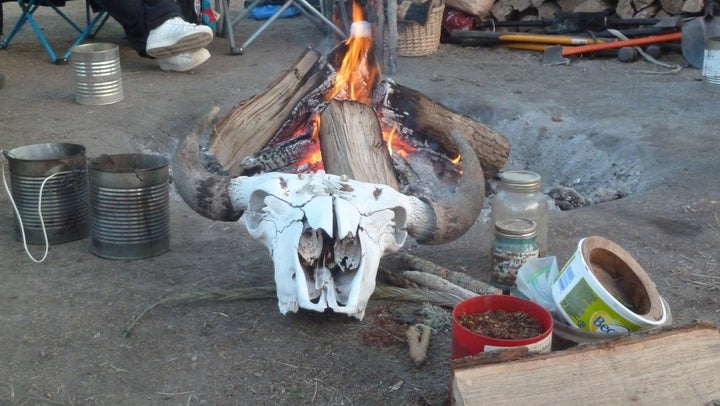 Deborah Scoblionkov is a freelance journalist. She lives on a farm near the Delaware River.
Calling all HuffPost superfans!
Sign up for membership to become a founding member and help shape HuffPost's next chapter
BEFORE YOU GO