When Rep. Allyson Schwartz (D-Pa.) announced earlier this year that she will run for Pennsylvania governor, the relatively safe seat she left open created a race for the nomination that pits the major competing elements of the Democratic coalition against each other. The race is shaping up to be a microcosm of the broader fight for the soul of the Democratic party.
It has everything -- even a member of the Clinton family.
1. The Foster Care Progressive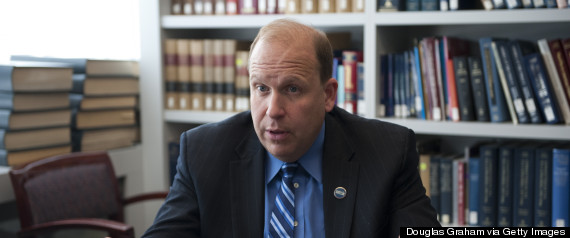 Daylin Leach is a state senator who prides himself on being the most liberal candidate in the race. He proposed a marriage equality bill in the Pennsylvania senate in 2009 -- he supported same-sex marriage "years before it was cool," he said -- and has pushed for marijuana legalization.
"My niche in the race is as the progressive candidate," he said. "I think any cursory review of my record would show I'm probably among the most progressive people in the country credibly running for Congress."
Leach said he has been interested in running for Congress since before the seat opened up. He was born in Philadelphia and was raised by a single mother, his grandmother and a series of foster parents, and has said he wants to ensure others are helped by public programs like he was. He has now been in the state legislature for a decade, first in the State House and then the state Senate beginning in 2009.
Roll Call's Stuart Rothenberg compared Leach to firebrand Rep. Alan Grayson (D-Fla.) for his liberal priorities but not his style, and Leach said he wants to be in Congress to speak to voters more directly about the issues he cares about, such as gay marriage and marijuana legalization.
"It's not about changing the minds of your colleagues, it's about changing the minds of the voters, about leading the people in a certain direction," Leach said. "If you can do that, that moves your colleagues in the legislature much more than a speech would do. ... I thought whatever talents I had would be best used trying to move the needle among the public on some very important issues. Congress just gives you a much bigger and more effective platform to do that."
2. The Clinton Comeback Artist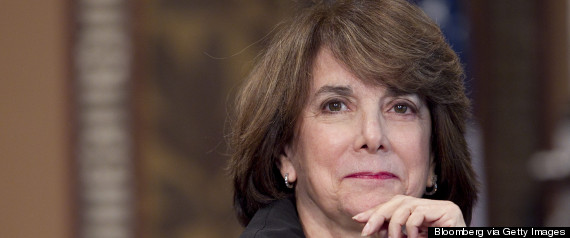 Marjorie Margolies is the candidate to beat, at least according to polling commissioned in August by her campaign that shows her well ahead of her three Democratic opponents.
She served one term in Congress two decades ago, and was cast out after voting for then-President Bill Clinton's budget, which she initially said she opposed but agreed to support when leadership told her they needed her vote. Now, she has a more immediate Clinton connection: Margolies' son Marc Margolies-Mezvinsky is married to Chelsea Clinton, the Clintons' daughter.
Margolies said she reached out to the Clintons early on when deciding whether to run and that they have been very supportive, including through a donation from Bill Clinton. Asked why she decided to get back into politics after nearly two decades, Margolies recounted a conversation her friend had about her with the former Secretary of State Hillary Clinton, a likely 2016 presidential hopeful.
"A friend of mine was talking to Hillary and said, 'Why in the world would [Margolies] want to do this?' and [Hillary] said, 'I think she has some unfinished business,'" Margolies said. "And she couldn't have said it more articulately. I do feel that way."
She has raised less money overall than opponents Leach and Valerie Arkoosh and had the smallest amount of cash on hand as of the most recent filings, but outraised the other candidates in the third quarter. She is the only candidate who has served in Congress before, and has received the backing of her former colleagues, including Minority Whip Steny Hoyer (D-Md.).
"In this race, there are very few differences on issues, but a lot of it is experience, and a lot of it is proven leadership ability in Congress," she said. "That's where I separate myself out, I think, from the rest of the field."
Margolies said she hopes to run on her own record, pointing especially to her work with the nonprofit she founded, Women's Campaign International.
Of the Clintons, she said, "I ran without them before, and I do want to run on what I've done."
3. The Physician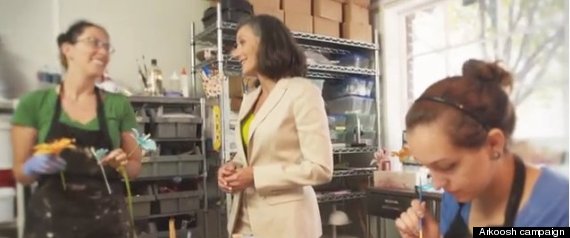 Valerie Arkoosh is the sole non-politician in the race, which she wears as a badge of honor. She's a physician who gained a broader profile while advocating for the Affordable Care Act, a process that she says taught her about Washington but left her feeling like there was more to be done. Arkoosh is an anesthesiologist who specializes in obstetrics, and said she was inspired to work on policy by her time with expectant and new mothers suffering from economic hardship.
"It got to the point where I knew things were happening that were actually beyond my ability to fix as simply a clinician taking care of a patient," she said. "By the time they were getting to me, so many challenges and so much damage had been done that there wasn't a whole lot that we could do about it at the hospital."
Although she has not held a public office like the others have, Arkoosh has raised significant funds for her effort: about $732,000, more than any other candidate in the race, according to Federal Election Commission filings.
"The thing that will be the most challenging will be making sure that voters in the 13th [Congressional District] know who I am, because I obviously don't have quite the same type of name recognition as some of my opponents do," Arkoosh said. "We know that if we have the resources to carry out the campaign as we are planning, that problem will go away."
Arkoosh said she received some help finding a team in the beginning from EMILY's List, a national organization that aims to promote female candidates. But with Margolies also in the race, the group is not going to endorse for the time being.
"We are watching this race very closely," said Marcy Stech, the press secretary for EMILY's List. "With two very qualified women leaders running, our top priority is to make sure the seat stays with a strong, Democratic woman who will deliver for Philadelphia families."
Arkoosh said she thinks her background in medicine and advocacy could help her win people over.
"The people in the 13th [District] are very ready for someone who is not a career politician to go to Washington," she said.
4. The Politician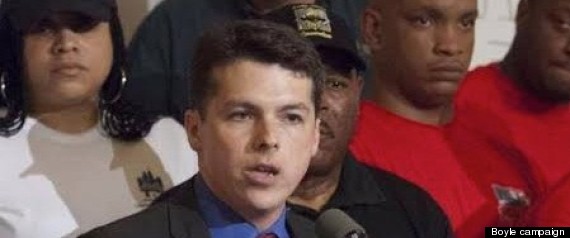 State Rep. Brendan Boyle has a special distinction within the race: he lives in northeast Philadelphia, while the other three candidates live in the suburbs. Two of them, Margolies and Leach, live outside the district entirely, although not far away. Boyle joked that there would be an easy way, based on that fact, to trim down the field.
"I would certainly encourage my opponents to look at other districts, particularly the ones in which they live," he quipped.
Boyle, who is 36, is hoping he can distinguish himself as the candidate most able to relate to the working and middle classes, along with appealing to younger voters. He was the first in his family to go to college, and said he has about $60,000 in student loan debt. He and his brother are both in politics -- younger brother Kevin Boyle also serves in the Pennsylvania House of Representatives -- and Boyle said their grassroots campaigning has made them relatively well-known within Philadelphia.
Boyle said he and the other Democratic candidates probably "agree on 80 to 90 percent of the issues," but he boasts the backing of a number of labor unions. U.S. Rep. Bob Brady (D-Pa.), chairman of the Philadelphia Democratic Party, has also endorsed him.
But Boyle emphasized that he's able to work with Republicans. He defeated his GOP opponent in 2008 despite the district's longtime Republican status, and said he's "someone who has always appealed to mainstream voters and someone who's been able to reach across the aisle."
"It especially contrasts with the sort of dysfunction that we have now in D.C., where neither side is willing to seem to come together and compromise to get anything done," he said. "And certainly my style in the state legislature has been the exact opposite of that."
Before You Go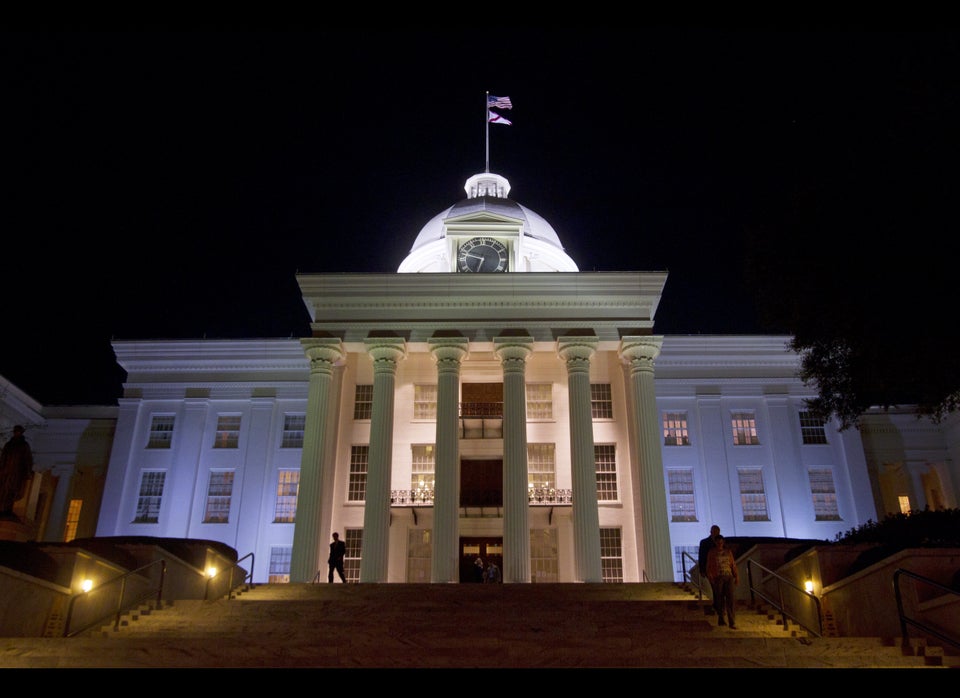 U.S. State Capitol Buildings
Popular in the Community