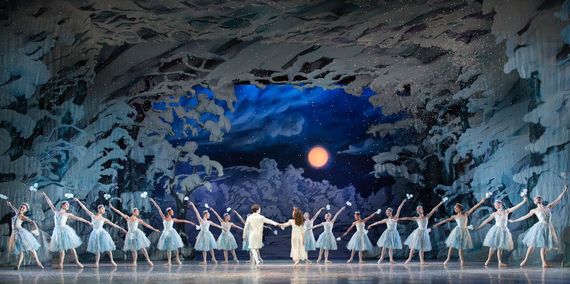 Innocence, young love, pastels of youth, the magic of Nutcracker Suite under the artistic direction of Angel Corrella at the Philadelphia Academy of Music is masterful. The last time I had seen the Nutcracker was in the late nineties at New York City Ballet as a guest of Mikhail Baryshnikov who had performed to a standing ovation. Misha became a friend when I had the privilege of interviewing him for Parade.
Boy, I wanted to see what the Pennsylvania Ballet would do with Balanchine's choreography of the Nutcracker and the lyrical music of Tchaikovsky's and recall those days I would frequent the New York City Ballet. Once I was following Misha around when he was about to go on. "You are not allowed on stage, Carole,' he said as he smiled his pixie grin and danced off to please an eagerly awaiting audience.
But today I was going to see Pennsylvania Ballet founder and Balanchine protégé Barbara Weisberger's production of the Nutcracker with good friends, Diane and Tom Reed and my sister, Elmira Batson who had studied ballet as a child, Tom and Diane who own Tom's Pet Outlet had sold me the love of my life, Herbert, my five lb. Maltese.. We were all excited and exchanged stories about when we had last seen this romantic vision where the balletomanes dance trippingly on their toes with children under their wings, in dresses, lying in beds, flying off over a crescent moon at the end and waving goodbye to an awestruck audience.
But would the tree rise from the floor suddenly in the middle of Act One as it had in New York some eighteen years earlier. Or was that just a big city bit. Would it rise and rise and dwarf the sleeping princess and all her friends. Would it? Probably not, I thought.
This was Philadelphia and while I had read excellent reviews, I needed to see if this tree would rise. The opening sparkled as the party the night before the dream was about to happen.
Teary-eyed,I listened to the overture and to the Philadelphia Boys Choir as I recalled my 95 -year -old mother by my side, wheel chair bound, and how cultured she was. Of German descent she taught me to value the arts. Piano lessons, classical music and while she had been a Pennsylvania Deutsch farmer, her appreciation of the fine arts was reminiscent of high German culture.
Misha was always kind to my mother, "How do you do, Mrs. Wagner," he would say as he shook her hand and feigned a mock but polite curtsy. Misha adored his mother who had committed suicide. Mothers meant a great deal to him
But this was the past and the magic of the Nutcracker is how it evokes fond memories as everyone wonders, "When was the first time I saw the Nutcracker.
But would the tree rise? I still pondered.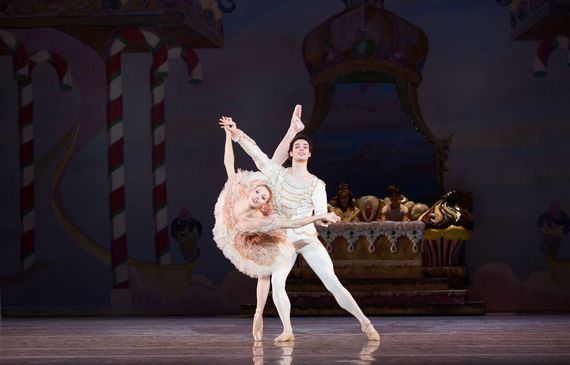 The opening party in which Marie and her Prince share their magical gifts and then are transported into battles between soldiers and mice to a glistening snow covered forest and land of sweets was so delicate and empowering. Oh my, then the princess falls asleep and wakes up and as the tree does. And the tree rises. Yes it grows. Just like it had in New York, but better! Better because the lights on the tree had movement which gave depth to the tree. Dimension. A rhythmic quality. And it went up and up and the lights twinkled and went from blue to red to yellow back to blue and all in time with the music and it was, oh, so magical. I was thrilled to see the originality of the Pennsylvania Ballets sets and this vision of the stunning Nutcracker.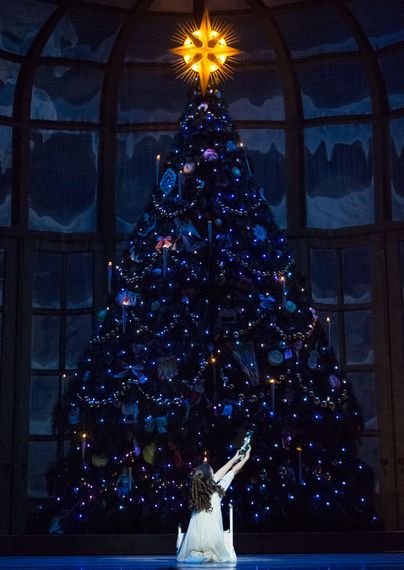 As to Tchaikovsky's opinion of the Nutcracker, he was less satisfied with it than with Sleeping Beauty and was hesitant to write it. But eventually he wrote to a friend that he was becoming daily more attuned to his task. Written in 1892, it was not until 100 years later that the complete ballet achieved great popularity. And grateful fans witnessed in February 2016, the Pentatonix winning a Grammy for an acappella arrangement of "Dance of the Sugar Plum Fairy." And so Tchaikovsky lives on winning awards in our popular culture.
Outstanding performances were Amy Aldridge as the Sugarplum Fairy and her Cavalier, Ian Hussey. But it is the professionalism and joy of the many children that tears at your heart as performed by Claire Smith as the Little Princess and Aidan Duffy as the Little Prince.
While seeing the Nutcracker Suite recalls the innocence and naiveté of youth and all its charming trappings, storm clouds often loom on the horizon with age, but a visit to the Academy of Music and its fine production of Tchaikovsky's score and Balanchine's images performed through December 31, puts all that sadness to rest and replaces it with fond, joyful memories for celebration of a traditional Christmas Season with one's remaining family and friends.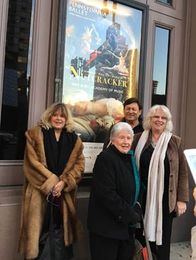 Calling all HuffPost superfans!
Sign up for membership to become a founding member and help shape HuffPost's next chapter