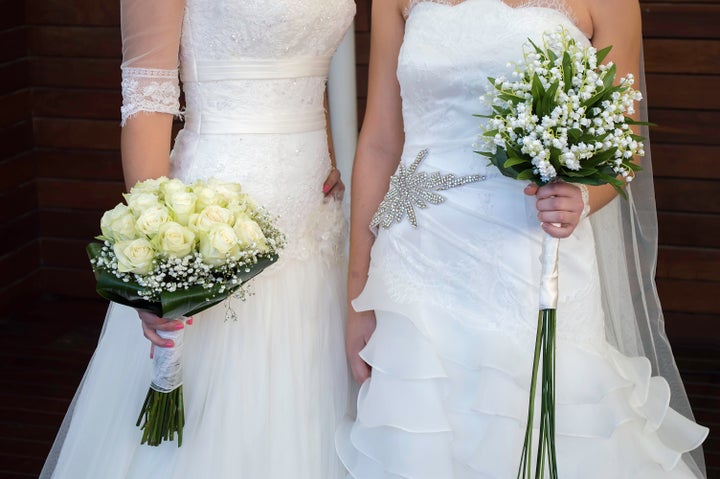 "She said, 'I don't know if you've heard, but we're Christian and we don't believe in that; our faith doesn't let us believe in that,'" Kennedy told the paper. She and Samanas didn't challenge the staff member, whose name has not been disclosed, and left without incident. "I think we were kind of in shock," she said. "It was unexpected. Afterwards, you think of everything you should have said."
The couple, who are planning a March wedding, spoke out about the incident on social media that same day. In a Facebook post, Samanas wrote:
The post had been shared over 350 times and received more than 150 comments as of Monday afternoon. "Marriage is the union of two people who love each other deeply and want to spend their life with another. Love doesn't discriminate and neither should the world," one person wrote. Added another: "Business suicide right there!!! And certainly deserved!!!"
W.W. Bridal Boutique faced a similar backlash in 2014 when co-owner Victoria Miller refused an appointment for a lesbian couple over the telephone, citing her religious faith. "We feel we have to answer to God for what we do," Miller, who co-owns the boutique with her husband, Tom, told reporters at the time. "Providing those two girls dresses for a sanctified marriage would break God's law."
In an email Monday, Miller doubled down on that stance, telling HuffPost that her company's decision to turn away same-sex couples is not "an attempt to deprive anyone of the opportunity to live their lives as they see fit," but simply a matter of her religious beliefs.
"We have provided formalwear for our customers from all walks of life, including the LGBTQ community. We have always served everyone with respect and dignity," she wrote. "It is just this event, a same-sex marriage, which we cannot participate in due to our personal convictions."
She added, "We simply ask that we be given the same ability to live our lives according to our convictions."
Bakeries, florists and other wedding-related venues have become a hotbed of controversy as of late, with some business owners claiming they should not be required to provide services to same-sex couples because their religious beliefs forbid it. This fall, the Supreme Court will hear the case of Colorado's Masterpiece Cakeshop, whose Christian owner turned away a gay couple seeking a cake for their 2012 wedding.
Popular in the Community