After decades of having their stories dismissed, covered up or outright silenced, survivors of Catholic clerical sex abuse in Pennsylvania are finally getting an opportunity to voice their collective rage.
Survivors and advocates are speaking up after Pennsylvania's attorney general released an 884-page report on Tuesday that details how six Catholic dioceses in the state covered up sexual abuse by priests for the past 70 years. Over the course of two years, a grand jury identified 301 "predator priests" and over 1,000 victims in the dioceses of Allentown, Erie, Greensburg, Harrisburg, Pittsburgh and Scranton. 
The jurors also accused senior church officials, including former bishops, of reacting to these alleged crimes by protecting abusers and the church's reputation while brushing aside victims' pain.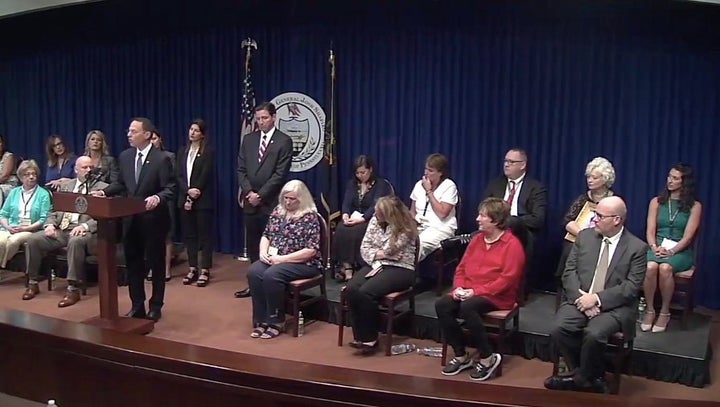 State Rep. Mark Rozzi (D-Berks) told reporters Tuesday that the report's release was a "great moment" for survivors. Since 2013, he has been speaking up about how he was groomed for abuse and then raped by a priest at his Pennsylvania middle school. Rozzi said that the pain that arises from child sexual abuse is something that scars victims permanently. 
"It's been a long journey from Day One, from the day the abuse happens, and the suffering and going through it," Rozzi said. "And then you get to the time when you're ready to talk about it, and then the church just constantly starts blocking you in every avenue. I was expecting them to do everything they could to suppress this information."
"Today, because of the victims' collective voice, we got this done," he said.
Ed Rowan is one of 32 people who settled sexual abuse lawsuits against the Pittsburgh diocese in 2007. He said a priest at his high school in Beaver County abused him in the 1970s. 
"You go through such an emotional turmoil, you know?" Rowan told WTAE Pittsburgh on Tuesday. "And you're by yourself because you don't want to expose yourself, you don't want to expose your family, so you live with it."
Now he hopes that the grand jury's damning report will expose the actions the church took to cover up abuse and that the report will help prevent other children from getting hurt.
"Let's expose this, and let's get this taken care of. Let's get them away. Let's protect," Rowan told the station. "It's what we have to do for our children and for our grandchildren."
Shaun Dougherty is a survivor whose abuse was documented in a grand jury report on the Altoona-Johnstown diocese that was released in 2016. He was abused when he was 10 years old and gave his first statement about it in 2012.
"I'm at peace this morning," he told CNN on Wednesday. "Yesterday was the end of a very long journey."
Listen to Attorney General Josh Shapiro's news conference with victims below.
The Survivors Network of Those Abused by Priests (SNAP) commended the victims who came forward to testify for the grand jury. Over the next week, the national organization plans to hold support group meetings for survivors in the Pennsylvania dioceses investigated in the report. 
SNAP President Tim Lennon told HuffPost that the publication of the report, which was delayed for months because of legal challenges from some of the individuals named in it, is a "victory" for survivors since it acknowledges victims' pain and shows them that they are not alone. Its release can increase the awareness of child sexual abuse in Catholic communities and help push lawmakers to enact stronger child protection laws. 
He said in a statement Tuesday that it was time for Catholics to "wake up and hold church officials accountable."
"Believe victims when they come forward, and never tell them to 'get over it,'" Lennon said.
The grand jury concluded its investigation by coming up with four concrete recommendations for Pennsylvania. Jurors recommended removing the criminal statute of limitations, establishing a temporary window for victims older than 30 to sue the dioceses, tightening laws about mandatory reporting and making sure confidentiality agreements don't give either party the right to decline to cooperate with criminal investigations. 
Attorney General Josh Shapiro issued a challenge to the bishops of each diocese to support all the recommendations. In the past, church leaders opposed such moves, claiming that they would be financially crippling for Pennsylvania's Catholic organizations. 
Rozzi said the ball is now in the bishops' court.
"You did this damage. You're the ones who caused this mess. Now make it right."
Calling all HuffPost superfans!
Sign up for membership to become a founding member and help shape HuffPost's next chapter
BEFORE YOU GO
PHOTO GALLERY
Pope Francis' Best Quotes