Republicans from Pennsylvania and six other states on Monday offered a slew of reasons why the U.S. Supreme Court should give the Keystone State permission not to comply with the Pennsylvania Supreme Court's order to draw new congressional districts ahead of the 2018 election.
Their briefs were part of a long-shot Republican effort to persuade the U.S. Supreme Court to review the state court's ruling that Pennsylvania's latest congressional map so egregiously benefited Republicans that it "clearly, plainly and palpably" violated the state constitution. While top GOP state lawmakers say that the high court can review the case because there are federal issues at stake, lawyers for the plaintiffs say that the justices cannot because the case only presents a question under Pennsylvania law.
But first the state lawmakers and their allies need an emergency stay of the Pennsylvania court's redistricting order, the pleas for which are hitting Justice Samuel Alito's desk. Alito is responsible for overseeing such appeals from the 3rd Circuit.
Six Republican secretaries of state ― from Alabama, Arizona, Arkansas, Kansas, Missouri and South Carolina ― filed a joint amicus brief on Monday arguing that Pennsylvania could reasonably wait another few years to fix its congressional map. They said that Pennsylvania lawmakers could abide by any new restrictions on partisan gerrymandering during the next round of redistricting in 2021.
That would mean that two more federal elections ― in 2018 and 2020 ― would take place under a congressional map that the Pennsylvania Supreme Court found unconstitutional.
Drawing new congressional boundaries just a few weeks before the state's election process begins would cause chaos and confusion among voters, the Republican officials said.
"The Census will be conducted in 2020, the results distributed in the first quarter of 2021, and the states will have to put new congressional plans in place for 2022," they wrote in a brief funded by the Republican State Leadership Committee and the National Republican Redistricting Trust, a group that supports GOP redistricting efforts. "In that next round of redistricting, any newly-developed parameters of any limitation on political gerrymandering can be taken into account."
"Put simply, there is no need to hurry," they added.
The brief was striking because Pennsylvania election officials themselves have said they could keep the election on schedule as long as the new maps were in place by Feb. 20.
At oral argument before the Pennsylvania Supreme Court earlier this month, the plaintiffs' lawyers said it would be unacceptable to wait any longer for new maps. Pennsylvanians have already gone through three elections with the current maps in place, they noted. In each of those elections, Republicans took 13 of the state's 18 congressional seats while winning only about 50 percent of the total vote.
The Republican Party of Pennsylvania and 11 of the state's GOP congressmen similarly filed an amicus brief asking the U.S. Supreme Court to block the lower court's order. They said the new maps would cause confusion and make it more difficult for them to circulate petitions and campaign for office.
The lawmakers also argued that new maps would harm donors and that their campaigns would have to spend more money.
"In the 2018 election cycle, Pennsylvanians contributed over $1.2 million specifically to congressional candidates running in their congressional districts. Conventional wisdom and common experience dictate that a significant portion of these contributors donated as an expression of support for a candidate to represent them in Congress," the House members wrote. "If the State Court's [order] is not stayed, the effort and monetary contributions of many Pennsylvanians will have been made to support individuals who do not and/or cannot represent them in Congress."
The Pennsylvania Supreme Court wants the state legislature, which is controlled by Republicans, to come up with a revised redistricting plan by Feb. 9 and Gov. Tom Wolf (D) to decide whether to veto it by Feb. 15. On Friday, the court announced it would appoint Stanford professor Nathaniel Persily as a special master to draw the maps should the legislature and the governor not comply.
Wolf told HuffPost on Monday that he wasn't concerned with the quick timeline.
"It takes a heck of a lot more effort to draw a gerrymandered map than it does to draw a fair one," Wolf said. "Can we come up with the maps on a timely basis? I think we should."
As for the question of whether voters can adjust, he said, "We do that every 10 years anyway. I think yeah, that's a normal part of being a voter in the United States."
Before You Go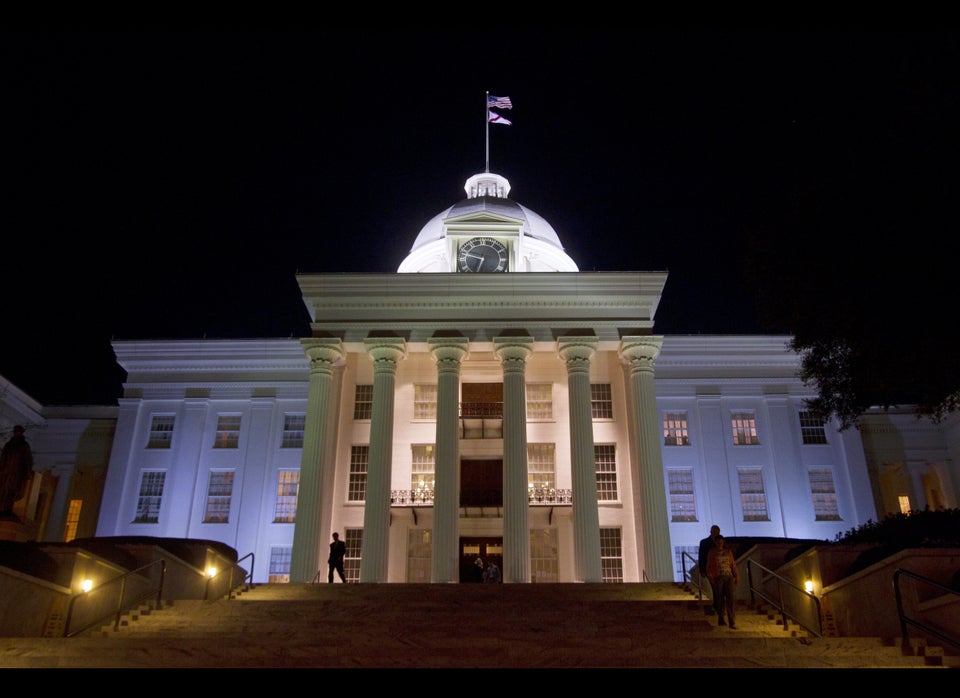 U.S. State Capitol Buildings
Popular in the Community