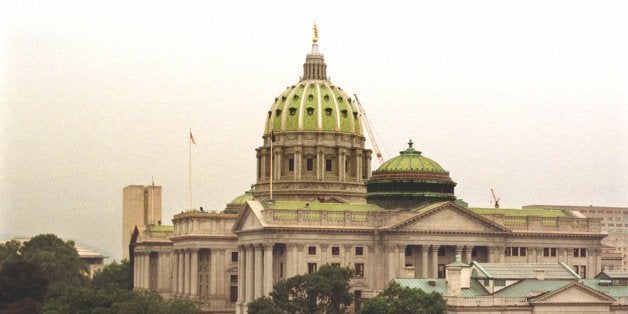 A Pennsylvania district attorney has filed a lawsuit with the state Supreme Court over Gov. Tom Wolf's (D) moratorium on the death penalty as legislators are pledging to review the capital sentencing system.
Organized by the Pennsylvania District Attorneys Association, lawyers and lawmakers gathered in the Capitol Rotunda in Harrisburg on Wednesday -- the same day the state had been set to execute its first inmate in 16 years -- to criticize Wolf's Feb. 13 moratorium, local WFMZ News reports.
"I supported the governor in his election, but I'm disappointed that during the decision making process on the issue of the death penalty he did not consult with district attorneys or consult with the families of victims whose lives have been torn apart by the people who have been sentenced to death for their actions," Berks County District Attorney John Adams said at the news conference.
The governor went on to cite a 2003 report by the Pennsylvania Supreme Court's Committee on Racial and Gender Bias in the Justice System that found "strong indications that Pennsylvania's capital system does not operate in an evenhanded manner" where gender and racial bias is concerned.
The power of governors to grant pardons, reprieves or clemency varies in the 32 death penalty states. In Pennsylvania, the governor can only grant clemency with a majority recommendation from the State Pardon Board and also reserves the power to reject the recommendation. Reprieves, meanwhile, do not require input from the Board of Pardons.
Seth Williams argued in his motion to the state Supreme Court that reprieves are only meant to to allow the chance for last-minute evidence or legal claims to be considered; Terrance Williams, he said, has no new claims.
Neither Wolf's nor Williams' offices responded to The Huffington Post's requests for comment.
State Rep. Ron Marsico (R-Dauphin), who chairs the House Judiciary Committee, said in a Wednesday statement that though he agrees that those sentenced to death "are entitled to a careful review of their cases, those cases also need finality. The families of the silenced victims need finality. We must remember the victims who no longer have a voice in this process."
Marsico pledged to schedule hearings hosted by his committee to discuss the importance of the death penalty and its application in the state.
"I want to give advocates of both sides of the issue, prosecutors, law enforcement officials and legislators an open and fair discussion about capital punishment. And, I want to make certain that the stories of the victims are not forgotten in this process," Marsico said. "We will let the people of Pennsylvania decide what they believe about this issue."
Calling all HuffPost superfans!
Sign up for membership to become a founding member and help shape HuffPost's next chapter
BEFORE YOU GO