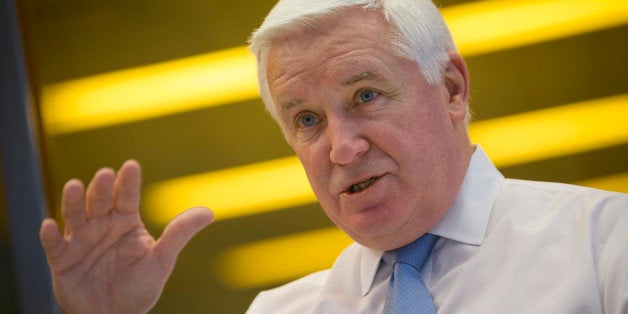 A February poll by Franklin & Marshall College found that Pennsylvanians, by a 52 to 41 percent margin, support marriage equality. An August poll, also by Franklin & Marshall, found that Gov. Tom Corbett (R) is not particularly well-liked, with just 20 percent of respondents saying that he "has performed sufficiently well to deserve
re-election."
Those numbers form the backdrop for one of Corbett's recent woes: Pennsylvania's ban on same-sex marriage is currently being challenged by a federal lawsuit, and state Attorney General Kathleen Kane, a Democrat, is declining to defend the law in those proceedings because she believes it's unconstitutional. So! Will Pennsylvanians, who support marriage equality, cotton to their unpopular governor shelling out taxpayer dollars on high-priced legal representation? Corbett is about to find out.
Taxpayers will spend $400 an hour — and possibly a lot more — for Gov. Tom Corbett to hire an outside law firm to fight a federal lawsuit challenging the state's 1996 ban on gay marriage.

The Corbett administration said Thursday it is hiring the law firm of William H. Lamb, a former state Supreme Court justice, because state Attorney General Kathleen Kane withdrew from the lawsuit in July.
Esack goes on to report that in addition to Lamb's rate, "associates from his Chester County firm, Lamb McErlane, will earn $325. That does not include the regular salaries taxpayers will also cover for state lawyers to work on the case." I guess this is nice work if you can get it, maybe not so nice if you have to pay for it.
As the Associated Press reports, this case is "separate from a proceeding in Commonwealth Court involving the Department of Health attempting to stop a suburban Philadelphia court clerk from issuing gay marriage licenses."
That case involves Montgomery County clerk D. Bruce Hanes, who recently decided to pull a Gavin Newsom and just start issuing marriage licenses to same-sex couples. Per Mother Jones' Dana Liebelson:
Now a Pennsylvania state court has to decide whether what Hanes did was legal—and what to do about the licenses he already issued. Republican Gov. Tom Corbett's Department of Health has sued Hanes for failing to enforce Pennsylvania law, arguing that the marriage licenses are invalid. A hearing in the case is scheduled for Wednesday. The outcome of the suit will determine whether a single local official can cite federal precedent to decree a state's same-sex-marriage law unconstitutional.
Significantly, the same Franklin & Marshall poll that found widespread disapproval of Corbett's performance found widespread disapproval of Hanes as well. By a 76 to 18 percent margin, respondents find Hanes' actions "unacceptable."
Of course, one should consider the way the question was worded: "An official in one Pennsylvania county has started issuing marriage licenses to same-sex couples even though current state law specifically bans same-sex marriage. Is it acceptable or is it unacceptable for state and local officials to ignore laws they disagree with?" This seems to be a measure of whether or not "state and local officials" can "ignore laws," and not a judgment on the validity of marriage equality.
Calling all HuffPost superfans!
Sign up for membership to become a founding member and help shape HuffPost's next chapter
BEFORE YOU GO
PHOTO GALLERY
Supreme Court Proposition 8 Case