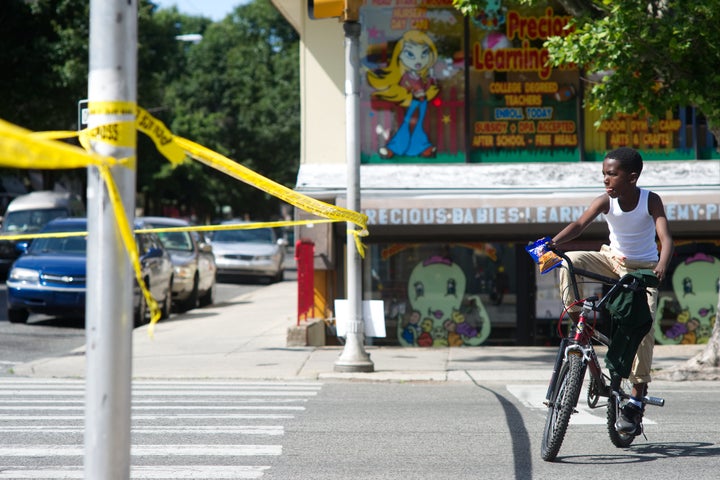 Pennsylvania is creating a new gun violence prevention initiative that will fund programs working to stop shootings in urban communities, where this bloodshed tends to take the largest toll, Gov. Tom Wolf (D) announced on Tuesday. 
At a press event in Philadelphia, Wolf unveiled the $1.5 million Gun Violence Reduction Initiative, which will direct grant money to municipalities seeking to implement violence prevention strategies that have helped make neighborhoods a bit more peaceful. The state opened the application process on Tuesday and will begin awarding grants in July.
In early March, Wolf and state Rep. Jordan Harris (D), who chairs the Pennsylvania Legislative Black Caucus, held a listening session with constituents in Philadelphia, where they met with gun violence victims to discuss the problem of daily shootings. Wolf said the event made it clear that the state must invest further in interventions that appear to have produced results in other cities.
"After hearing from this community about the real-world dangers of gun violence, I'm proud to return and deliver funds to help stem the tide of violence," the governor said in a statement.
Wolf called the grants an "important step toward achieving that goal," and he has said his administration will continue to show a commitment to combating violence.
With the launch of the Gun Violence Reduction Initiative, Pennsylvania becomes just the seventh state to directly fund violence prevention and intervention programs for urban areas.
High-profile mass shootings in affluent, predominantly white communities often dominate the conversation and policy agenda around gun violence. But day-to-day interpersonal violence in cities accounts for the majority of the 13,000 firearm homicides and 60,000 nonfatal shootings that take place across the nation each year.
Those trends are apparent in Pennsylvania, where in 2016 around half of the state's gun violence incidents took place in Philadelphia County, Harris told HuffPost.
Harris said that with all the attention and resources dedicated treating the opioid epidemic as a public health problem, the government should be willing to take a similar approach to gun violence. He called it "public enemy number one" in the communities he represents.
"When are folks going to see all the black bodies and Hispanic bodies that are dying in the streets of Philadelphia? When are we going to see them as part of the epidemic as well?" he asked.
When people separate the issue of mass shootings from broader discussions of gun violence, it can make it hard to communicate the scope of the problem, Harris added. 
"We seem to think one is more important than the other, but the mother who lost her son when he got shot on the corner on her block, she doesn't feel any less pain than the parent of a kid who was killed in a school," he said. "There's no less pain, no less heartache, no less grief."
California, Connecticut, Illinois, Massachusetts and New York have made similar investments in these programs. A number of cities and communities that run these violence prevention efforts have seen substantial declines in shootings and violent crime, according to a recent report by the Giffords Law Center to Prevent Gun Violence, a national nonprofit founded by former Rep. Gabrielle Giffords (D-Ariz.).
Last month, Maryland became the sixth state to take this approach, with the passage of a law that sets aside $5 million over the next year to fund grants to bolster these strategies.
Gun violence prevention and intervention programs tend to follow a few popular models. Some work directly in the community, mediating conflicts and providing outreach and social services to individuals most at risk of becoming victims or perpetrators of violence. Others are based out of hospitals and work to provide continuing care to victims to disrupt cycles of violence.
A number of organizations are already doing this sort of work in Philadelphia, often without recognition or the funding they need to be as effective as they can be, said Harris. The Gun Violence Reduction Initiative will free up some resources to help them succeed, he added.
With gun violence costing states hundreds of millions of dollars each year in health care and criminal justice expenses alone, advocates say spending money on prevention actually ends up saving taxpayers money.
"It sounds like this is just a start and I'm hoping that the program will continue to grow," said Mike McLively, the director of the Urban Gun Violence Initiative at Giffords.
McLively went on to urge gun violence prevention activists in states that aren't currently funding these programs to reach out to their governors.
"Governors and executives can take the lead in a state and set the agenda and at least create a framework," he said.
Calling all HuffPost superfans!
Sign up for membership to become a founding member and help shape HuffPost's next chapter