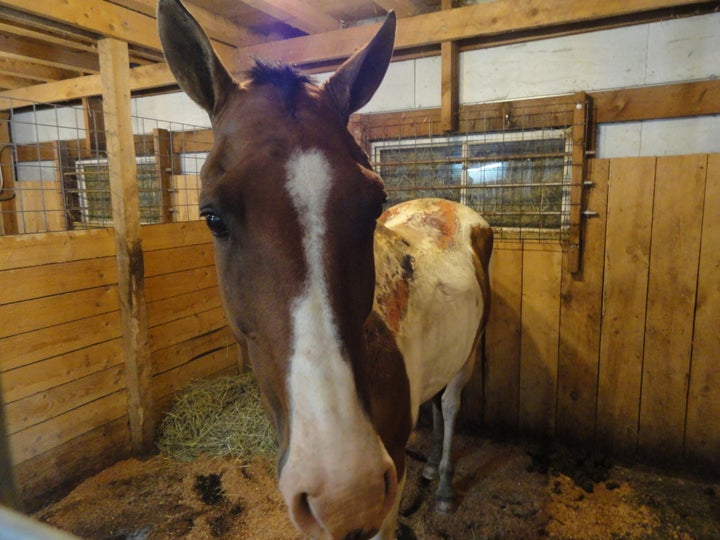 UNION CITY, Pa. -- A horse was struggling to survive Tuesday after being doused with a flammable substance and set ablaze over the weekend.
"I don't know what would have possessed anyone to do this. I just know they are sick. They are a sick, sick person," Jessie Woodworth, owner of the 6-year-old gelding named Northstar, told The Huffington Post.
"It's a person with a degenerate mind," Woodworth's husband, Bob, added. "It would have been much more humane if the person had shot the horse instead of making it suffer."
The Woodworths boarded Northstar at a 60 acre ranch in Athens Township. Family members found him severely burned on Sunday morning.
"My wife and daughter found him hiding in the woods," Bob Woodward told HuffPost. "He was completely out of it -- in shock. The girls heard him whine for them. He was a mess and you could see where a liquid was poured on him and he was set on fire."
The Marley Veterinary Clinic in Titusville is treating Northstar. The animal is being administered pain medication and antibiotics. Prescription ointments are being used to help heal the wounds.
"He's not over it by no means," Bob Woodworth said. "He has burns all over his body. His face is burned right down to bone, his eyelashes are burned off and the hair in his ears and nostrils is gone. I don't know how the animal survived. It's going to be a long battle. It's going to take him a long time to recover."
State troopers from the state police barracks in Corry are investigating. The individual or individuals responsible used an unknown accelerant to set the horse on fire, police said. No arrests have been made and no suspects have been named.
The Woodworths said they have no idea who targeted their horse.
"This is a member of our family. We raised him from birth. There is nothing this animal has done wrong to nobody," Bob Woodworth said.
Animal cruelty is typically caused by people who are angry or have demented personalities, said Sarah Speed, Pennsylvania state director for the Humane Society of the United States.
"There have been a number of psychological studies done and we are learning that people who commit these types of crimes are typically angry and they turn to someone who is more vulnerable, like a child or an animal," Speed told HuffPost.
"The truly disturbing thing about fire-setting animal abuse is that it is one of the three strongest indicators of a future serial killer, as defined by the FBI," Speed continued. "When a child has one or more of those psychological symptoms, there is cause for concern that they lack empathy that could result in future violent crimes."
WARNING: GRAPHIC CASE PHOTOS: (Story Continues Below)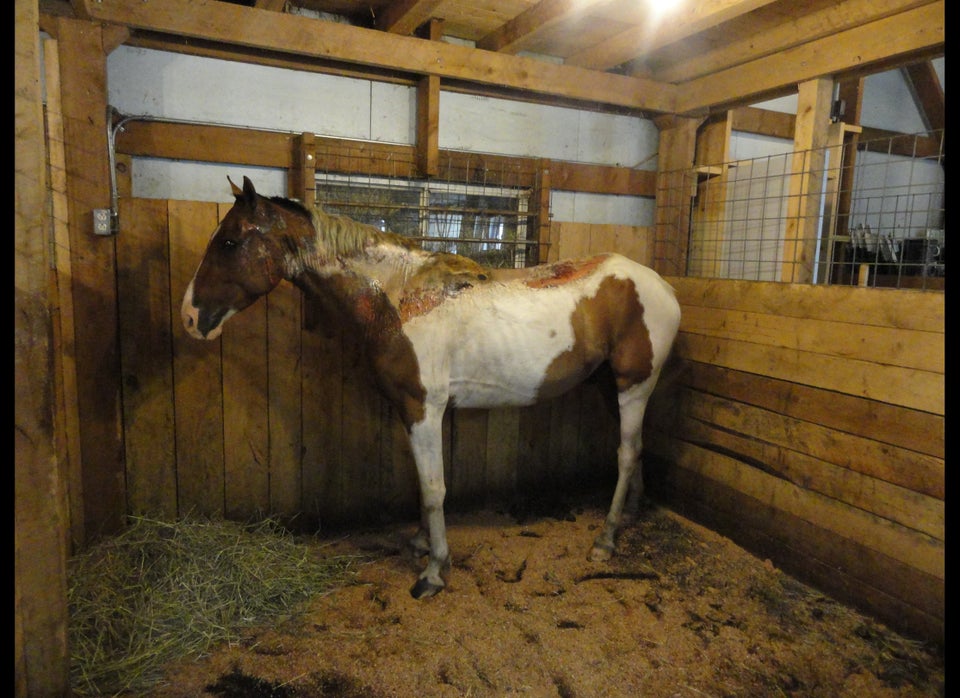 North Star
Unfortunately, Pennsylvania is a state with lenient animal cruelty laws, meaning the person who burned North Star may receive a slap on the wrist, even if caught.
"In this state, aside from a couple of limited exceptions, animal cruelty is never charged as a felony," Speed said. "The penalties are laughable. It's charged as a summary offense, equivalent to a traffic ticket."
Speed said her organization has been trying unsuccessfully for years to convince Pennsylvania lawmakers to reform animal cruelty laws.
While Northstar's survival and the capture of his attacker may both be uphill battles, the Woodworths said they are not giving up on either.
"He is a kind, gentle, loyal animal and we are so glad he is alive," Jessie Woodworth said of her beloved horse. As for whoever is responsible, "We've got ears and eyes open everywhere, so hopefully somebody will slip up and say something. I think that's what it is going to take," she said.
Northstar's veterinary care is expected to cost thousands of dollars. To help the Woodworth family with the expenses, a fund has been established. Anyone wishing to contribute may send a donation to the Northstar Fund, c/o Marley Veterinary Clinic, 11416 Hydetown Road, Titusville, Pa. 16354. Donations can also be made to the "Donations for Northstar" account at any PNC Bank branch. Additional information can be found by visiting the "Donations for Northstar" Facebook page.
Anyone with information about this case of animal cruelty is asked to contact the Pennsylvania State Police at 814-663-2043 or toll-free, at 800-922-1975.
ANIMAL CRUELTY FACT SHEETS:
Related
Popular in the Community