Pennsylvania's Supreme Court on Monday issued a new congressional map to replace the state's current one, which the court said is so partisan it violates the state's Constitution.
The Supreme Court drew the map after Republican lawmakers and Pennsylvania Gov. Tom Wolf (D) failed to come up with an agreement by the Feb. 15 deadline. 
In an opinion earlier in February, the state Supreme Court wrote that Pennsylvania's congressional districts need, at minimum, to be compact and contiguous, to contain roughly the same number of people, and to not split counties and other communities unnecessarily. A map was unconstitutional, the court said, when it prioritized partisan advantage over those criteria.
In a Monday order, the court wrote that its new map splits just 13 counties. (The earlier plan, devised in 2011, split 28.) Nine of these counties are split among two congressional districts, while the other four counties are split among three. The court wrote that its plan "draws heavily" from proposals submitted by Republican lawmakers, Democrats, the plaintiffs and others, but said this map's compactness is "superior or comparable."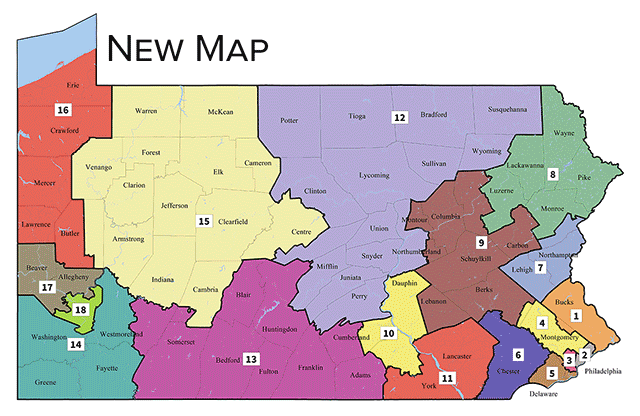 Republicans controlled the redistricting process in the state in 2011 and drew a map that gave their party a considerable advantage. In 2012, 2014 and 2016, they won 13 of the state's 18 congressional seats, even though the party only won about 50 percent of the popular vote. GOP voter registration also lags behind Democrats significantly in the state. In a 5-2 decision last month, the state Supreme Court said the map "clearly, plainly and palpably" violated the state's Constitution.
Democrats have been closely watching the redistricting battle, because it could offer a chance for the party to pick up a handful of seats in Congress. The Brennan Center for Justice estimated that the old map had accounted for an additional three to four GOP seats in Congress.
Republicans have already signaled they will likely file a federal lawsuit challenging the state Supreme Court's map. They argue that only lawmakers and the governor can draw congressional lines, not courts. The lawmakers made a similar argument in a request to the U.S. Supreme Court, but the argument was rejected by Justice Samuel Alito.
Senate President Pro Tempore Joseph Scarnati (R) and House Speaker Michael Turzai (R) criticized the court's map in a joint statement Monday and said implementing the plan would put the state into a "constitutional crisis."
"Implementation of this map would create a constitutional crisis where the Pennsylvania Supreme Court is usurping the authority of the Legislative and Executive branches. We anticipate further action in federal court," the statement said. "This entire exercise, while cloaked in 'litigation,' is and has been nothing more than the ultimate partisan gerrymander – one brought about by the Democrat Governor acting in concert with liberal politically-connected litigants."
"Over the last month, I have personally heard from thousands of Pennsylvanians and they are sick and tired of gerrymandering, which perpetuates gridlock, alienates citizens and stifles reform," Wolf said. "I have stood for fairness and rejected a proposed map that was universally seen as another partisan gerrymander. I applaud the court for their decision and I respect their effort to remedy Pennsylvania's unfair and unequal congressional elections."
Mimi McKenzie, legal director at the Public Interest Law Center, which helped represent the 18 Democratic voters who filed the suit, said voters in other states should be encouraged to bring similar suits.
"This case was always about the right to have your vote count. The Court's order and remedial plan has restored Pennsylvania voters' right to choose their congressional representatives in free and equal elections in 2018. We hope this remedial plan will inspire other states to protect their own voters from partisan gerrymandering," McKenzie said in a statement. 
REAL LIFE. REAL NEWS. REAL VOICES.
Help us tell more of the stories that matter from voices that too often remain unheard.