In January Pennsylvania's House of Representatives unanimously passed a bill to protect domestic violence victims from being evicted for frequent calls to the police. But when the Senate took up the bill on Tuesday, Republicans attached controversial language to the bill that would prevent city and county governments from passing paid or unpaid leave legislation.
Women's health advocates worry that the new amendment, proposed by Sen. John Eichelberger (R) and approved by the Senate State Government Committee, would put at risk the domestic violence victims that the original bill seeks to protect. In addition to preventing municipalities from passing sick leave legislation, it also prevents them from passing domestic violence leave laws, which would guarantee survivors time off work to attend to related personal matters.
"We really hate to see such a wonderful bill co-opted for this reason," Marianne Bellesorte, vice president of policy at the low-income women's advocacy group PathWays PA, told HuffPost. "By putting this amendment on it, it's not just hurting people's ability to have access to paid sick days, but it's hurting the very people it's supposed to help. Survivors can't take time off to get access to health care they might need, to look for new housing, to talk to authorities, to do some of the things that have to happen in order to get away from an abusive situation."
Eichelberger said he attached the amendment to the domestic violence bill because the House had been unable to pass it as a stand-alone bill. He said "various business groups" had urged him to put in language preventing municipalities from passing mandatory sick leave bills.
"I think we have an inherent problem with government trying to tell private business what they should do with their employees," he told HuffPost in a phone interview. "Having that hodgepodge of special rules would be very problematic in Pennsylvania. We don't need that additional layer of bureaucracy on the leave issue."
The original bill, sponsored by State Rep. Todd Stephens (R), would prohibit landlords from using local nuisance ordinances to penalize their tenants for calling the police about domestic violence incidents. Eichelberger's amendment is similar to preemptive legislation passed in 10 other states -- Arizona, Florida, Georgia, Indiana, Kansas, Louisiana, Mississippi, North Carolina, Tennessee and Wisconsin -- that bans cities and counties in those states from passing or enforcing paid sick leave bills.
Philadelphia council members have twice passed legislation that guarantees all local workers one hour of sick leave for every 40 hours worked, but Mayor Michael Nutter vetoed it both times. Advocates had expected the city council to pass it a third time this year, but Eichelberger's amendment would prevent them from doing so.
While the underlying bill had been expected to pass the GOP-controlled Senate unanimously, as it did in the House, it's likely to face a little more resistance now, at least from Democratic members. State Sen. Vincent Hughes (D), minority chair of the Senate Appropriations Committee, told HuffPost that he does not plan to support the domestic violence bill as long as it has the anti-paid leave amendment attached.
Bellesorte said she had spoken with other senate Democrats who also plan to oppose the amended bill. Should the Senate pass the bill with the new language, both chambers must conference as to whether to include the amendment in the bill that goes to the governor's desk.
UPDATE: March 13 -- Hughes told HuffPost on Thursday that Senate Democrats were going to try to remove Eichelberger's language before passing the bill.
"It's unfortunate that this amendment was attached to this very important piece of legislation. It is an affront to all the victims of domestic violence, who, incredibly, in some areas now have to choose between protecting themselves from attack and losing their home," Hughes said.
"The bill should have simply been scheduled for a vote, not try to bootstrap it onto a bill that would otherwise probably have unanimous support. In that respect, we believe the amendment is probably unconstitutional, as it is not germane to the original bill," he said. "The paid leave issue is something that should be considered on its own merit. It is ironic that Republicans speak so forcefully about 'local control' and then repeatedly take decisions away from local officials."
Before You Go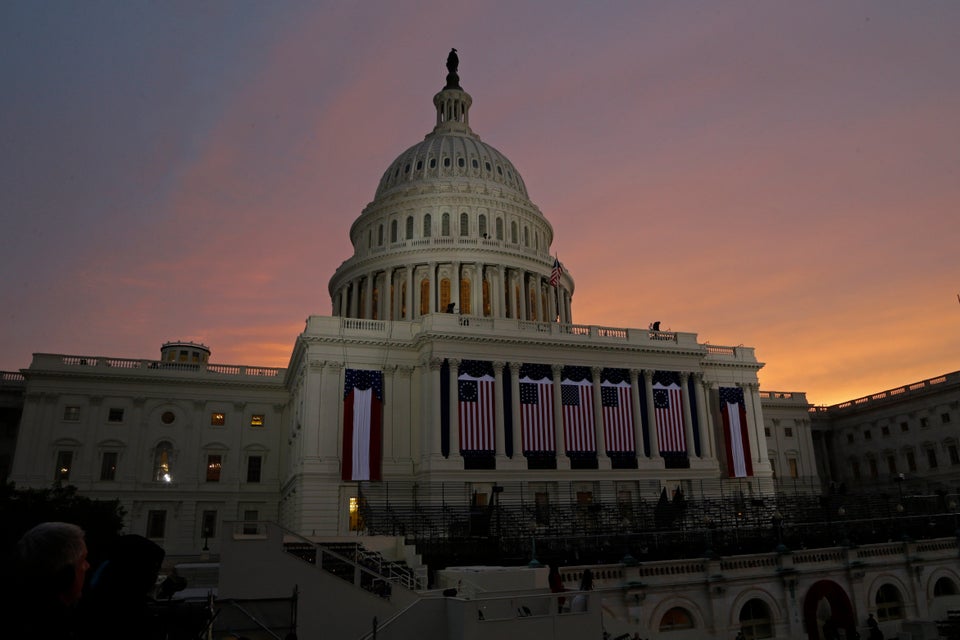 U.S. Capitol Photos
Popular in the Community