ELIZABETH TOWNSHIP, Pa.― Democrat Conor Lamb held a slim lead over Republican state Rep. Rick Saccone Wednesday in a race likely headed to a recount.
The Associated Press said late Tuesday it was not declaring a winner because the race was too close to call. Still, Lamb declared victory early Wednesday.
Pennsylvania Gov. Tom Wolf (D) and Pittsburgh Mayor Bill Peduto (D) on Wednesday congratulated Lamb.
There is no automatic recount on the congressional district level in Pennsylvania, according to state law. Candidates can, however, petition for a recount within five days after counties complete their vote computations.
"I would rather be in Lamb's shoes right now," former Sen. Rick Santorum (R-Pa.) said late Tuesday on CNN.
About 11:30 p.m. Tuesday, Saccone came downstairs from the war room with his wife, Yong, his son, daughter-in-law and two grandchildren. "I just came down to let you know, we're still fighting the fight," he said. "It's not over yet."
At one point a woman in the crowd yelled out, "There was some monkey business going on at the voting polls, Rick!"
Saccone thanked his supporters and let them know they could go home, because his campaign would be working late into the night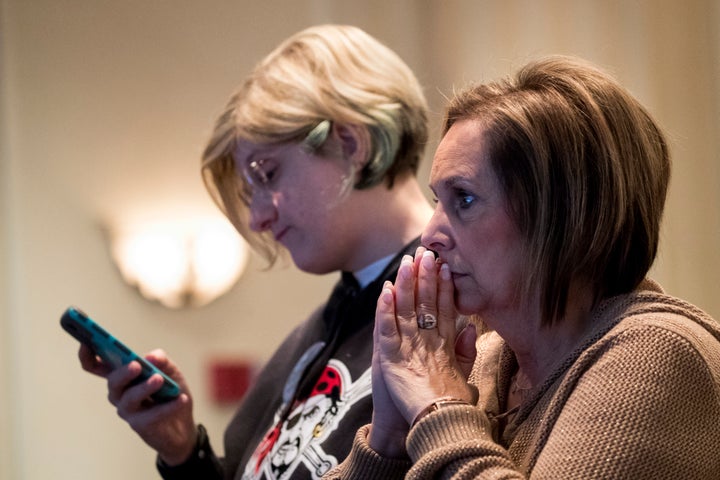 Yet, win or lose, the result represents massive progress for the Democratic Party. It reflects the heightened enthusiasm of the party's liberal base ahead of the 2018 congressional midterms, and it also signals dissatisfaction of many voters with President Donald Trump. The commander in chief carried the district by nearly 20 percentage points in the 2016 election.
"The congressional map for potentially competitive races has just gotten a whole hell of a lot bigger," said Mike Mikus, a western Pennsylvania-based Democratic consultant. "If I'm the Republicans, I'm terrified. If I'm the Democrats, I'm very energized looking toward November."
The Democratic Congressional Campaign Committee claimed victory Tuesday night before a winner had been declared. Ben Ray Luján, the chair of the group, said the results should "terrify Republicans" who spent millions to defeat Lamb.
"We have incredible candidates with deep records of service running deep into the map this year, and it's clear that these Republican attacks are not going to stick," he said.
Pennsylvania's 18th Congressional District opened up in October, when eight-term incumbent Republican Tim Murphy resigned under pressure. Murphy, who publicly opposed abortion rights, was caught encouraging a woman with whom he was having an extramarital affair to get an abortion during a pregnancy scare.
Murphy enjoyed a virtually unshakable hold on the southwestern Pennsylvania district, running unopposed in the two previous elections. The district, which was heavily gerrymandered to favor Republicans, covers a vast swath of southwestern Pennsylvania.
Doug Heye, a former spokesman for the Republican National Committee, said Tuesday's result served as a warning sign for the GOP come November even if Saccone retains the seat.
"Regardless of who ultimately wins, this is not a good result for the GOP. Look for more retirements to come," Heye tweeted, referring to the growing number of Republican lawmakers headed for the exits.
Much of the national commentary on Lamb's race has centered on how he used his Catholic faith, background as a Marine and moderate positions on guns, coal and fracking to find favor with the district's culturally conservative voters.
But Lamb also had a laser-like focus on kitchen-table economics, particularly with his promises to protect Social Security and Medicare.
And in a district where nearly one in four voters is a union member, Lamb made his support for organized labor a leading theme of his campaign. He promised to protect collective bargaining rights, signed onto a bipartisan fix for the underfunded coal miners' pensions and supported efforts to "level the playing field" for American manufacturing.
In his courtship of union voters, Lamb had a helpful foil in Saccone. Although former Rep. Tim Murphy enjoyed a solid working relationship with unions, Saccone had a resolutely anti-union record, which included a host of controversial state House votes and support for the so-called "right-to-work" laws that are a third rail for unions.
"It's a good win for the labor movement."
Labor unions, which have sometimes been divided in their electoral efforts, united passionately behind Lamb. They conducted a massive effort to inform their members why they believed Lamb was the right candidate and Saccone was unacceptable.
The United Steel Workers alone contacted all 20,000 of its members in the district at least once, according to the union's political director Tim Waters.
"It's a good win for the labor movement," Waters said. "This is a union district and Republicans decided that because of the [district] lines they could come here to our backyard and run a blatantly anti-union candidate."
The nature of the district made the race something of a "litmus test" on the political resonance of unions ― and unions passed that test with flying colors, according to Waters.
Although there is not detailed enough data to document exactly how votes broke down based on union membership, several working-class precincts where labor has a large presence went from voting for Trump to voting for Lamb.
In Burgettstown, a hamlet in a Washington County school district where just 15 percent of residents have a bachelor's degree or higher, 56 percent of residents voted for Trump in 2016. On Tuesday, the exact same percentage of the town's residents voted for Conor Lamb.
Likewise, in a part of the rural coal mining town of Waynesburg, where Lamb held one of his final rallies, 57 percent of residents voted for Trump and 54 percent backed Lamb.
"If you look at his win and what happened recently with teachers unions in West Virginia, the labor movement is resurgent," said Krystal Ball, founder of the People's House Project, which recruits and advises candidates in GOP-held districts in the Midwest and Appalachia. "I hope the Democratic Party is smart enough to know their best friends and allies are in the labor movement."
This article has been updated to include Lamb's lead after absentee ballots had been counted.
Support HuffPost
The Stakes Have Never Been Higher
Before You Go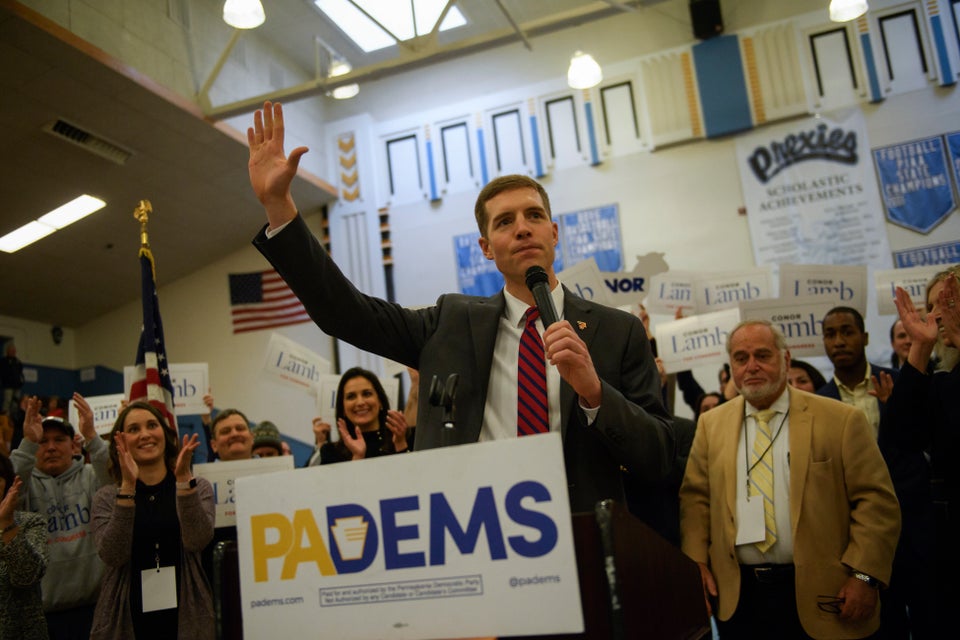 The Special Election for Pennsylvania's 18th Congressional District
Popular in the Community