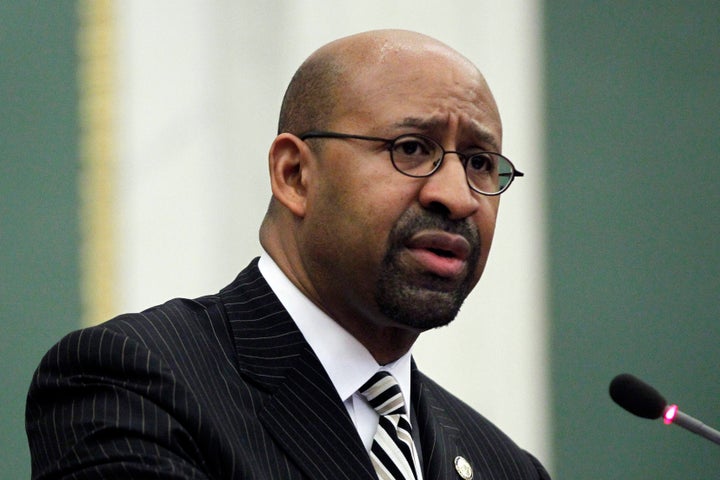 Philadelphia Mayor Michael Nutter blasted Pennsylvania's controversial new voter ID law, calling it "a bad solution looking for a problem."
"We should all certainly be concerned about the integrity of the voting process. There are a lot of ways to ensure that," Nutter told Talking Points Memo. "But it clearly appears to me that this is one of the most frustrating, confusing, and -- at the moment at least -- poorly implemented solutions to a problem that we're not even sure what it is, ultimately, that we're trying to prevent or going to prevent."
Critics have long contended that the laws disproportionately affect blacks, Latinos, younger voters and the poor -- groups that are less likely to have ID and that also tend to cast ballots for Democrats. Similar laws have gone into effect in states across the country, especially after Republicans won control of numerous statehouses in the 2010 midterms. Currently 32 states have some form of voter ID law on their books.
Estimates vary wildly as to how many people will ultimately be affected by the law. A report by the Brennan Center for Justice at the New York University School of Law said that nearly a half-million Pennsylvania voters could face serious obstacles to voting because of the law.
But according to a study conducted by the AFL-CIO and published in the Philadelphia City Paper, at least 1,636,168 Pennsylvania voters might not have valid state ID. The report found that the effect may be even more pronounced in Nutter's city: 43 percent of voters in Philadelphia may not be eligible to vote because their state-issued IDs do not conform to the law's guidelines. Many are unaware that the new law even exists.
Nutter told TPM that he would post ads on city buildings, distribute flyers and post the new rules on the city's website to make sure voters were informed about the new law.
Many in the state who have tried to get an ID that meets the new law's standards say they've faced hurdles. Bryant Warner, a 19-year-old from Philadelphia's Germantown neighborhood, was registered to vote through his high school. But he threw away his high school's identification card when he graduated last year and before the state's law went on the books. "It's corny, it came out of nowhere," said Warner, who hopes to vote in his first election this November.
"Basically, I walk everywhere I go," he said. "I got my documents and all that just to get my ID, it's just the transportation is my problem."
Last week, protestors gathered in Pittsburgh to protest the laws. Rev. Richard Freeman, the pastor of the Ressurrection Baptist Church in Braddock, Pa., said that there were all sorts logistical hurdles that made getting a valid state ID "a functional poll tax."
"The community I pastor is one of the most economically challenged communities in Pennsylvania," Freeman said. "Many of them are from the South and from Europe, where their birth certificates are not a matter of public record."
Freeman said that his organization, the Pennsylvania Interfaith Impact Network, recently held a rally to take people to the DMV to get an official ID. "They put up so many roadblocks," he recalled. "People who voted for literally 30 years were told, 'You don't have your birth certificate, you don't get your voter ID.'"
Jenny Rafanan Kennedy, who also attended the protest, echoed those sentiments. A newly married recent transplant from Ohio, Kennedy said that when she went to get Pennsylvania state ID, she had difficulty providing proof of address and that her new name made it difficult to provide documents that proved that she was who she said she was.
"I'm an educated person with a lot of resources, and I can barely navigate this process," said Rafanan Kennedy. She said she had to get a new copy of her birth certificate, with her maiden name, from Ohio, in order to get Pennsylvania ID.
"I have transportation, I have money. I have time, I have a healthy dose of luck," she said. "Remove any one of those things, and suddenly it's a huge challenge."
Gene Demby covers politics for Huffington Post BlackVoices. You can follow him on Facebook and Twitter.
Correction: An earlier version of this story attributed a study on the number of disenfranchised to the Philadelphia City Paper. The study was conducted by the AFL-CIO and given to the City Paper.
IF YOU HAVEN'T ALREADY, DON'T FORGET TO REGISTER TO VOTE:
Popular in the Community