 The legal team fighting Pennsylvania's restrictive new voter identification law asked the state's Supreme Court on Thursday to at least postpone until after November the measure that could disenfranchise tens of thousands of voters, many of them minorities.
"There's too little time, there's too many people affected and there's no place in the statute that guarantees that qualified electors can get the ID they need to vote," said David P. Gersch, representing the American Civil Liberties Union and other public interest groups.
The three Democratic justices noted the nonexistence of the voter fraud the law is ostensibly designed to prevent, and repeatedly asked lawyers representing the state's Republican-led legislature and Republican governor, "What's the rush?"
But even if the nation's top courts were once a place where partisan differences were overcome, these days they are more likely to be one more place for partisan battles. On Thursday, the three Republican Supreme Court justices gave little indication that they would overrule a district court decision last month that let the law stand. In case of a tie, the lower court ruling would remain in effect.
Pennsylvania's voter ID law was passed by the General Assembly in March, soon after Republicans took control. After an outpouring of new voters for President Barack Obama in 2008, voting-related laws have sprung up across the country wherever Republicans could pass them, with the effect of suppressing the votes of minorities, students and other demographic groups likely to vote Democratic.
Alfred Putnam, a private lawyer representing Pennsylvania Gov. Tom Corbett, provided a blunt analysis of the issue on Thursday. "We live, unfortunately, in a very polarized world at the moment, where people believe one of two things," he told the justices.
Some "see the world in which voter fraud is a problem," while others think "that just doesn't really happen very much" and that "there will be countless number of people disenfranchised" if specific, state-issued photo IDs are required of would-be voters, he said. "In the Legislature's world, we don't believe there are countless numbers of people who won't be able to get voter ID. You can believe that or not."
The state itself has conceded it has no evidence of prior in-person voter fraud or any reason to believe such crimes would occur with more frequency if a voter ID law wasn't in effect.
By contrast, there is ample evidence that voter ID laws lead to disenfranchisement. There are whole classes of people who don't have what Pennsylvania considers acceptable ID for voting, mainly those who don't drive, including elderly, infirm or inner-city residents, and out-of-state college students.
Pennsylvania's GOP House majority leader, Mike Turzai, provided a clear view of the motivation behind the voter ID laws when he recently declared that the voter ID law "is going to allow Governor Romney to win the state of Pennsylvania."
Democratic Justice Seamus McCaffery alluded to Turzai's statement at Thursday's hearing. "There's no public harm that we can see [from voter fraud]," he said. "Could it be politics, maybe?"
There are some hints that at least one Republican justice could break ranks. At the hearing, Justice Thomas Saylor, a Republican, asked the state's lawyers whether the law guarantees every registered voter can cast a vote -- a question they could only answer in the negative. The Philadelphia Inquirer editorial board raised the possibility that Pennsylvania Chief Justice Ron Castille might ultimately side with the Democrats on this issue.
"[W]hile his brethren might rule along party lines, Castille has a history of flexing his independence," the paper wrote. "Just eight months ago, it was Castille who distinguished himself in an otherwise partisan 4-3 ruling when the state Supreme Court threw out a redistricted legislative map designed to benefit the GOP."
The Huffington Post reported on Tuesday that Commonwealth Court Judge Robert Simpson's decision not to block the law was based in part on a bigotry-filled 19th century state court decision that disenfranchised many Philadelphia workmen.
Before the Supreme Court hearing, protesters rallied against the law outside.
John L. Micek of the Allentown Morning Call blogged that the Rev. Bill Moore of Philadelphia's Tenth Memorial Baptist Church evoked images of the civil rights struggles. "We've come too far to turn back now. Too many people have died and we're not going to trample on their blood," said Moore.
National NAACP President and CEO Benjamin Todd Jealous also spoke, according to the local CBS affiliate. "Small-minded men, so small they would contort our democracy for their own partisan purposes, have no place in our democracy," Jealous told the crowd. "They're not just a shame to our country, they're a shame to their own party."
Jon Fasman, a correspondent for the Economist, wrote on Wednesday that it is time to recognize the campaign against voter fraud "for what it is: deliberate voter suppression, and a betrayal of democracy."
"When tactics turn from encouraging one's own voters to vote and setting up legal barriers to prevent the other side from doing so, that is something much nastier—particularly when those most directly impacted by these legal barriers were similarly barred from voting by 'legal' barriers for most of this country's history," Fasman said.
Before You Go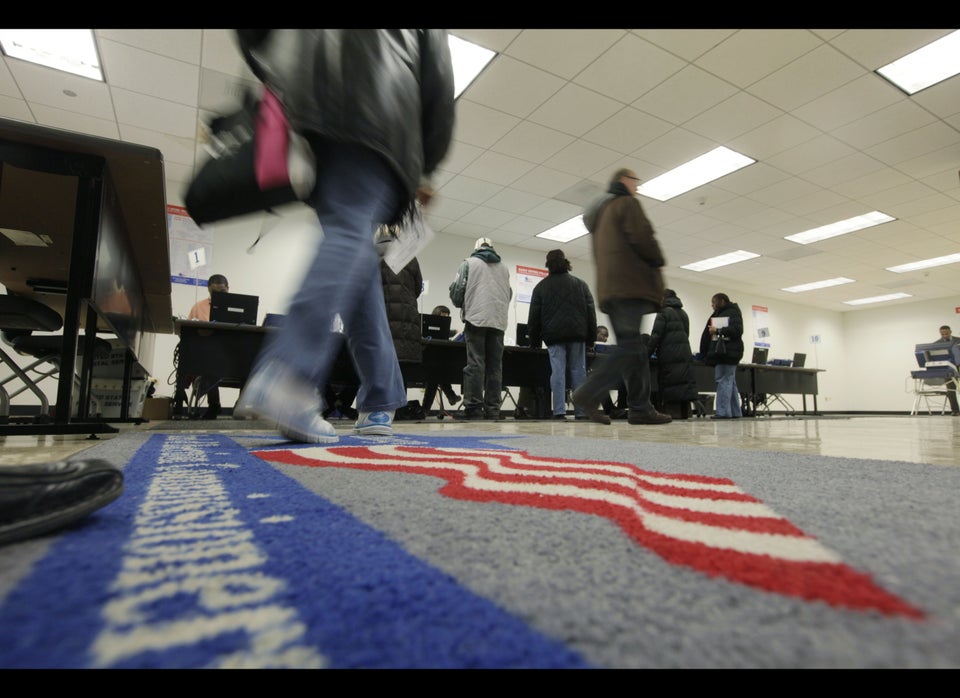 7 Ways You Could Be Disenfranchised
Popular in the Community