WASHINGTON -- In October, a Pennsylvania judge blocked the state from implementing its voter ID law in time for the 2012 elections. But his opinion was complicated: Election officials are allowed to ask voters to show photo ID, but they can't require them to do so in order to cast a ballot. And now, on Election Day, that ruling is causing significant confusion among both voters and poll workers.
"The state did a horrible job about educating voters about what the ID requirements were for this election," said Marcia Johnson-Blanco with the Lawyers' Committee for Civil Rights. "What we find today is that voters are showing up at the polls and in many precincts -- far too many -- they're either being turned away because they don't have the ID, or they're being asked to vote with a provisional ballot, which is not what the law requires."
This experience is also being borne out by Huffington Post readers. Lea Hyland, a voter from Drexel Hill, Pa., sent in a photo of a sign hanging on the door to her polling location at Holy Child Academy. The sign states, "ALL VOTERS must show one of the following approved forms of Photo Identification to vote." The Delaware County Election Bureau said that the sign hadn't been reported and it would send someone to Drexel Hill to check it out.
Bernie Caplan, a voter in Butler, Pa., reported seeing a similar sign at his precinct.
Kristin Volchansky, a voter in Selinsgrove, Pa., reported seeing an official-looking sign saying "ALL voters will be required to show a photo ID" at her polling place at the Monroe Township Building. If voters did not, the sign said, they could cast provisional ballots that would be counted once they produced ID. The Snyder County Election Bureau said that the sign was later taken down.
Sheila O'Connell in Lower Saucon Township, Pa., said a poll worker asked her and her husband for photo ID this morning when they went to vote. When O'Connell pointed out she doesn't need ID to vote, the official replied, "Well, you might need one next year." Her husband voted using his ACLU card.
Camille Matthews in Berks County, Pa., who said it was her first time voting in the area, said she was asked to show a driver's license when she tried to cast a ballot.
Unrelated to the controversial photo ID law, first-time voters and voters who are voting in a new polling place are required to show some form of ID, although it need not be a driver's license or other type of photo ID.
"When we said, 'We understood it was not required,' the clerk, an older woman, stared us down and said, 'I need to see your ID,'" wrote Matthews. "We felt intimidated and did not want to have a scene since we are new to the neighborhood. We produced our driver's licenses."
Bryan Utter in Bucks County, Pa. said he was twice asked to show photo ID. He was told his passport wasn't enough because it didn't show his most recent address.
In fact, no voters are required to show any form of photo ID to vote. When Commonwealth Court Judge Robert Simpson blocked Pennsylvania's voter ID law in October, he said he did so because he wasn't convinced by the state's assurances that it would be able to make sure all people who don't have valid ID would be able to obtain it at such a late date. Students, minorities and older voters are most at risk of disenfranchisement by photo ID laws.
The Lawyers' Committee for Civil Rights Under the Law is leading a nonpartisan Election Protection coalition, which is running a hotline (1-866-OUR-VOTE) to take voters' questions and record their concerns.
In 2008, the hotline received a total of 100,000 calls on Election Day. This year, as of 6:13 p.m., the hotline had already taken 74,679 calls -- and that was before the evening rush.
The hotline received 7,911 calls from Pennsylvania, according to the Election Protection coalition, more than from any state other than California, with voters reporting that they were not being allowed to vote without photo ID and instead being forced to cast provisional ballots.
Some of the confusion stems from the fact that even after the court blocked the law ahead of Tuesday's election, the state continued to advertise the law. "This election, if you've got it, show it," read one billboard in Spanish. A state judge refused to block the billboards on the grounds that they were misleading.
The Election Protection coalition set up temporary headquarters in Washington, D.C. for Election Day, with 200 legal volunteers helping out throughout the day, and another 4,000 nationwide.
The ACLU of Pennsylvania, which is working with Election Protection, said it had received 225 voting-related complaints as of 2:00 p.m., much more than it received in 2008.
The Pittsburgh Tribune-Review reported that a judge halted electioneering outside of one polling place where Republicans were reportedly standing outside a voting location and asking people to show photo ID, saying it "could have a chilling effect" on voting.
According to the Tribune-Review, a retired Air Force master sergeant said a poll worker refused to accept his military-issued photo ID and demanded to see a driver's license before he could vote.
View the sign in Drexel Hill, Pa. telling voters they need photo ID (view larger image here):
View the voter ID sign at the Monroe Township Building in Selinsgrove, Pa.: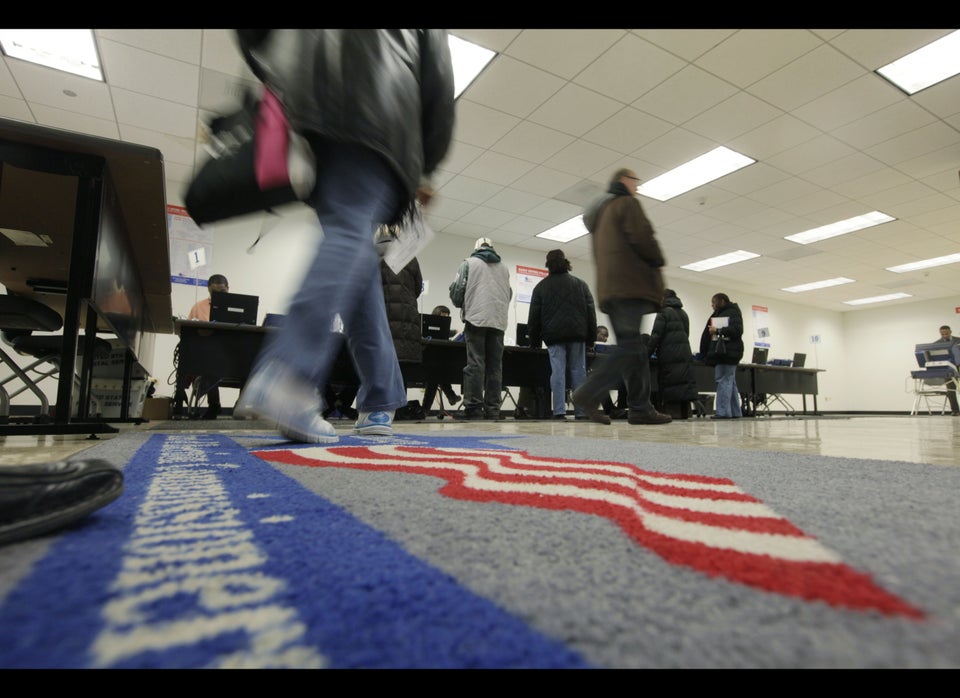 7 Ways You Could Be Disenfranchised