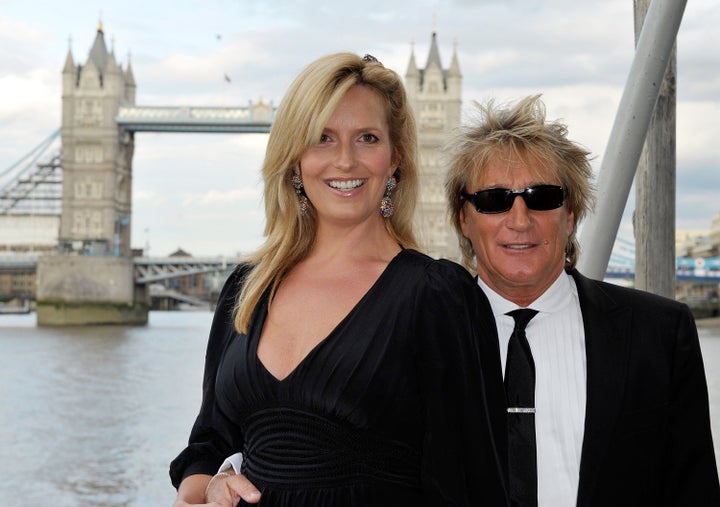 Rod Stewart and Penny Lancaster are expecting a baby in early 2011, and they discuss their two-year struggle with infertility in this week's HELLO! magazine:
In a HELLO! exclusive this week, the couple open up about the grueling series of IVF treatment they resorted to and the subterfuge they went through to keep her pregnancy secret until the 12-week mark.

Thankfully, all is well now. Radiant Penny, 39, is just showing the beginnings of a baby bump and Alastair is thrilled - above all because doctors are 99 per cent certain it's a boy.

"It's exactly what he wanted and his happiness made all the IVF treatments worthwhile," says his mum.
The baby will be Rod's eighth, and his second with Penny (their son Alastair is 4).
Excerpts from the story are found on growingyourbaby.com. Penny reportedly reveals that her fish-based diet resulted in high mercury levels, making it difficult to conceive. She reduced her fish intake and her mercury levels went down.
"A homeopathic doctor told me my mercury levels were really high, off the scale. I do love fish, and I thought it was healthy without understanding the high mercury levels that fish like tuna, swordfish and halibut can contain. My doctor said it was unhealthy to have so much mercury in my body, and also for conceiving babies," she told HELLO!
Jeremy Piven has also suffered from high mercury levels, which caused him to drop out of a Broadway production in 2008.
Calling all HuffPost superfans!
Sign up for membership to become a founding member and help shape HuffPost's next chapter