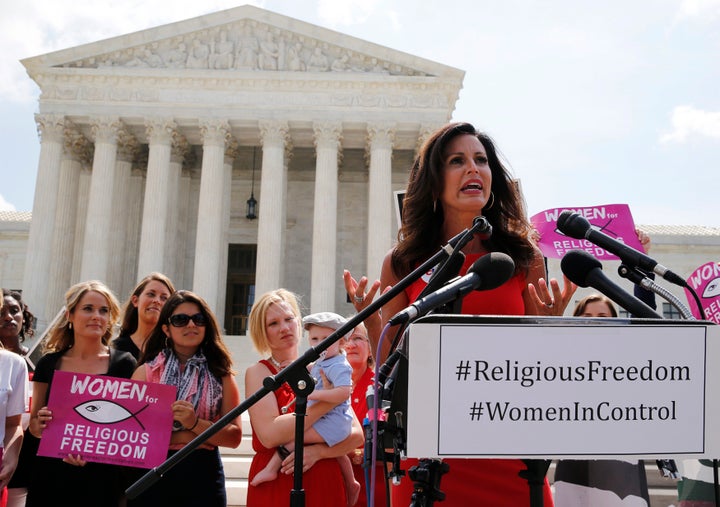 WASHINGTON ― Penny Nance, the woman Donald Trump is reportedly tapping to be his ambassador-at-large for global women's issues, trashed him during the GOP primary to HuffPost, saying that the choice between him and Hillary Clinton would be a "horrible" one for women.
Nance, president and CEO of the conservative Christian advocacy group Concerned Women for America, endorsed Sen. Ted Cruz (Texas) in the Republican primary and actively campaigned against Trump. In an April 2016 interview with HuffPost, she balked at Trump's remark on the campaign trail that women liked him because as president, he would protect them from terrorists.
"My question is, who's gonna protect us from him?" Nance said.
At the time, Nance was particularly angry with Trump because he had just said at a town hall event that if abortion became illegal, women should "face some sort of punishment″ for undergoing the procedure. She said that comment was "in no way helpful" to the anti-abortion movement, which had been fighting the left's argument that abortion restrictions are designed to punish women.
"Appalled. I'm appalled by what he said last week," she told HuffPost. "No one in the pro-life perspective thinks it's a good idea to imprison women."
If the GOP were to nominate Trump for president, Nance said conservative women would face a "horrible choice" on Election Day.
"I don't know that we would endorse anyone," she said. "That would be a horrible choice for our members. As questionable as Donald Trump's judgment is, sadly, we know Hillary's positions, and they are the opposite of what we believe to be good policy."
"I do worry about women staying home because they don't like their choices," Nance added. "I understand that. It's difficult."
Weeks earlier, Concerned Women for America had co-hosted campaign events with the Susan B. Anthony List, an anti-abortion political action committee, that urged primary voters in the key states of South Carolina and Iowa to "support anyone but Donald Trump."
"America will only be a great nation when we have leaders of strong character who will defend both unborn children and the dignity of women," Nance and other anti-abortion activists wrote in an open letter to Iowa voters. "We cannot trust Donald Trump to do either."
Nance declined to comment for this story, but a Concerned Women for America spokeswoman noted that she has since changed her tune on Trump. In May, Nance told Bret Baier of Fox News, "I am thrilled to have been wrong about this. Donald Trump has turned out to be a real champion for life and for families and we are very thankful."
Politico reported last week that Trump is expected to nominate Nance as his global envoy for women's issues, in which role she would oversee State Department programs to curb gender-based violence and promote equality for women and girls around the world.
Her prior criticism of Trump aside, Nance is an odd pick for the position. Her group called the creation of the State Department's Office of Global Women's Issues a "wasteful and unnecessary idea" and opposed the proposed International Violence Against Women Act, because some of its funding could supposedly have been used to "undermine marriage and disrespect women's noble roles as mothers and wives." She criticized the Disney movie "Frozen" because it features strong female characters and she claimed it undermines women's ability to raise their little boys to be "heroes."
Nance also opposes emergency contraception and abortion rights, even in cases of rape. She is against LGBTQ rights because she believes "our femininity is a gift from God." She wrote in a 2016 Fox News op-ed that former Miss Universe Alicia Machado, whom Trump infamously called "Miss Piggy," deserved to be harassed by him over her weight because she "was being paid to look perfect."
"Let's be honest, a woman who voluntarily puts on a bikini and literally asks people to judge her based almost solely on her body can't be mad when they do," Nance wrote.
Dawn Laguens, executive vice president of Planned Parenthood, said Trump's choice of Nance for global women's ambassador "shows a fundamental disdain for women's health and their lives."
"This would be putting an arsonist in charge of the fire department," Laguens said.
Still, Nance appears to be gearing up for the announcement and has already begun defending Trump against his vocal Republican critics in the Senate. Last week, she tweeted that GOP Sens. Jeff Flake (Ariz.) and Bob Corker (Tenn.) should "resign immediately" for questioning Trump's fitness for office. Later she said on Twitter that Flake "sounded like a middle school girl."
Both men sit on the Senate Foreign Relations Committee, which could kill her chances of being confirmed.
Calling all HuffPost superfans!
Sign up for membership to become a founding member and help shape HuffPost's next chapter