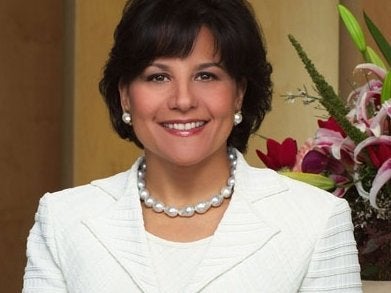 UPDATE: Penny Pritzker has withdrawn herself from consideration for the Commerce Secretary post. She emailed the following statement to the Chicago Sun-Times' Lynn Sweet:
"Speculation has grown that I am a candidate for Secretary of Commerce. I am not. I think I can best serve our nation in my current capacity: building businesses, creating jobs and working to strengthen our economy. It has been my great privilege to serve in the Obama campaign. I look forward to helping our new President in every way possible and am excited about the future under his leadership." Penny Pritzker, Chair, TransUnion"
Chicago billionaire Penny Pritzker has told Barack Obama's team she does not want to serve as Commerce Secretary, said a senior Obama official.

"Penny Pritzker ultimately has decided she does not want to do the Commerce thing," the senior official said.
More news has come out about the makeup of Obama's Cabinet. The New York Times reports that Penny Pritzker is a leading candidate for Commerce Secretary:
Two other leading contenders for cabinet positions emerged late Wednesday, Democrats with knowledge of the process said. Gov. Janet Napolitano of Arizona was poised to be offered the position of homeland security secretary, and Penny Pritzker, a Chicago businesswoman and national finance chairman of the Obama campaign, was in the final stages of vetting for commerce secretary.

A longtime friend of Mr. Obama, Ms. Pritzker was a chief architect of his record-breaking fund-raising efforts during the presidential campaign. Ms. Priztker is one of three cousins who manage their dynasty's financial empire, which includes the Hyatt hotel chain, casinos and many other ventures. But some of Ms. Pritzker's business dealings may also raise tough questions during any confirmation process. She was involved in running and overseeing Superior Bank, an Illinois institution co-owned by her family that was at the forefront of turning subprime loans into securities, the risky practice at the heart of the financial crisis. The bank collapsed in 2001 after regulators discovered accounting irregularities that overstated its assets.
CNN also reports that Pritzker is the leading candidate to head the Commerce department:
Also, multiple Democratic sources say billionaire Chicago businesswoman Penny Pritzker is Obama's choice for commerce secretary.

The sources say she will accept the job, which would be formally offered after vetting is complete. Pritzker ran Barack Obama's record-breaking fundraising effort, serving as the campaign's finance chair.
"The issue is whether she ultimately wants to do this, and it may be - and probably will be - possible that for business reasons, she probably can't do it," said a Democratic source familiar with Obama's Cabinet selection process.

The early favorite for the job, Pritzker may take herself out of the running soon, sources said. Pritzker was the first campaign insider and "Friend of Barack" to surface as a possible Cabinet pick.
Read more about Obama's potential Cabinet here.
Popular in the Community