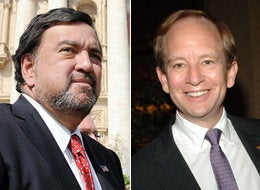 In journalistic shorthand, this story's got legs.
The saga of Obama administration auto czar Steve Rattner and his possible involvement in a pay-to-play scheme involving New York's massive pension funds just keeps expanding and provides a window into the extreme risks taken on Wall Street that led to the financial crisis.
Rattner's investment firm, Quadrangle, also managed investments for pension funds in New Mexico, California and Pennsylvania.
New York Attorney General Andrew Cuomo has launched a probe of the conduct of so-called "placement agents," who get fees for helping money managers land deals to handle the investments of New York state's $122 billion state pension fund. Additionally, the New Mexico Attorney General's office is closely tracking the role of Quadrangle and the use of such brokers in their own state, the Huffington Post has learned.
"We're monitoring it at this point, keeping abreast of it, seeing if there are any reasons for us to get involved," says a spokesman, adding that members of the office have been in touch with Cuomo's office in New York.
In both states, indicted broker Hank Morris played a role in helping Quadrangle land deals to help manage the pension funds' billions.
Morris and New York's former deputy comptroller David Loglisci were charged last month with allegedly soliciting millions of dollars of kickbacks from firms managing money. The inquiry in New York initially focused on the role of former state comptroller Alan Hevesi and has now expanded to include New York City comptroller Bill Thompson.
Rattner met with Morris in 2004 about a finder's fee for landing the state pension fund deal and his firm later paid the broker $1.1 million, according to numerous reports. Quadrangle also paid finders fees to Morris's firm, Searle & Co., for an $85 million investment from the New York City Employee Retirement System and a $10 million investment from the Los Angeles Fire and Police Pension System, the Wall Street Journal reported.
Morris helped Quadrangle secure a $20 million commitment from New Mexico's State Investment Council. And Quadrangle hired New Mexico Senator Jeff Bingaman's son, John, as an investment analyst though Bingaman has stressed that he never discussed the state pension fund with his son. The senator has received $2,000 in campaign contributions from Rattner but Bingaman claims he didn't know the financier and only met Rattner once, when he was meeting his son for lunch and stopped by the Quadrangle offices in New York, reports the New Mexico Independent.
Neither Rattner nor Quadrangle has been accused of wrongdoing and the firm says that it is cooperating with Cuomo's office.
The burgeoning scandal threatens to expose the inner workings of the Democratic Party's fundraising machine -- Rattner, a longtime Democratic contributor and close confidant of the Clintons, donated $20,000 to New Mexico governor Bill Richardson. Another money manager and major Democratic fundraiser is Leo Hindery, founder of InterMedia Advisors, LLC, who paid broker William Howell $125,000 to help arrange the deal to manage state pension funds. Hindery also contributed to Richardson, donating $50,381, reports Bloomberg News.
On Wednesday, New York banned the use of placement agents or lobbyists in investments by the state's pension fund, and the Securities and Exchange Commission may adopt new rules to bar money managers from paying to win state business.
The growing scandal also exposes how state pension funds, which handle tens of billions of dollars, were pushed into risky investments by money managers.
The former chief investment officer of New Mexico's Education Retirement Board claims that the board lost $90 million by investing in subprime mortgages and collateralized debt obligations. In a lawsuit filed last July against the board on behalf of the state, Frank Foy also claimed that he was pressured to award contracts and make investments that would reward Richardson's campaign contributors.
Foy accuses the defendants, which include such major investment banks as Citigroup, UBS, Credit Agricole SA, and JP Morgan Chase, of selling the state "a worthless combination of liars' loans, lethal leverage, and toxic waste."
Among the claims described in the complaint, Foy says that one firm, Vanderbilt, misled the board by falsely stating that the CDOs were backed by high quality mortgages, that the risks were adequately covered by insurance or credit swaps, and that the investment was protected by an understanding of the underlying collateral.
One of the most damaging claims was:
Defendants had a mutual agreement, or understanding, or course of conduct to tout the other defendants' CDO products and jointly promote each others' products and include them in their own CDOs and portfolios. The defendants jointly acted to conceal the falsity of their claims about the products they jointly removed, as they all profited from the sale of these unsound products. The defendants jointly acted to inflate the prices of these products.
Foy claims that he was falsely accused of "sexual harassment" and producing a "hostile work environment" and forced to retire after 15 years with the board.
A spokesman for Richardson denied the charges, calling Foy "a disgruntled former employee who was accused of serious misconduct during his time as a state employee."
The abuse of such investments has spread in recent years - trustees of public pension funds in Ohio, Illinois and California have been accused of kickbacks and extortion.
And in Detroit, pension funds lost $40 million when their investment adviser put their money in collateralized loan obligations, complicated debt securities backed by commercial loans, reports the Detroit Free Press.
The scope of the pension funding crisis threatens many state governments, which have unfunded obligations of $445 billion for health benefits for state workers, according to a recent analysis by USA Today.
And ironically, the funding shortfall could actually push the funds to make risky investments, according to a report by the Employee Benefit Research Institute:
"Under current accounting rules, underfunded public pension plan sponsors face some perverse incentives to maintain aggressive or risky investments, and that public plan sponsors are unlikely to significantly shift toward safer but lower-return investment policies, at least in the short run."
Calling all HuffPost superfans!
Sign up for membership to become a founding member and help shape HuffPost's next chapter