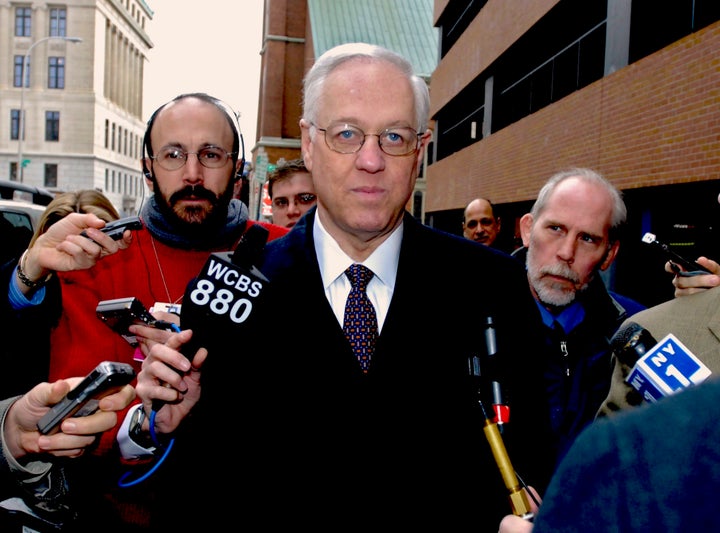 Forthcoming sentences to be imposed in New York on people involved in corruptly obtaining investment funds from the New York State Pension Fund will demonstrate what costs, if any, will be imposed on corrupters, rather than the public servants they corrupted. Ever since Harry Dougherty was acquitted of giving Secretary of the Interior Albert Fall a bribe in the Teapot Dome Scandal -- a bribe Fall was convicted of receiving -- there have been different rules for corrupters and the public servants whom they suborn. Teapot Dome took place in the 1920s, but ninety years later the corrupters still hope to go free, while the public servants whom they corrupted go to prison. The risk-to reward ratio has been so badly skewed in favor of the corrupters that we are not, in fact, deterring crime.

In the current case of the New York State pension fund scandal, we are at some risk of seeing the principle of "equal justice for all" being savaged as people who engaged in really significant bad behavior seem to be getting off with remarkably lenient sentences.

The case involves investment bankers and power brokers who paid Hank Morris and State Controller Alan Hevesi money to get access to the money in the New York State pension system, taken from tax payers and workers to provide pensions for retired State workers.

Rather than competing on such bases as the competence of the advisor, the security of the investment, the rate of growth of the investment or any of the other factors that go into making a sound fiduciary judgment, the corrupt investment bankers competed for the Controller's attention by paying money to him or his agents. And they have been treated gently by the courts.

Take the case of former Liberal Party boss Ray Harding.

Last month, Manhattan State Supreme Court Judge Lewis Bart Stone allowed Harding to withdraw his felony plea for having accepted some $800,000 in payments for his part of the pay-to-play kick-back scheme for which ex-Comptroller Alan Hevesi and his chief political aide, Hank Morris were each sentenced to a four year prison term.

Harding, a long time leader of New York's Liberal Party, was allowed to plead guilty to a single misdemeanor, and was sentenced to a conditional discharge, with no incarceration. He was allowed to keep the $800,000, and, If he stays clean, he can even apply to renew his law license and practice law again.

Harding was paid to persuade Hevesi to authorize placing pension funds in the hands of bribe payers, so that they could invest it.

Was Harding's punishment for accepting fees in a corrupt scam sufficient to deter others from engaging in the same conduct? Maybe the sentence is an aberration, explainable by the fact that Harding was found to be in poor health. But while the New York Attorney General's office is trumpeting the fact that eight people have pled guilty in the pay-to-play scheme, so far, only two of the eight -- Hevesi and Morris -- have actually gone to jail.

Former New York Chief Investment Officer David Loglisci pled guilty in March 2010, but has not been sentenced. The same is true of hedge fund manager Barrett Wissman, placement agent Julio Ramirez, and pension fund manager Elliott Broidy.

Among these, Broidy's case is an especially interesting one. He pled guilty in December 2009 to the felony of rewarding official misconduct. The Attorney General's office found that he paid nearly a million dollars in bribes to get a quarter billion dollar investment by the New York State pension fund in an Israeli investment fund in which he had an interest. His costs of funds, then was less than .4%.

The payoffs included luxury trips to Israel, Italy, helicopter tours, luxury hotels, sham consulting agreements for lobbyist friends, and large campaign contributions. Broidy also provided $300,000 to an unsuccessful film "Chooch," and paid some $90,000 to a former TV actress who was the girlfriend of a high-ranking official in the New York comptroller's office.

His conduct was at the core of the entire pay-to-play scandal.

Broidy has done his share of civic activity. He served as a former finance committee chairman for the Republican National Committee, and was duly appointed by President George W. Bush to the board of trustees of the John F. Kennedy Center for the Performing Arts in 2006. Broidy has also served on the board of advisors of the University of Southern California's Marshall School Center for Investment Studies. To this day, he is listed by the Simon Wiesenthal Center, an international Jewish human rights organization, as sitting on its board of trustees as well. During the very time he engaged in his pension fund bribery activity, he also served as a trustee of the Los Angeles Fire and Police Pension fund. As Ira Gershwin wrote in the song, "nice work if you can get it."

Broidy has also given away a lot of money to politicians. Federal Election Commission Records show that in addition to giving $100,000 in cash to the Republican National State Elections Committee in 2002, Broidy has given money to current House Majority Leader Eric Cantor, Rudy Giuliani's 2008 Presidential campaign, Mitt Romney's 2008 Presidential campaign, disgraced Nevada Senator John Ensign's 2004 Senate campaign, disgraced Texas Majority Leader Tom Delay's Congressional campaigns, disgraced New Jersey Senator Robert Torricelli's Senate campaigns; disgraced Republican Illinois Senate candidate Jack Ryan and such other interesting politicians as former RNC chairman Michael Steele, former Speaker of the House Denny Hastert, and to the 2006 Virginia Senate candidacy of George Allen.

If, like many investment bankers, Mr. Broidy viewed his other payments to politicians as options, in case he needed a favor, it is clear that under current U.S. practice campaign contributions are not unlawful. But Mr. Broidy's experience in the world of campaign finance makes his payments on Hevesi's behalf all the more clearly corrupt. He knew what was lawful and what was not, and did that which was not, and was rewarded with an investment of capital of $250 million.

Mr. Broidy may have cooperated with law enforcement. There may be other indictments pending of which no one has yet heard. But as a simple rule of thumb, a cooperator should not be enriched by his crime at the end of the day. Mr. Broidy's sentence should be sufficient to deter crime, not attract people to it.

Whether New York is serious about the battle against corruption involving the rich and powerful is very much a question. Evidence will be found in whether Hevesi's principal partners in crime serve real time, or get off with a slap on the wrist that allows them to go on with their lives as if they done nothing very seriously wrong. A man who stole $50,000 would face up to fifteen years in prison.

It is not clear to me that a man who pays bribes of $800,000 or more to obtain $250,000,000 should go free.

Former Attorney General Andrew Cuomo said about cleaning up the pension fund scandal, "We're New Yorkers. We'll set the model for the nation." As these sentencing hearings come up in the wake of the decision on Harding, Cuomo's successor, Eric Schneiderman, and the presiding judge, need to consider the implications of their conduct and decide just what kind of model New York will be.
Calling all HuffPost superfans!
Sign up for membership to become a founding member and help shape HuffPost's next chapter