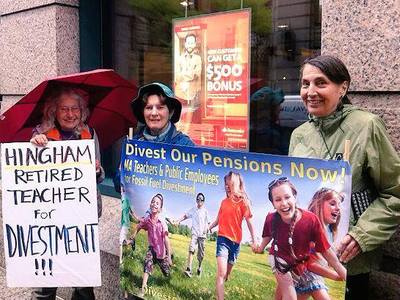 Taking inspiration from past campaigns to divest from South Africa and tobacco, advocates argue that it is immoral to invest in an industry that fuels climate change and exacerbates health problems such as asthma, cancer, and lung disease, causing hundreds of thousands of deaths each year. Advocates also argue -- backed by financial experts -- that divestment is the right thing to do from a business perspective. As we have already seen with coal, with 26 coal companies going bankrupt in the past three years, fossil fuels become dramatically less valuable as governments take action on climate change, and those holding investments in fossil fuels when this carbon bubble bursts will suffer significant losses if they do not take preemptive action.
A race is on to see which state in the country will be the first to do just that, with fossil fuel divestment bills before legislatures in Massachusetts, California, New York, and other states.
In Massachusetts, the first state to divest from apartheid South Africa, a variety of groups that represent public pensioners, including two public sector unions, have submitted a letter to the Massachusetts pension board to inquire how they are evaluating climate risk and what they are doing to protect pensioners against the coming carbon bubble.
While the letter signers -- which include the president of the Massachusetts Nurses Association and the president of Service Employees International Union (SEIU) Local 509, among others -- celebrate some recent steps the pension board has taken, they also make clear that further action is direly needed to protect the pension fund and the broader public from climate risk.
Among other things, the letter asks for an explanation of how the pension board has been evaluating the risks associated with its fossil fuel investments, how the pension fund's value would be affected by a reduction in the value of fossil fuels, and how the board is considering the exposure of its non-fossil fuel investments to climate risk.
The letter was delivered on the morning of July 21, 2015 to the PRIM Board. The text of the full letter appears, below:
July 21, 2015

Deborah B. Goldberg, State Treasurer, Chair
Michael G. Trotsky, Executive Director & Chief Investment Officer
Robert L. Brousseau
Ruth Ellen Fitch
Michael J. Heffernan
Anthony E. Hubbard, Esq.
Theresa F. Goldrick, Esq.
Dennis J. Naughton
Dana A. Pullman
Paul E. Shanley, Esq.

Dear Pension Reserves Investment Management Board Members,

On behalf of the member organizations listed below and as participants in the Massachusetts state pension system, we are writing with urgent questions that pertain to the Pension Reserves Investment Trust's (PRIT) investments in fossil fuel companies. Our questions have been informed by the May 9 vote of the Massachusetts Teachers Association asking PRIM to identify fossil fuel holdings and to study the advisability of fossil fuel divestment. Recent pronouncements from authoritative quarters have elevated our concerns:

The governor of the Bank of England, Mark Carney, has said that the "vast majority of reserves are unburnable" if global temperature increases are to be kept below 2 degrees Centigrade.
Christiana Figueres, Executive Secretary of the United Nations Framework Convention on Climate Change (UNFCCC), states that the "pensions, life insurances and nest eggs of billions of ordinary people depend on the long-term security and stability of institutional investment funds. Climate change increasingly poses one of the biggest long-term threats to those investments and the wealth of the global economy." She warns that "institutional investors who ignore climate risk face being increasingly seen as blatantly in breach of their fiduciary duty to their beneficial owners - men and women who have worked hard all their lives to put away something for their retirement and for their children."
World Bank President Jim Yong Kim, the former president of Dartmouth, includes divestment as a legitimate tactic: "The good news is that there is action we all can take to turn economies around . . . we can divest and tax that which we don't want, the carbon that threatens development gains over the last 20 years." He goes on to urge: "Be the first mover. Use smart due diligence. Rethink what fiduciary responsibility means in this changing world."
Christine Lagarde, the managing director of the International Monetary Fund, has spoken of the need for "making sure that people pay for the damage they cause...We are subsidizing the very behavior that is destroying our planet, and on an enormous scale. Both direct subsidies and the loss of tax revenue from fossil fuels ate up almost $2 trillion in 2011...."
Stories in the mainstream media, including the Wall Street Journal, The Guardian, the Financial Times, Pensions and Investments and other outlets are appearing at a rapidly increasing frequency, warning investors of the threat of "stranded assets."

While we appreciate that you have endorsed new proxy voting guidelines regarding renewable energy and energy efficiency, as well as signing on to the Ceres letter to the SEC, we believe the Board has a fiduciary duty to incorporate climate change concerns into its investment policy decisions in the interest of not only pension beneficiaries, but in the interest of the taxpayers that indirectly contribute to the pension system. We respectfully request a public response, in writing, to the following questions:

What is the PRIM board doing to assess the pension fund's exposure to the risks of owning fossil fuel assets? How has it assessed the risk to the long-term performance of the portfolio? Is investing in fossil fuels in the long-term interest of the pension fund?
If extraction of 4/5ths of currently declared fossil fuel reserves were to be restricted by government regulation or market mechanisms, how would this affect the pension fund's value?
The PRIM received a "D" in the survey conducted by the Asset Owners Disclosure Project (AODP) on Climate Risk Management. Has the Board reviewed the survey report? If so, is any action being taken to improve the grade?
In the past year, a groundswell of divestment has occurred by major institutions, citing concerns for the planet-endangering behavior of fossil fuel companies as well as the risk of stranded assets. Has PRIM considered gradual divestment of its fossil fuel assets, estimated at over 1 billion dollars?
Does the PRIM board factor in exposure to climate-related impacts on its non-fossil fuel holdings as well? If so, by what measure?

Thank you in advance for your attention to this important matter. We look forward to your response.

Sincerely,

Susan Tousignant, President, SEIU Local 509
100 Talcott Ave, Bldg. 313, 2nd Floor
Watertown, MA 02472
stousignant@SEIU509.org

Donna Kelly-Williams, RN
President, Massachusetts Nurses Association
340 Turnpike Road
Canton, MA 02021
dkellywilliams@massnurses.org

Fran Ludwig, Advisory Board, Divest Our Pensions Now
19 Wyman Road, Lexington, MA 02420
fludwig12@yahoo.com

Lauren Ockene, Educators for a Democratic Union, a caucus in the Massachusetts Teachers Association
24 Cranston Street, Apt.. 2
Jamaica Plain, MA 02130
lockene@mac.com

Cc: Massachusetts Pension Reserves Investment Management Board Investment Advisory Committee
Calling all HuffPost superfans!
Sign up for membership to become a founding member and help shape HuffPost's next chapter