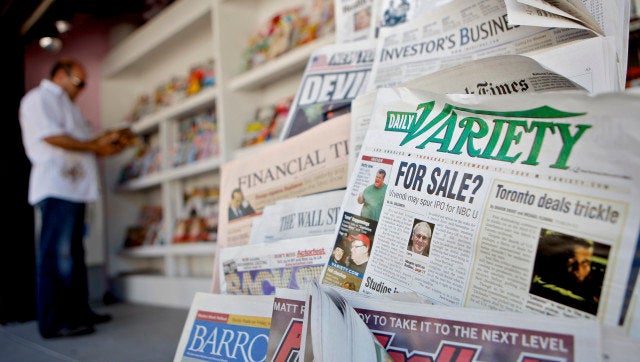 It's the end of an era for Variety, a daily and weekly print publication that has been reporting on the entertainment industry since 1905. Penske Media Corp., a digital media company that also owns online industry news site Deadline Hollywood, announced Tuesday that it had acquired Variety from British publisher Reed Elsevier.
What the deal means for Variety's staff and editorial direction is unclear.
Leo Wolinsky, a 32-year veteran of the Los Angeles Times and editor of the Daily Variety in 2010, was frank about the challenges Penske will face when it begins revamping the atrophying trade paper.
In a phone interview with The Huffington Post, Wolinsky described Variety at its worst as a "bulletin board" for talent agencies and other parts of the entertainment industry to place announcements.
"Variety needs a lot of work," said Wolinsky. "What they really lack are the deeper analysis pieces, the investigative pieces. They do some of that now, but it's generally confined to the Weekly Variety."
Another issue is that the Daily Variety is no longer a must-read for people in the entertainment industry. As with other print publications, news stories that eventually make it to press have already been published on competitors' online sites or on Variety's.
To solve the problem, Wolinsky predicted that Penske will eventually end the Daily Variety publication and move it online, where other outlets like Deadline Hollywood, The Wrap, The Hollywood Reporter, Vulture and the LA Times have been competing for years.
"The competition has a lot more of that journalistic spirt -- digging into stories and finding a tough angle," said Wolinsky. "They don't look like they're simply pandering."
Still, keeping the Weekly Variety for in-depth analyses and print ad revenue, much like what The Hollywood Reporter did after its major revamp in 2010, would be a smart move for Penske, said Wolinsky.
Print ads, especially awards season ads, remain fairly lucrative and are still Variety's main source of revenue, Wolinsky said. "While digital revenue is growing, it's still dwarfed by what you'd get on a print ad."
In a memo to colleagues, Deadline Hollywood film editor and former Variety reporter Michael Fleming made similar predictions. "I am relieved to see the publication get an opportunity to be reinvigorated," wrote Fleming. "I would be surprised, for instance, if Variety continues behind a pay wall, or continues to exist in its current form as a daily and weekly print publication."
In the past, Deadline Hollywood's editor-in-chief Nikki Finke has publicly aired her disagreements with Variety and its editorial director, Peter Bart. A story from 2009 reads:
Sure, I take shots regularly at Variety (as part of my ongoing "Your (Un)Trustworthy Trades" campaign) but only infrequently at Peter Bart (my unfortunate term for him was "Hollywood's buttboy").
"She's having a major tantrum because he won't give her the keys," an unnamed source told The Wrap.
Finke did not publicly comment on her employer's acquisition of a direct competitor by this story's publish time.
Jay Penske, 33-year-old owner of the media company, told the LA Times that while Variety and Deadline's staff will remain "editorially independent," he sees "an incredible opportunity for future collaboration." He also got a bit sentimental during the interview, vowing to continue Variety's "legacy:"
Anyone who knows me, knows I have a great reverence for things that stand the test of time -- particularly great authors, journalists, and books. Variety is a brand that the entire PMC organization respects, and a publishing business that I have admired for most of my life. As I have told Reed Elsevier, we at the Penske Media Corp. look forward to continuing the legacy of Variety.
Calling all HuffPost superfans!
Sign up for membership to become a founding member and help shape HuffPost's next chapter
BEFORE YOU GO
PHOTO GALLERY
Top 25 Magazines Of 2013