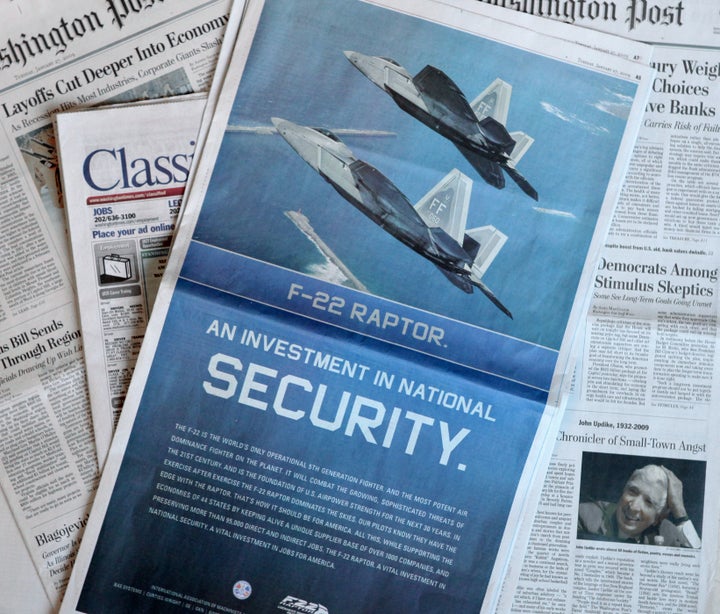 WASHINGTON -- The military paid a total of $285 billion to more than 100 contractors between 2007 and '09, even though those same companies were defrauding taxpayers in the same period, according to a new Defense Department report.
What's perhaps most shocking is that billions of dollars went to contractors who had been either suspended or debarred for misusing taxpayer funds. The Pentagon also spent $270 billion on 91 contractors involved in civil fraud cases that resulted in judgments of more than $1 million. Another $682 million went to 30 contractors convicted of criminal fraud.
The analysis was mandated by a provision that Sen. Bernie Sanders (I-Vt.) inserted into the defense bill last year. The measure also requested that the Defense Department recommend additional ways to punish the violating contractors, but the Report to Congress on Contractor Fraud concluded, "The department believes that existing remedies with respect to contractor wrongdoing are sufficient."
"It has been said that insanity as doing the same thing over and over and expecting different results," replied the Sanders staff in an analysis of the findings. "It is clear that DOD's current approach is not working, and we need a much more vigorous approach to dealing with contractor fraud."
Sanders underscored the importance of reining in contractor abuse by pointing to the U.S. fiscal situation, saying that the deficit cannot be reduced without looking at the waste, fraud and abuse in the Pentagon's budget.
"With the country running a $14 trillion national debt, my goal is to provide as much transparency as possible about what is happening with taxpayer money," he said. "The sad truth is that virtually all of the major defense contractors in this country for years have been engaged in systemic fraudulent behavior, while receiving hundreds of billions of dollars of taxpayer money."
On Monday, Sen. Tom Coburn (R-Okla.) pressed the Joint Chiefs of Staff to get the military's books in order, saying he would "continue to push for a budget freeze of all base budget non-military personnel accounts at the Defense Department until it complies with the law regarding auditable financial statements."
Popular in the Community