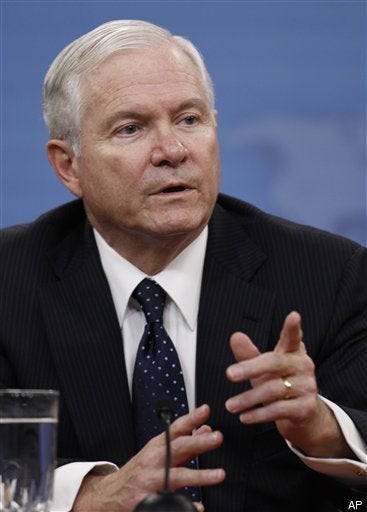 Among other things, the memo includes a recommendation of weekly briefings for Pentagon press by military officials in the field. It also calls for "consistent media engagement by our most credible interlocutors."

It cites a "need to more effectively explain and sustain public understanding of [the Afghan] mission, goals, complexities and direct relevance to national security."

In addition, it calls for increased military engagement with local and regional media outlets.
So, publicly at least, the Pentagon continues to profess that it's not going into a bunker mentality, as far as the press is concerned. They continue to take the lead from Defense Secretary Robert Gates, who has continually come forward to assert that the "press is not the enemy." Here's the relevant part of his July 8 briefing:
I would also like to take this opportunity to say a few words about the guidance I issued last week dealing with this department's engagement with the news media.


For starters, when I took this job more than three and a half years ago, I spent my first few months on the job telling military audiences that the press was not the enemy and that to treat it as such was counterproductive and self-defeating. Accordingly, in my approach to media relations I've attempted to be as straightforward and cooperative as possible and encouraged this department's leaders to do the same.

None of that has changed.

In short, last week's memo was not about how the media does its job but about how this department's leadership does ours. It is not a change of policy but a reaffirmation of an existing policy that was being followed selectively at best. It reflected the fact that for some time now, long before the recent Rolling Stone article, I have grown increasingly concerned that we have become too lax, disorganized, and, in some cases, flat-out sloppy in the way we engage with the press.

As a result, personal views have been published as official government positions, and information has gone out that was inaccurate, incomplete or lacking in proper context. Reports and other documents, including on sensitive subjects, are routinely provided to the press and other elements in this town before I or the White House know anything about them. Even more worrisome, highly classified and sensitive information has been divulged without authorization or accountability.

My hope and expectation is that this new guidance will improve the quality of press engagement by ensuring that the people the media talk to can speak with accuracy and authority. This should not infringe or impede the flow of accurate and timely information to you or to the public. That is not my intent, nor will I tolerate it.

An additional personal observation. Over the last two years, I have lost a first-rate Central Command commander and an outstanding commander of ISAF in Afghanistan due to their own missteps in dealing with the media. I've had to recall a combatant commander to Washington for a verbal reprimand for speaking out inappropriately on a sensitive foreign-policy issue. I've had two very different presidents each on several occasions express concern to me about senior Defense officials, both civilian and military, speaking out inappropriately on foreign-policy issues.

These instances together with my own frustration -- with premature disclosures of personnel, budget and other options under consideration -- led me to conclude several weeks ago that we need greater coordination and discipline.

Effectively communicating what we do and how we do it remains a top priority for me. In fact, I consider it my duty. It's a responsibility I have, not only to the commander-in-chief and to you in the media, but to the American people. I take it very seriously. And I expect everyone else in this department to do the same.
Popular in the Community