Scroll down for earlier reports about the Pentagon shooting
-------
Friday, 6:50 AM ET -- Official: Pentagon shooter was well armed. WASHINGTON (Associated Press) - The well-dressed gunman mortally wounded after firing at and injuring two Pentagon police officers was armed with two 9 millimeter semiautomatic weapons and carried several magazines of ammunition, the chief of the Pentagon police said Friday.
Chief Richard Keevill said the shooter, identified as John Patrick Bedell of Hollister, Calif., spent the last several weeks driving from the West Coast. Police found his car in a local parking garage. Keevill said authorities found more ammunition in his vehicle.
Bedell, 36, died Thursday night from head wounds received in a volley of fire with police. Keevill said the two injured officers and another officer who came to their assistance fired upon Bedell at the subway entrance into the massive Defense Department building in Arlington, Va.
"He came here from California," Keevill said. "We were able to identify certain locations that he spent that last several weeks making his way form the West coast to the East coast."
Noting that Bedell was wearing a suit, Keevill said: "There was no indication based on the way he was dressed that he had hostile intent."
The exchange of fire lasted less than a minute, Keevill said. Bedell was not wearing body armor, he added.
The two officers injured have been released from the hospital. One suffered a thigh wound and the other was hit in the shoulder. Keevill said both were superficial injuries.
Keevill said he did not know the shooter's motive.
"I have no idea what his intentions were," he said.
Friday, 1:25 AM ET -- Official: Shooting suspect may have had 9/11 conspiracy Associated Press - There are emerging signs that the suspect in a Pentagon subway station shooting may have harbored resentment for the military and had doubts about the facts behind the Sept. 11 terrorist attacks.
The suspect, John Patrick Bedell, died after exchanging gunfire with two police officers.
In an Internet posting, a user named JPatrickBedell wrote he was determined to see justice for the 1991 death of a Marine in California. The death was ruled a suicide but has long been the source of coverup theories. The writer said the case would be a step toward revealing the truth behind 9/11.
The user also railed against enforcement of marijuana laws.
The screen name can be linked to the suspect in Thursday's attack through documents about a marijuana arrest that were posted on the site, which match the date of birth of the shooter and official court records available online.
Friday, 12:34 AM ET -- Suspect dies. J. Patrick Bedell has died, according to KFI News. The Pentagon shooting suspect suffered injuries described as "critical" by the chief of Pentagon Police.
Blogger Steve Huff at Mediaelites has posted an in-depth profile of Bedell.
9:55 PM ET -- Suspect named. John Patrick Bedell, 36, is the alleged gunman in today's shooting, according to officials who spoke to the AP:
Law enforcement sources identified the suspect as John Patrick Bedell, 36. They also said they were investigating whether a second person was somehow involved. No further information was available.
9:26 PM ET -- "This has never happened in our history." Watch as Pentagon Protection Force Chief Richard Keevil holds press conference:

9:21 PM ET -- Pentagon releases statement. The Pentagon has released a statement about the incident:
A shooting incident has occurred at the Pentagon Metro Entrance this evening at approximately 6:40 p.m. EST. Two Pentagon Force Protection Agency (PFPA) officers were injured when an unknown suspect fired at them. The suspect was injured in return fire from the PFPA officers. Injuries to the two PFPA officers do not appear to be life threatening. A suspect is in custody and his condition is unknown. All three injured have been taken to a local hospital. All Pentagon entrances were secured for a brief time but have since been reopened with the exception of the Pentagon Metro entrance. The incident is under investigation. More details will be released when available.
8:49 PM ET -- Gunman is American. The chief of the Pentagon Protection Force Agency held a press conference just minutes ago. The chief said that the alleged attacker is a male American. Officers involved told the chief that the suspect calmly approached Pentagon police to gain access to the building and reached into a pocket and pulled out a gun that he then fired. The chief said that the alleged attacker's injuries are "critical."
8:31 PM ET -- Gunman's injuries 'more serious.' From the AP:
WASHINGTON - A gunman opened fire at the subway entrance to Pentagon complex Thursday evening, wounding two Pentagon police officers, a spokesman said.

The alleged gunman also was wounded, said Chris Layman, a spokesman for the Pentagon Force Protection Agency. Authorities said all three were taken to a hospital. None the injuries were thought to be life-threatening, Layman said.

Layman said the suspect walked up to the subway entrance at 6:40 p.m. and opened fire. He hit two officers. The officers fired back, and the suspect was hit. His injures are more serious.
8:08 PM ET -- Officers' injuries not serious. The two officers injured in today's shooting are not seriously injured according to CNN. Affiliate WJLA broadcast video showing one of the officers sitting up in a gurney and being loaded into a waiting ambulance. CNN's Chris Lawrence reported that a suspect opened fired on two officers who then returned fire. All three are being treated at George Washington University Hospital.
7:46 PM ET -- Pentagon entrances reopen. CNN reports that the Pentagon's exits and entrances have been reopened except for the one closest to where the shooting occurred.
Fox5 reports that the WMTA's Blue and Yellow lines --lines that run through the Pentagon Metro station -- are running, but that trains are not stopping at the station. Below is WMTA's map of the station: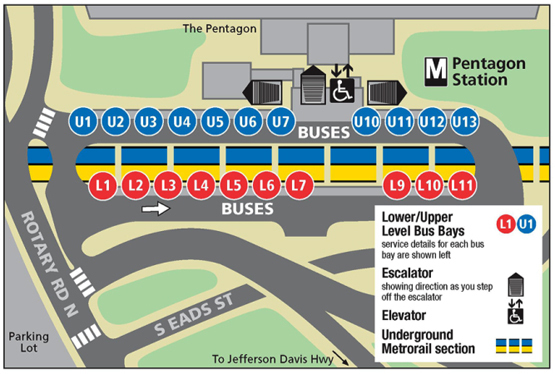 7:30 PM ET -- "Pentagon Police" shot. A spokesman for the Pentagon Force Protection Agency has told CNN that 2 of the agency's officers are believed to be injured in the shooting. The spokesman also told CNN that he believes 1 suspect is in custody.
7:20 PM ET -- Three people injured. D.C. TV station FOX5 reports that three people have been injured in the shooting at D.C. metro station adjacent to the Pentagon:
Few details were immediately available, but the Pentagon was reportedly locked down after the activity at the Metro station. The three people who were injured were taken to George Washington University Hospital's emergency room.
7:00 PM ET -- Pentagon on lockdown. The Pentagon is on lockdown after a shooting at a nearby D.C. Metro station, according to BreakingTweets, a Twitter account maintained by MSNBC.
Full AP Report from late Thursday Evening. WASHINGTON - A gunman coolly drew a weapon from his pocket and opened fire at a security checkpoint into the Pentagon on Thursday in a point-blank attack that wounded two police officers before the suspect was fatally shot.
The two officers suffered grazing wounds and were being treated in a hospital, said Richard Keevill, chief of Pentagon police. The shooter, identified as John Patrick Bedell, 36, of California, died hours after being admitted to a hospital in critical condition, authorities said. They had no motive for the shooting.
The shooter walked up to the checkpoint at the Pentagon's subway entrance in an apparent attempt to get inside the massively fortified Defense Department headquarters. "He just reached in his pocket, pulled out a gun and started shooting" no more than five feet away, Keevill said. "He walked up very cool. He had no real emotion on his face." The Pentagon officers returned fire with semiautomatic weapons.
Bedell's death was confirmed early Friday by Beverly Fields, chief of staff of the D.C. medical examiner's office; and Leigh Fields, medical legal investigator for the office. Both said Bedell's body had arrived at the medical examiner's office.
The assault at the very threshold of the Pentagon -- the U.S. capital's ground zero on Sept. 11, 2001 -- came four months after a deadly attack on the Army's Fort Hood, Texas, post allegedly by a U.S. Army psychiatrist with radical Islamic leanings. In the immediate aftermath Thursday, investigators did not think terrorism was involved but were not ruling that out and did not discuss possible motives.
President Barack Obama was closely following the case with updates from the FBI through his homeland security and counterterrorism adviser, John Brennan," White House spokesman Nick Shapiro said.
Law enforcement officials identified the suspect as John Patrick Bedell, 36. They also said they were speaking with a second man, who might have accompanied the shooter, and were running his name through databases.
The subway station is immediately adjacent to the Pentagon building, a five-sided northern Virginia colossus across the Potomac River from Washington. Since a redesign following the 2001 terrorist attack on the Pentagon, riders can no longer disembark directly into the building. Riders take a long escalator ride to the surface from the underground station, then pass through a security check outside the doors of the building, where further security awaits.
After the attack, all Pentagon entrances were secured, then all were reopened except one from the subway, said Pentagon spokesman Bryan Whitman. He said the subway entrance was likely to remain closed overnight at least.
Keevill said the gunman gave no clue to the officers at the checkpoint about what he was going to do.
"There was no distress," he said. "When he reached into his pocket, they assumed he was going to get a pass and he came up with a gun."
"He wasn't pretending to be anyone. He was wearing a coat and walked up and just started shooting."
Keevill added: "We have layers of security and it worked. He never got inside the building to hurt anyone."
A Pentagon official working late in the building said people inside first heard of the shooting on television. They were later told the building was locked down and to stay in place.
Then at around 7:30 p.m., they heard an announcement on the public address system that they could leave through Corridor 3 -- one widely used to get access to one of the parking lots.
"We really don't know anything, just that we can leave now through that corridor," one official said on condition of anonymity because he wasn't authorized to speak about the incident.
Calling all HuffPost superfans!
Sign up for membership to become a founding member and help shape HuffPost's next chapter