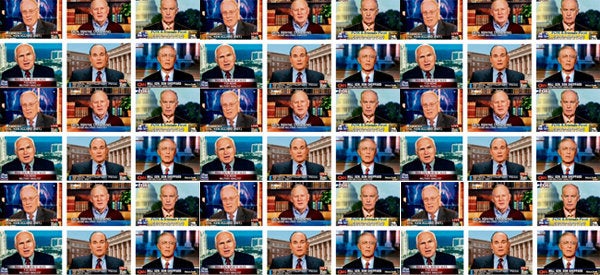 In April, The New York Times published a story exposing the deep ties between numerous media military analysts and the Pentagon and defense industries.
The Times noted that "the Bush administration has used its control over access and information in an effort to transform" media military analysts, many of whom have clients or work for companies with an interest in obtaining Pentagon contracts, "into a kind of media Trojan horse -- an instrument intended to shape terrorism coverage from inside the major TV and radio networks."
HuffPost's Jason Linkins noted at the time that neither the Times nor other major media outlets had worked to advance the story, or apologize for their role in potentially spreading government propaganda.
A Media Matters review found that since January 1, 2002, the analysts named in the Times article -- many identified as having ties to the defense industry -- collectively appeared or were quoted as experts more than 4,500 times on ABC, ABC News Now, CBS, CBS Radio Network, NBC, CNN, CNN Headline News, Fox News, MSNBC, CNBC, and NPR.
REAL LIFE. REAL NEWS. REAL VOICES.
Help us tell more of the stories that matter from voices that too often remain unheard.