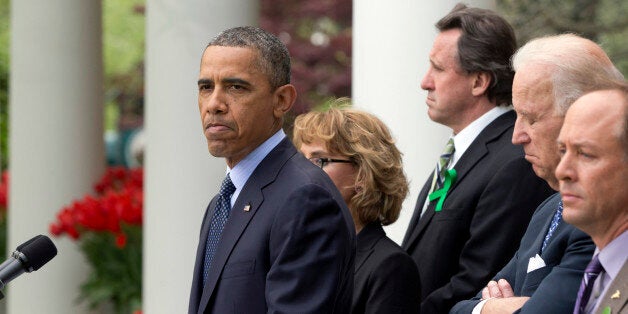 The American mainstream press has both neglected and disparaged Pulitzer-prize winning journalist Seymour Hersh recently for reporting on how, for more than two years, senior U.S. military leaders subverted President Obama's strategy to overthrow Syrian President Bashar Assad, with some attacking Hersh for having the temerity to rely on unnamed sources. The so-called liberal media has exhibited a tendency to defend the Obama administration mantra that Assad "must go," and Hersh's account runs counter to this well-established gospel.
Vox, a purported liberal news site, assaulted Hersh for basing his report on an anonymous senior advisor to the Joint Chiefs, claiming that the journalist made "bizarre" claims in the past, "giving us little reason to trust him." Further, not a single major news agency picked up Hersh's allegations, the nature of which typically would be handled as a front-page bombshell.
Let's be clear -- Hersh is not some amateur blogger-conspiracist to be marginalized. For one, he was awarded the Pulitzer in 1970 for exposing the My Lai Massacre in Vietnam and its subsequent cover-up. Noam Chomsky, moreover, told this scribe that "everything" the veteran writer does should be taken seriously.
During an interview with Democracy Now! Hersh shrugged off these denunciations, arguing that on any given day news agencies of record are full of anonymous sources. Hersh said he worked for the New York Times for years through Watergate and Vietnam and won many prizes based on stories derived from a single source.
Point being, Hersh's shocking report on Syria is worthy of investigation as opposed to ridicule, especially when other senior government officials -- on the record, mind you -- lend credence to his reportage. Not to mention that Hersh cited intelligence reports and other named officials to support the gist of his story.
Former White House National Security advisor Gwenyth Todd, for one, told Sputnik last week that even ex-Pentagon chief Chuck Hagel opposed Obama's Syria strategy.
"Hagel also understood that toppling Assad was insanely foolish," Todd said when asked about Hersh's article.
That the military was reluctant to implement Obama's misguided strategy in Syria should not seem inconceivable. According to Hersh, the Pentagon's recalcitrance began in the summer of 2013 when a Defense Intelligence Agency (DIA) assessment concluded that ousting Assad would pave the way for jihadists to fill the power vacuum in Damascus. Despite this foreboding analysis, the CIA continued "conspiring" with Saudi Arabia, Qatar and the UK to arm anti-Assad forces despite the lack of a viable moderate opposition.
The Obama administration became enraged when top military leaders suggested the best course of action vis-à-vis Syria would be to partner with Russia and China to defeat the Islamic State. Hersh reported that the Joint Chiefs of Staff, then led by General Martin Dempsey, dissented because they knew Turkey had hijacked the CIA program to arm rebels by diverting weapons to jihadist elements, including the Islamic State and Nusra Front. Albeit General Dempsey and his colleagues "kept their dissent out of bureaucratic channels, and survived in office."
However, Lieutenant General Michael Flynn, who headed DIA between 2012 and 2014, was not as shy, telling the investigative journalist, "his agency had sent a constant stream of classified warnings to the civilian leadership about the dire consequences of toppling Assad." Flynn also was adamant that if the "American public saw the intelligence we were producing daily, at the most sensitive level, they would go ballistic."
One of the more provocative of Hersh's revelations is that U.S. military leaders, so incensed with Obama's self-defeating strategy to arm extremists, took matters into their own hands and in fall 2013 provided intelligence to other nations to redirect to Assad in the hopes it would be used against "the common enemy."
The Pentagon end around to cooperate with Assad is not so outlandish in light of other ex- officials viewing it as the only prudent approach. In October 2014, former Defense Department official Leslie Gelb wrote that the "only way to check ISIS... is for the United States to work with Bashar Assad's Syria, and with Iran. It is a tricky and perilous path, but there are no realistic alternatives."
Gelb reasoned that only Syria and Iran can provide "plausible ground forces in short order." Assad's 100,000 troops and 300 jets combined with Iran's armed forces would overwhelm ISIL's 30,000 or so fighters, Gelb explained.
Even Secretary of State John Kerry, in an apparent moment of clarity, recently conceded that the U.S persistence in demanding Assad's departure was, "in fact, prolonging the war."
As far as Vox's frontal assault on Hersh, anti-war activist Kurt Nimmo summed it up best, describing the Vox analysis as "no different than other liberal Obama supporters who have no problem supporting illegal invasions and proxy wars so long as it is Democrat war-making as opposed to the Republican version."
The most "bizarre" aspect of this situation is the deafening silence in response to Hersh's report emanating from the likes of the New York Times, Washington Post, CNN and Wall Street Journal, among other outlets that range across the entire length of the political spectrum. Such neglect leaves unchecked an Obama administration strategy that will continue to strengthen jihadist groups in Syria while undermining any workable solution to the conflict.
Related
Popular in the Community