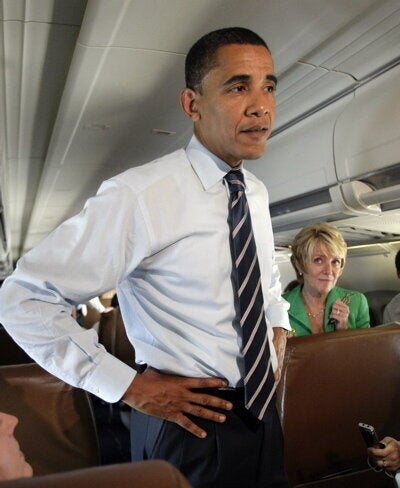 According to The New York Times, it was two weeks ago that the Pentagon gave Barack Obama the green light to land in Ramstein, Germany, this morning, where he was to visit wounded American soldiers at Landstuhl Regional Medical Center. For all intents and purposes, the Pentagon red-lighted the plan late on Wednesday, citing a Department of Defense regulation that prohibits a candidate for office from being accompanied by campaign staff when visiting a military base. Senate staff would have been OK, in Obama's case. But, as it turns out, campaign staff is all he had in tow.
Presumably, as part of the original approvals process, the Pentagon would have required that Obama tell them whom he planned to have accompany him to Landstuhl -- i.e., campaign staff.

If -- as Pentagon spokesperson Elizabeth Hibner told Talking Points Memo reporter Greg Sargent today -- it is "longstanding Department of Defense policy" that a candidate be prohibited from taking campaign staff along for the ride when visiting a military base...
Why did the Pentagon approve that part of the itinerary in the first place?
And why did the Pentagon wait until very late on Wednesday to disapprove it -- i.e., only after Obama had told the press, and thus the country, that he was going to visit the troops?
Was the Pentagon trying to embarrass Obama?
This all sounds very fishy.
A statement from Pentagon press secretary Geoff Morrell says, in part, that
it is not permitted to bring with [Obama] campaign staff. His team was notified of that, and they made a decision not to visit the hospital.
But exactly when was Obama's team "notified of that"? On this point, the Pentagon is conspicuously silent.
Surely, one assumes, the Pentagon would have to have notified Obama of its visitation policy well in advance of the original approval two weeks ago -- since only Senate staffers were allowed, and since, presumably, whichever Senate staffer(s) Obama wanted to bring with him to Landstuhl would have to have been part of the approval.
But according to a statement released last night by Obama adviser and retired Air Force Gen. Scott Gration, who is traveling with Obama this week:
We learned from the Pentagon last night that the visit would be viewed instead as a campaign event.
It's all in the timing. If the Pentagon didn't advise Obama of its policy until late Wednesday -- when it was too late for Obama to fly in Senate staff from Washington, much less to have that staff approved by the Department of Defense -- the Pentagon is playing games, knowing full well that no sitting U.S. Senator -- much less the presumptive Democratic nominee -- is going to make a visit like that "naked," i.e., without being accompanied by at least one of his or her own staff.
Who's supposed to take notes? Obama?
According to Politico reporter Carrie Budoff Brown, Obama adviser Robert Gibbs said no, when asked whether he believed the Pentagon had set up the campaign.
But when asked why he thought the Pentagon would clear the Landstuhl visit, only to raise question about it at the eleventh hour, Gibbs was far more circumspect, saying:
I don't know what to make of it.
That speaks volumes, does it not?

Calling all HuffPost superfans!
Sign up for membership to become a founding member and help shape HuffPost's next chapter