A week after President Donald Trump's surprise announcement about ending "war games" on the Korean Peninsula, the Pentagon and South Korea confirmed Monday that they had called off a major annual military exercise slated to take place in August.
Last year's Freedom Guardian involved 50,000 South Korean troops and 17,500 from the U.S., as well as a few thousand additional personnel from other nations. "The drills include high-level commanders in computer-simulated defensive exercises, as well as units in the field, all practicing readiness under a scenario in which the Korean Peninsula goes from peace through a crisis stage and then into open conflict," CNN reported.
The suspension of the long-standing military exercise comes on the heels of the "no war games" pledge made by President Trump following his meeting last week with North Korean leader Kim Jong Un in Singapore.
"Under the circumstances, that we're negotiating ... I think it's inappropriate to be having war games," he said during a press conference immediately after the summit, calling the drills ― which have angered Kim in the past ― "very expensive" and "provocative."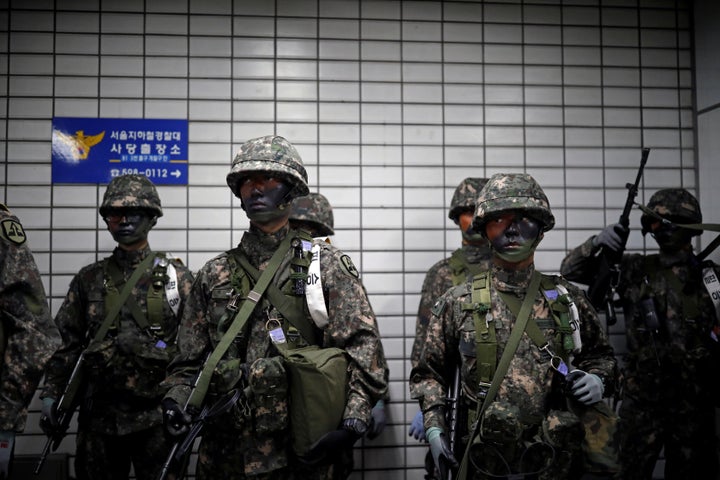 Trump's concession to Pyongyang came as a shock to South Korean leadership, who was reportedly blindsided by the announcement, as well as the Pentagon itself. In the hours after the president's remarks, a United States military spokeswoman in South Korea told The New York Times they had "received no updated guidance on execution or cessation of training exercises."
Democratic lawmakers, as well as some Republicans, criticized Trump's decision, warning that ending the joint drills could undermine the decades-long military alliance between Washington and Seoul ― and that the U.S. had given up leverage by agreeing so quickly to halting the exercises without getting anything concrete in return. 
Sen. John McCain (R-Ariz.) called Trump's promise a "bad negotiating tactic."
"Suspending U.S.-South Korea joint military exercises is a mistake," McCain said in a statement last week. "Making unnecessary and unreciprocated concessions is not in our interests." 
The Pentagon said Monday that only the Freedom Guardian drill had been called off so far. "No decisions on subsequent war games" have yet been made, a spokeswoman said.
Calling all HuffPost superfans!
Sign up for membership to become a founding member and help shape HuffPost's next chapter
BEFORE YOU GO