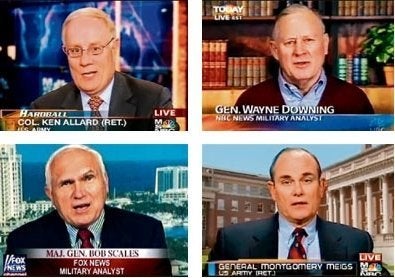 The Pentagon has suspended a public affairs program that has come under fire for using retired military "media analysts" as surrogates to get out its messages on the Iraq war, a spokesman confirmed Monday.

Pentagon spokesman Bryan Whitman said the program was undergoing an internal review following criticism that the retired officers offered Pentagon talking points as their own during the run-up to the Iraq invasion and thereafter.
The program, which was first reported in the Sunday New York Times on April 20, came under intense scrutiny from journalists. Ari Melber has a roundup of some of the criticism.
But as HuffPost's Jason Linkins notes, the Times has done little to advance its blockbuster story since it was first reported (unlike the Washington Post's aggressive series of follow-up stories on the Walter Reed scandal):
There has been a single editorial comment, inexplicably published on Saturday, six days after the story broke. On the same day, David Barstow followed up by reporting on the Pentagon's decision to suspend "its briefings for retired military officers who often appear as military analysts on television and radio programs."

Buried in Barstow's follow-up, however, was an admission: the Grey Lady had been scooped on the story by Stars and Stripes a day earlier. Additionally, the New York Times seems completely unaware that two days after they published their story, Fox News aired quotes from one of the individuals named in their original article, retired Major General Robert H. Scales. It is impossible to know every single possible avenue for follow-up, but surely we can agree that when one of the named networks brazenly deploys one of the named "message force multipliers" in its coverage, it's worth a mention.
Meanwhile, Melber reports that Hillary Clinton and Barack Obama weighed in on the program. John McCain has not:
Hillary Clinton's campaign finally came out against the Bush administration's secret program to promote Iraq policy through television analysts on Monday, saying it raises questions of "credibility and trust at the Pentagon" and calling for an Inspector General investigation, in a statement provided to The Nation. The program, first reported by the New York Times on April 20, drew criticism from media watchdog groups and some Democrats, but none of the presidential candidates had previously addressed it. Barack Obama's campaign also finally weighed in on the controversy, telling The Nation that the Illinois Senator was "deeply disturbed" that the administration "sought to manipulate the public's trust," and saying the program "deserves further investigation to determine if laws or ethical standards were violated." Senator McCain's campaign did not respond to a request for comment.

A Pentagon official announced that it would "suspend" the program for "retired military analysts" pending further review, in an interview with the military's Stars and Stripes newspaper on Thursday. The Pentagon added that the suspension is "temporary" on Monday.
Support HuffPost
The Stakes Have Never Been Higher
Related
Popular in the Community