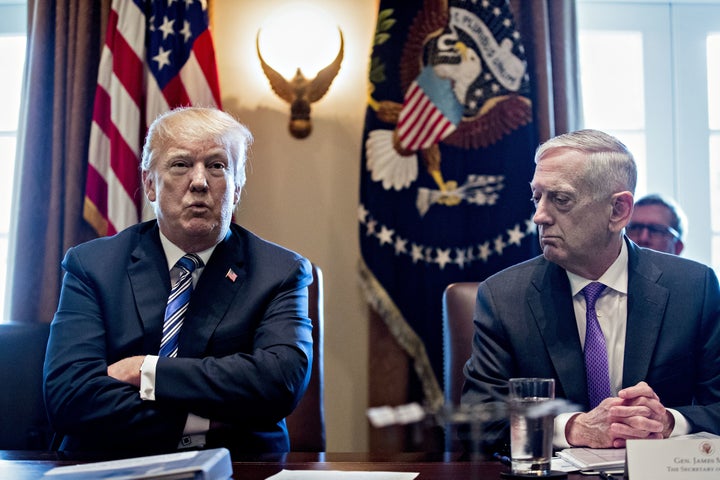 After quietly scrubbing troop numbers for Iraq, Afghanistan and Syria from the Defense Manpower Data Center's website earlier this year, the Pentagon — which has repeatedly promised to improve "transparency" regarding troop statistics— is under renewed scrutiny over its public information blackout.
NPR's David Welna reported Tuesday that the public Pentagon website that had, for more than a decade, provided information about the number of U.S. troops in war zones was still devoid of numbers for Iraq, Afghanistan and Syria.
When pressed to answer why these figures were no longer being made available to the public, Pentagon spokesman told Welna that it was to "protect our forces."
"We have to make sure that the American people know what their forces are doing," said Army Major Adrian Galloway. "But we have to protect our forces as well. And a part of that is making sure that we keep a handle on what information we release to the public in general."
Galloway told Welna that the "approximate" number of troops currently in Afghanistan is 14,000 ― but said he could not provide the exact figure.
"I do know the real numbers, but unfortunately the real number is classified and I just can't talk about it," Galloway said.
The data blackout comes after repeated promises by the Pentagon to be more "transparent" regarding deployment numbers.
Mattis told reporters in August, for instance, that he'd changed the "accounting process" to ensure the Pentagon had more accurate troop tallies and pledged to be more transparent in reporting those numbers.
President Donald Trump appeared to undermine that position a week later, however, by saying that the government would "not talk about numbers of troops or our plans for further military activities" in Afghanistan.
For more than 10 years, the Pentagon, via the Defense Manpower Data Center, had released a quarterly report of the number of troops stationed overseas. But its latest report, dated December 2017 and released in March, "just had blank spaces where Iraq, Syria and Afghanistan figures used to be," The Military Times reported in April.
A note at the bottom of the report said: "With ongoing operations, any questions concerning DoD personnel strength numbers are deferred to OSD Public Affairs/Joint Chiefs of Staff."
The Military Times reported that the Pentagon had also removed troop numbers for Iraq, Syria and Afghanistan from the previous quarterly report, dated September 2017, and had appended the same disclaimer to it.
"Years worth of the previous quarterly reports" were also removed from the web, the outlet added.
Alarmed by the sudden dearth of data, Democratic members of the House subcommittee on national security penned a letter to Mattis in May, urging him to "immediately reverse the Trump administration's recent decision to redact key data on U.S. personnel strength from the Defense Department's quarterly public reports."
"This data has been publicly available for more than a decade and provides Congress and the American people with critical information pertaining to [military missions overseas]," the letter read.
In his response to the Democrats, Mattis insisted the policy change was a positive one that balances "the need for transparency with the need to protect sensitive information that could advantage our enemy."
Mattis said the Pentagon was also "publicly reporting certain previously undisclosed temporary duty personnel deployed in Afghanistan, Syria and Iraq."
NPR noted, however, that there was no evidence that those numbers are being publicly reported.
In a Foreign Affairs op-ed in May, national security experts Loren DeJonge Schulman and Alice Friend wrote about the Pentagon's "transparency problem" and how its failure to provide accurate troop levels to the public was impacting civilian awareness and support for the American military.
"[R]ecent administrations have understood that the public relies on troop levels as an imperfect marker of American strategy, commitment, and even success," the authors wrote.
Troop numbers don't "explain much of anything," they later added. "But they do start a conversation. And from the perspective of domestic politics, troop levels are indeed a litmus test for the scope and scale of the American public's commitment to a particular conflict, and one of civilians' best windows into the operations of their country's military."
Support HuffPost
The Stakes Have Never Been Higher
Popular in the Community