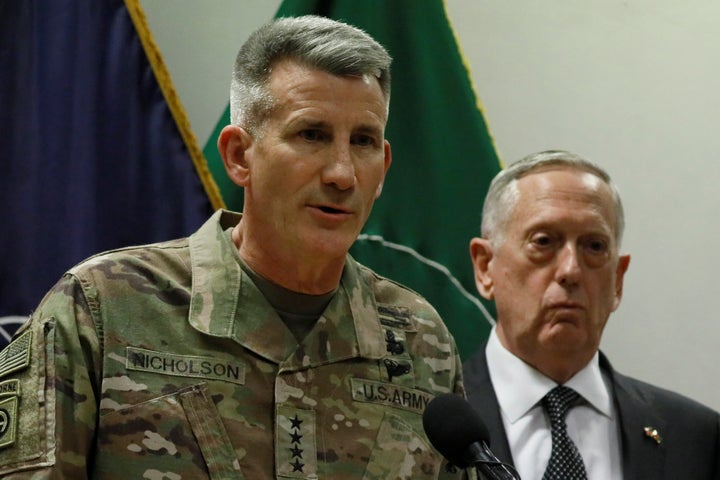 The news comes a day after President Donald Trump reportedly gave Defense Secretary Jim Mattis the authority to set troop levels in the country in an effort to combat the spread of insurgent groups like the Islamic State and the Taliban. There are currently about 8,400 U.S. troops officially stationed in Afghanistan and an additional 2,000 not included in official tallies.
The AP reports the decision could be announced as soon as next week, and the new troops would mostly be assigned to train Afghan forces.
The Pentagon refuted the AP report in a statement to Reuters late Thursday, saying "no decisions have been made" regarding troop numbers.
"We are not winning in Afghanistan right now," Mattis told the Senate Armed Services Committee this week. "And we will correct this as soon as possible."
In his testimony, Mattis also said the Taliban were "surging" in the country, according to Reuters.
Sen. John McCain (R-Ariz.), the chairman of the Senate Armed Services Committee, lashed out at the defense secretary earlier this week over the White House's handling of the now 15-year war in the country, declaring there were "problems within this administration."
"All I can tell you is that, unless we get a strategy from you, you're going to get a strategy from us," McCain told Mattis during the hearing, according to media accounts. "We want a strategy. I don't think that's a hell of a lot to ask."
Following a meeting at the White House on Wednesday, McCain later said the situation was "finally moving forward," The Hill reported.
Earlier this year, Gen. John Nicholson, the top U.S. commander in Afghanistan, told Congress he needed a "few thousand" additional troops to overcome what he described as a "stalemate." The New York Times notes the president rarely discussed the issue during the campaign and said, despite any increase in deployment, which "would cost billions of dollars, ... there is no guarantee of a clear win."
"While America's combat mission in Afghanistan may be over, our commitment to Afghanistan and its people endures," Obama said in 2015. "I will not allow Afghanistan to be used as safe haven for terrorists to attack our nation again."
The Times this month said six American soldiers have been killed in the country this year, five of whom may have been killed by their own side.
Popular in the Community