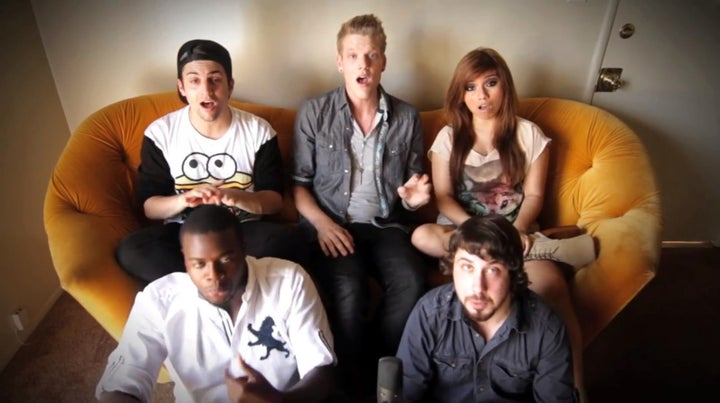 "Oh my gosh, oh my gosh, oh my gosh! I can't wait to see them," one of the little girls in front of me wailed. She was hopping up and down with a digital camera in hand, trying to see over the SRO crowd. Based on her excitement I would've thought I was at a sold out One Direction concert featuring special guest Justin Bieber -- a girl can only hope. Alas, I found myself in the middle of L.A.'s Universal Studios CityWalk, waiting to see a free show by an a cappella group called Pentatonix.

I remember my brother Nick's reaction when I first told him I made Miami University's all-female a cappella group. "Yo," he started, eyes narrowed condescendingly. "Why would anyone want to sing a cappella? That's, like, the lowest form of music you can partake in."

Well. Agree to disagree.

Nick's judgment of a cappella music stemmed from hard-won musical prejudices: he plays three different instruments in three separate bands, all of which write their own music. To him, a cappella was an imposter genre. Music but not, if you will. "A cappella singers cover music made popular by other artists," he said. "Voices can't do what full bands do." For a long time, he was right.

To be fair, it's not like a cappella groups set out to replace or displace instrumental music -- early choirs like the Northwestern A Cappella choir geeked out over seamless blend and perfect pitch, not the ability to recreate the sounds of a saxophone or a piccolo. As time wore on, however, objectives changed: the Barbershop and doo wop styles of the 1940s made a cappella less of a choral institution and more of a musical movement, paving the way for groups that are somewhat of a household name today -- think Rockapella of Folgers jingle/Where In The World Is Carmen San Diego fame, or Naturally 7, who toured with Michael Buble. But being a household name doesn't necessarily guarantee fans: regardless of a devoted European following -- Naturally 7 hit number 1 on German charts with their 2003 single "Music Is The Key" and number 14 on Australian charts with their 2006 album Ready II Fly -- neither of these "mainstream" groups have made a name for themselves on U.S. charts.

Anyone remotely in tune (pun intended) with the a cappella scene, however, will have noticed the recent upsurge in the genre's cultural relevancy: Darren Criss and the rest of the Warblers melted tweeny tiny hearts on season two of Glee; Indiana University's kids-gone-pro group Straight No Chaser put out a Christmas album that hit number one on iTunes and Amazon.com charts; Academy Award nominee Anna Kendrick will star in the upcoming a cappella film Pitch Perfect; and NBC's reality series The Sing-Off made it possible for a cappella to have a piece of the reality show pie. That last one is perhaps most responsible for bringing a cappella to the forefront of musical consciousness, especially in its most recent season: it was this year that saw the creation and subsequent domination of Pentatonix, a group of five kids who will likely change the influence of a cappella music forever.

Pentatonix had a Sing-Off win in the bag from the get-go: singers Mitch Grassi, Kirstie Maldonado and Scott Hoying brought powerhouse vocals to the table, producing swoon-worthy runs and a grasp of discordant harmonies that branded each of their covers with distinct flair. Then there's bassist Avi Kaplan, whose vocal range covers everything from foghorn to subwoofer, and beatboxer Kevin Olusola, who is on track to become our generation's Rahzel. Together, the five of them are a formidable musical force, creating full, interesting arrangements that sound as good (and, on occasion, better) than the songs they're covering. Combine that with a sprinkle of choreography and a few original songs, and Pentatonix has every chance of becoming the first a cappella group to truly go mainstream. "They [Pentatonix] have melded the a cappella genre with the popular genre," fellow Sing-Off contestant Kenton Chen said. "What's really amazing is that they can imitate those sounds in a way that a cappella barely did before. You're not pretending to be instruments anymore. You are your own DJ."

Chen's assessment of Pentatonix is especially visible in the group's cover of Gotye's "Somebody That I Used To Know," an iteration of the inescapable hit that makes you feel like you're actually hearing the song for the first time. Olusola's rich, unrelenting beatbox and Kaplan's steady bass line ground the listener in a seemingly false reality: they are no longer human, they are the instruments they're trying to emulate. Add to that the flawless amalgamation of sound that are Grassi, Hoying and Maldonado's harmonies, and it's no wonder the video has gotten over six million hits on YouTube. "We're hoping eventually to be a household name; to have our songs played on the radio," Grassi said. "But more than that we just want people to appreciate what we do -- the work we put into it, the technicalities that go into it, and just fully appreciate the art form."

The growing success of Pentatonix blatantly defies musical purists, people like my brother who think that a cappella is not a skill or an art. A cappella is musical purity, and Pentatonix is doing what it can to make pop music about unadulterated sound rather than a studio-born, micro-managed image. And thankfully, they have no plans on going anywhere in the near future. "It's our goal for this to be our profession," Kaplan said. "We just want to be successful and respected as musicians. Not just as an a cappella group, but as a band. That would be a dream come true."
Popular in the Community