There's something special about Pentatonix and Christmas.
The Grammy-winning a cappella group recently released their third holiday album, "A Pentatonix Christmas," and also starred in their own holiday TV special Wednesday night on NBC, which featured guest appearances by Dolly Parton, Reba McEntire and Kelly Clarkson. The one-hour special found them singing tunes alongside their musical pals and idols.
The members of Pentatonix are friendly with Clarkson, having previously opened up for her on tour, and say they were thrilled to work with her again. Not only is she talented and "the sweetest person" (per Pentatonix's Kirstin Maldonado), but she's also a riot. So much so that they had a hard time keeping a straight face during the taping of their Christmas special. They have plenty of fun outtakes, apparently.
"She's hilarious. She's just a funny person in general," Pentatonix singer Kevin Olusola told The Huffington Post during a Build Series interview. "And she's just a ridiculously amazing singer. The whole time we were doing the special with her and singing with her, I couldn't focus."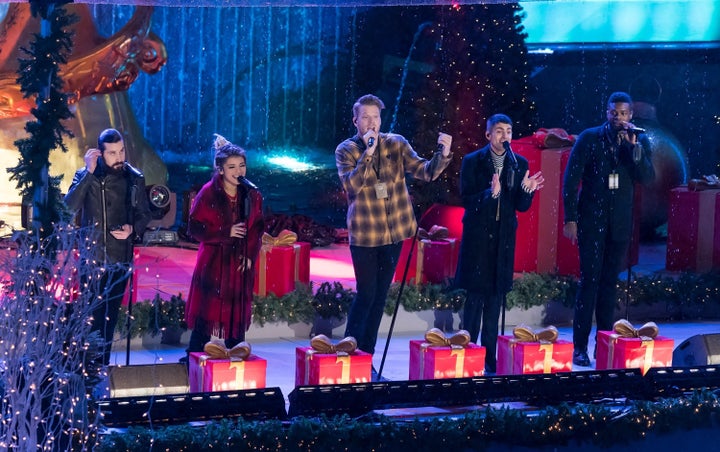 "She's so sweet," Scott Hoying added. "She's so inviting and she's so down to earth. I feel like we're a group that if we're around a diva, we'll get intimidated really quickly, but she's just so welcoming and nice so we felt so comfortable around her. And working with her was so easy."
"She's the epitome of what you would hope someone of that stature is — a legend like that," Pentatonix's Avi Kaplan said. "You would hope that they're kind and giving and sweet and humble. And she is all of those things."
"She still has the complete joy of what she's doing," added Maldonado.
Looking ahead, the five-piece act hopes to do some more collaborations. On top of their dream list is Beyoncé, Imogen Heap and Stevie Wonder.
The group plans to take some time off during the holiday season before getting back to work on a new album, filled with both covers and original songs.
Check out the entire Build interview below.
REAL LIFE. REAL NEWS. REAL VOICES.
Help us tell more of the stories that matter from voices that too often remain unheard.
BEFORE YOU GO
PHOTO GALLERY
Signs You Were In A College A Cappella Group