Kirstin Maldonado's first public performance was memorable to say the least. 
"I think the first big thing I did, I sang at my mom's wedding when I was almost 8, so 7 … that was my first thing," Maldonado recalled Wednesday during an interview with HuffPost at Build Series.
Now, the Pentatonix songstress, who just released her solo debut, is about to get married herself to fiancé Jeremy Michael Lewis. It's no surprise that music will play a big role in their special day. Thing is, they're still searching for a performer. 
"I really want someone specific, but their manager hasn't been getting back to us," she said. "I'm so sad. I don't want to say it [the performer's name] because Jeremy will be like, 'Don't say it!' But yeah, it hasn't been figured out yet. It's still in the works, but I'm hoping!"
Maldonado and Lewis got engaged in 2016, and although she hasn't announced details of their upcoming nuptials, somehow fans managed to find out. 
"Initially, I didn't know a lot of people knew about it, so when they'd be like, 'Ohhh! Your November wedding!' I'd be like, 'Oh, how did you know?' That's the power of the internet, you can literally find everything. So what are you gonna do?" she said. 
Maldonado is looking forward to walking down the aisle with Lewis, whom she met in 2013.
"I met him a season of 'The Sing-Off' after ours," said Maldonado, referring to her "Sing-Off" stint with Pentatonix. "He was a percussion major and he sang, and he's really smart and really brilliant. So, I kind of always went to him for advice anyway … I feel like he's very honest with me in a good way. We both are very opposite in good ways and we push each other to be better."
Lewis also helped support Maldonado this past year as she wrote and recorded her solo EP, "Love."
The set finds Maldonado straying from her a cappella roots. Instead, music backs her powerful vocals, which can be heard on a slate of songs that she describes as "deep and moody."
"I know it's a departure from Pentatonix, purely because that's a cappella," she said. "I hope people know that it's me and what I want to say in my music."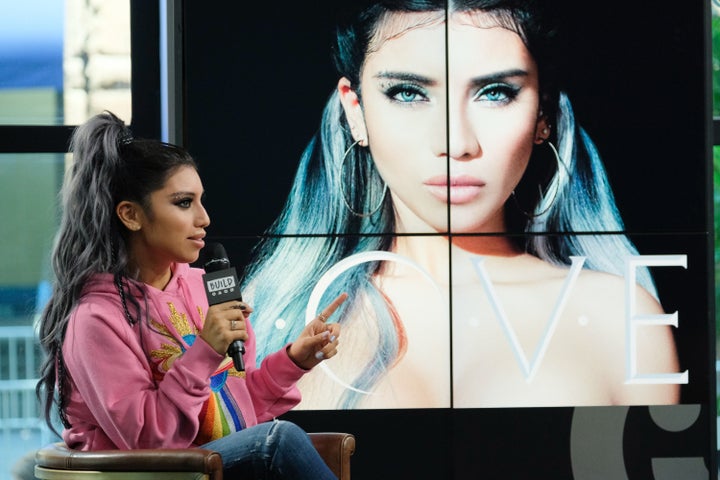 Meanwhile, Pentatonix fans need not worry. Maldonado is going on the road with the group later this summer. 
"We're just going to put on a great show and enjoy what those songs are and we'll be adding in some new songs. We're going to be doing some Christmas stuff after as well, because we love Christmas," she said.
They'll be performing at a range of festivals, fairs and amphitheaters. Quite a change from Maldonado's musical start at her mom's wedding.
For more from our interview with Maldonado, check out the video below.
Calling all HuffPost superfans!
Sign up for membership to become a founding member and help shape HuffPost's next chapter
BEFORE YOU GO
PHOTO GALLERY
Celebrity Photos 2017