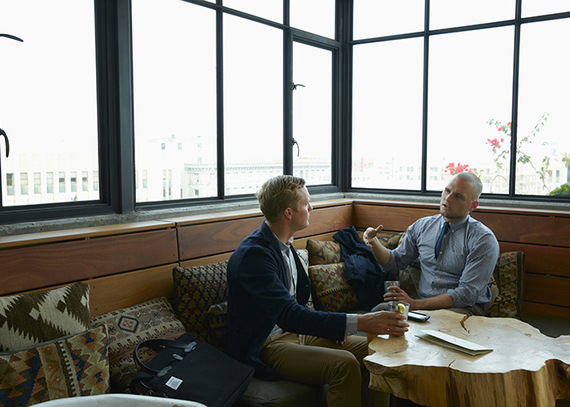 In the middle of April we caught up with longtime friend and Apolis Nomad, Adam Finck, the Projects Director of Bridgeway Foundation, on Ace Hotel's roof in Downtown Los Angeles. In 2006 we crossed paths with Adam while in Gulu, Uganda. Since our first visit Adam has become one of our heroes and is arguably one of the most knowledgeable individuals regarding the Lord's Resistance Army conflict in Central Africa Republic. Thanks to Adam for humoring us while we recorded our conversation during our recent catch-up in downtown Los Angeles. We asked Finck the following questions to help all of us better understand his role at Bridgeway Foundation:
What is Bridgeway Foundation and what is your job?
Bridgeway is a foundation working to end oppression and human rights violations in some of the most underserved areas around the world. I get to work on projects in central Africa that are contributing towards community protection and an end to a nearly three-decades long conflict, lead by Joseph Kony and his Lord's Resistance Army. It's a rewarding job and I consider myself really lucky to be able to work alongside an amazing team.
What could Bridgeway look like five years from now?
There are big possibilities for the future. Right now, we are putting a lot of energy into seeing this particular conflict through in central Africa. A successful outcome here will serve as an example of how private citizens - alongside governments, civil society groups, and international non-profits - can come together to create accountability for atrocities and justice for war criminals. We hope that our intervention in this conflict can be adapted and scaled in other issues around the world. Our approach is to provide calculated support to local leaders and regional actors who are already doing the tough work. We build capacity and add assets that make aspects of their work more effective.
How does Bridgeway's role differ from the UN and other international groups in a global conflict of injustice?
Everyone has a role to play. There is a massive role for international governments to step in and also entities like the United Nations to contribute toward things like security, infrastructure, and development. Our belief is that there is also a very significant role for private citizens to be involved - that's the space we are operating in. We are a tiny organization in the grand scheme of things, but that can work to our advantage. As a small and relatively flat organization, we act with speed and a high degree of nimbleness. That's rare, and it allows us to pivot as the situation changes, address immediate needs, and fill critical gaps quickly.
What is a specific gap in the conflict in central Africa?
One gap we noticed early on related to mobility of security forces, which is important when you're talking about a conflict is taking place in an area the size of California. There was just not enough air support to be able to fly in first responders into areas where atrocities were being committed by the LRA, where young men and women and children were being abducted and held captive. Bridgeway was able to provided two aircraft, a helicopter and a small fixed wing plane, to help support the movement of security forces. Since then, we've provided hostage release K-9 units, helped to build a local communications network, and supported defection efforts that encourage members of the LRA to peacefully surrender.
Everyday is different. Recently, we received news that a group of armed fighters had just surrendered after hearing a "come home" program on the radio, produced by the organization Invisible Children. We flew our fixed wing out to this remote location in the Central Africa Republic and picked up a man and his wife who had escaped after spending more than a decade fighting with the LRA. We were able to kickstart the process of reuniting them with their family and community in Uganda. Their choice to choose peace over conflict is encouraging others to do the same, and we're seeing a domino effect as the LRA is slowly being dismantled from within. I've been encouraged by events like these and by spending time with people returning home after years of fighting and being held in captivity. There are a lot of challenges, and much more needs to be done, but there's no doubt that progress is being made. The LRA is getting weaker and communities affected by unspeakable brutality are seeing signs of justice and reconciliation. That's motivation for all of us to keep at it.
REAL LIFE. REAL NEWS. REAL VOICES.
Help us tell more of the stories that matter from voices that too often remain unheard.