The Peninsula Humane Society and SPCA recently started testing the DNA of many of our small, brown-ish dogs who appear to be at least part Chihuahua. Why, you might ask? Not a bad question.
One answer would be that we're curious about the genetic lineage of these little guys and gals who've come to represent such a large portion of the population of homeless dogs throughout much of the country, the apparent spawn of crazes attributed to Paris Hilton and Taco Bell.
That, however, would be a lie.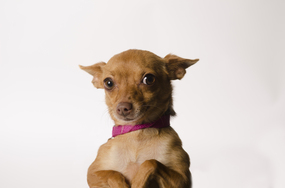 The real answer is that those of us who specialize in pure-bred mixed breed dogs (also known as mutts) want to capitalize on the same energy that has led to the so-called "designer dog" fad (also, also, known as mutts). We started to wonder if people are willing to fly cross country and spend $3,000 to buy some backyard breeder's mutt with a fancy name (you know, Labra-doodles, Puggles, Malt-poos, etc.), would they perhaps be willing to consider helping us save the life of one of our "Chihuahua with something" if we could determine that dog's real genetic background? It seems that the answer is yes.
With a simple cheek swab sent to a private lab, PHS/SPCA unlocked some of our mutts' mysteries -- and the results were surprising. One dog staff figured was a Chihuahua mixed with something, is part Australian Sheepdog, part Russell Terrier and part Collie, among other unknown breeds, according to the DNA. We're calling this pup a Kiwi Collier.
Others included a Cherrier (Chihuahua/Parson Russell Terrier), a Far Eastern Chinzer (Chinese Crested and Miniature Schnauzer), a Sperrier (rhymes with the bottled water Perrier... one parent was a Cocker Spaniel mix, the other a Parson Russell Terrier), a Terridoodle (parents were a terrier mix and poodle mix), a Sheepish Chabrador (DNA detected Shetland Sheepdog, Labrador Retriever and Chihuahua), a Pointy Brit (German Wirehaired Pointer and Brittany were two breeds detected), a Yorkle (Yorkshire Terrier and Beagle) and a Golden Chinscher (DNA detected Golden Retriever, Miniature Pinscher and Chihuahua among other unknown breeds), a Chiratoodle (DNA detected Chihuahua, Rat Terrier and Miniature Poodle), and a Chorkie (parents were a Chihuahua/Mini Pinscher cross and a Yorkshire Terrier mix, and it's her photo you see here above).

We have great dogs as unique as the so-called designer dogs. They were likely bred accidentally, but we aim to turn that into something positive for dogs found stray or surrendered to us by owners unable or unwilling to keep them.

The dogs' adoption fees are a fraction of what designer breed dogs cost, and shelter staff believe their new owners will love them every bit as much. The adoption fee for adult dogs is $120, which includes a spay/neuter surgery, all vaccinations, a microchip, behavior evaluation and veterinary check. The fee for puppies under six months is $135, while dogs at least seven years old can be adopted for $75. DNA profiles are included in the adoption fee, no extra charge.
PHS/SPCA spent about $50 per dog on the tests, and that's money well spent if it helps us find them homes. So far, that the genetic breakdown has helped pique interest in the mixed breed dogs and has led to quicker adoptions, so we're now expanding our Who's Your Daddy? program. Please consider visiting our Center for Compassion (1450 Rollins Road in Burlingame) and meet the fancy, shamncy mutt of your dreams.
REAL LIFE. REAL NEWS. REAL VOICES.
Help us tell more of the stories that matter from voices that too often remain unheard.