Kathleen Turner is best known for her husky voice, but her hilarious candor in a recent interview is what's gotten people's attention this week.
In an interview published on Tuesday on Vulture, the storied actress held absolutely nothing back when talking about everything from celebrities she doesn't like to handshakes that made her cringe to the rage she feels on a daily basis.
Essentially, this interview is pure gold. Here were some of our favorite parts:
On Nicolas Cage: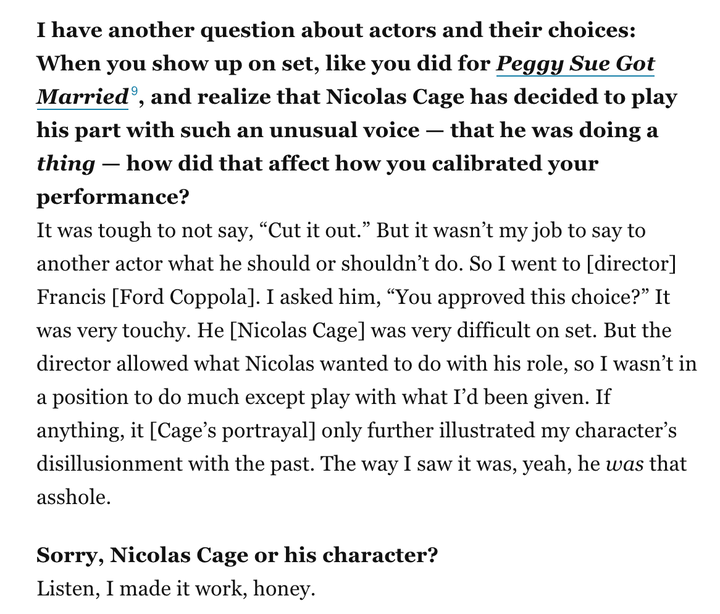 On Elizabeth Taylor:
Cat on a Hot Tin Roof — you ever listen to her voice? It's awful. She has a bad voice, badly used ... I don't think she was very skilled. 
On anger: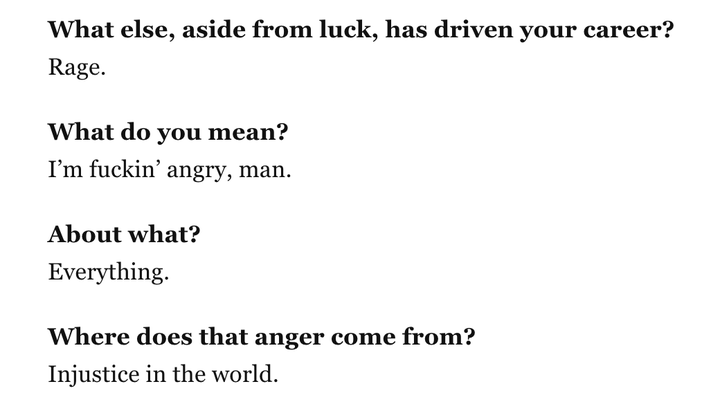 On interacting with Donald Trump:
He has this gross handshake ... He goes to shake your hand and with his index finger kind of rubs the inside of your wrist. He's trying to do some kind of seductive intimacy move. You pull your hand away and go "yuck."
On her approach to acting:
In "Crimes of Passion" I was playing a designer by day, $50 whore on Hollywood Boulevard by night. Do you think I was going to hang out with whores on Hollywood Boulevard and find out what the fuck that was like? I have an imagination, you know. My belief is that all the information I need is in the script. And if it's not, then it's not a good enough script.
As you can see, Turner is chock full of quotable lines to both live by and borderline choke on a beverage while reading. And many people on Twitter seem to agree:
REAL LIFE. REAL NEWS. REAL VOICES.
Help us tell more of the stories that matter from voices that too often remain unheard.
BEFORE YOU GO
PHOTO GALLERY
Best Movies of 2018 So Far