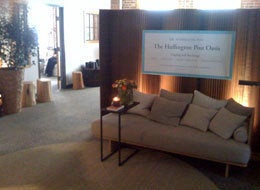 Denver, the convention, and the internets are positively buzzing about our wonderful little Oasis. Here's what some of them have to say.
One of the hot spots, or rather cool places, at the Denver Democratic Convention is the "Huffington Post Oasis," a suite of offices... transformed into a tranquil hive of blissed-out activities...

I had a fabulous massage there by Naveena Valley, who along with a bevy of body workers and instructors, was volunteering her time for the cause. I sent Mother Jones' David Corn for a visit; he got a hand message and some yoga instruction. We were followed by Timesman David Carr, who got body work...

Upon entering the Oasis visitors are treated to massages, facials and yoga instruction. Black clad, mellowed out volunteers serve all manner of tasty vegan food and super-healthy, greenish smoothies.
David Carr of the New York Times also took a great video of his experience at the Oasis. You can find it here.
The Huffington Post Web site offered delegates a "HuffPost Oasis" with Thai massages and mini-facials.

But would a massage and some time in the downward-dog pose be enough to heal the Obama-Clinton rift?
The hippest place for bloggers in Denver is called The Big Tent. For its $100 entrance fee, it's providing juice for laptops and PDAs (courtesy Google), free WiFi, free burritos and other snacks, yoga space and free mini-facials and hand massages (courtesy the Huffington Post).
We don't just work and blog here at the Democratic Convention. Sponsor Arianna Huffington has created a bloggers' oasis in The Big Tent.
When I arrived this morning, a volunteer massage therapist from Boulder swiftly treated me to a complimentary hand massage using Boulder-based Pangea Organics Cream . She had been massaging delegates and members of the press all morning.
The Big Tent is also located right next to a building that holds the Huffington Post Oasis--the spa-like place that makes the convention almost look like a vacation.

"I feel relaxed!" said a particularly refreshed Eric Alterman as he stepped away from a complimentary facial for a minute. "I'll tell you this -- everyone should add facials to their lives."
As we write this there are a number of very Zen figures walking around with super healthy, tasty appetizers (even the fake chicken tastes great). On the table in the blogger room there are piles of free (organic) chocolate and containers of free (organic) yogurt, and lots of healthy looking energy bars. Did we mention the free chocolate?
This reporter received a relaxing wrist and hand massage with Italian white sage and geranium, then reluctantly went back to work.
While at the convention, Ms. Huffington is inviting others to stop by the Huffington Post Oasis for organic trail mix, spinach-and-raspberry smoothies, yoga classes and massages. There is a vegan buffet at lunch and free samples (in recyclable packaging, naturally) from Boulder-based Pangea Cosmetics.