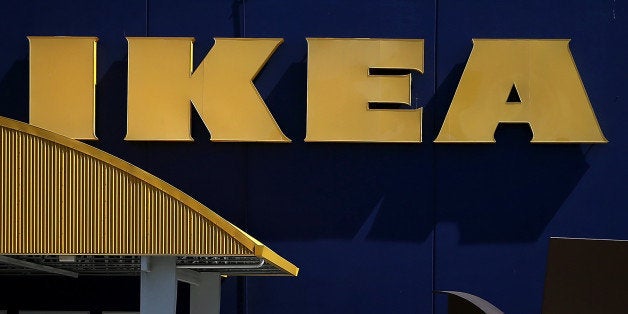 Shopping at IKEA is a rite of passage, a compromise or a carefully-considered decision. If you're within glaring distance of a skyline, you've shopped at the retailer of all things Swedish. Though many would assume that a home editor lives on a velvet tuffet, I've spent my time, money and sanity at IKEA. (Quite possibly the worst IKEA in the country, at that.) It was a special kind of hell -- one that happened when you situate a big-box store across from one of the busiest airports in the Northeast, off one of the busiest roads in the Northeast and near one of the busiest outlet malls in the Northeast. Therefore, this particular IKEA became part-tourist attraction, a place where, after staggering through the aisles to find a $50 bookcase, one can get cursed at in nearly every language -- the "It's A Small World" of rage.
The worst, of course, was to be had on weekends. Yet on weekdays, you'd encounter, without fail, the same types of people who enraged you on a spare Saturday. And on trips to other IKEA locations, I'd find the same people. The stereotypes, in this case, seem to hold true.
Multi-generational families who go there just to have something to do.

There will be The World's Oldest Person in the group, along with a baby who just learned how to run away from great-great-grandpa. You'll see the infant charge into a novelty pillow display, as the great-great-grandparent looks on, also wishing for an escape. When the child is contained, they will all walk five-abreast, at a zombie-like pace.
Two young ladies who just got their first place and are SO excited to be there.

Depending on how irate you are, this can occasionally be an uplifting sight. Here are two people on the cusp of adulthood, before their dreams get shattered by all the things your twenties tend to throw at you -- terrible jobs, terrible dating choices and the singular misery that is your back after a year of rolling out of a small platform bed. For now, they are so psyched about picking out TV stands with their BFF!
Couples on the 5th stop of their Saturday.

One half of the couple has a determined gleam in their eye; the other, a sad downtrodden look that resembles those puppies in the ASPCA commercials. There might be booze hidden in that fountain soda cup.
Clueless Joe, who is completely debilitated by alllll the choices.

Watch him stare in disbelief at an entire wall of shelves. He had heard about IKEA before, but never thought that there would be so many options.
The parents who "accidentally" leave their kids a bit too long at the communal ball pit.

They'll have their first date in years over lukewarm meatballs and watery elderflower juice, while pretending not to hear the increasingly irate public address messages asking them to pick up their kid.
Ghost employees.

You'll get a glimpse of one, and then they're gone...usually right when you need them. My theory is this: Maybe there used to be employees, but they all died during construction and their souls are unfortunately trapped in the warehouse.
Misplaced tourists.

We'll give them the benefit of the doubt: Maybe there isn't an IKEA in their hometown. However, there HAS to be something else they could be doing with their visit to whatever city is closest. Spending time in a warehouse with hundreds of people in various stages of anger (or obliviousness) can't rank highly when it comes to possible tourist destinations.
Related