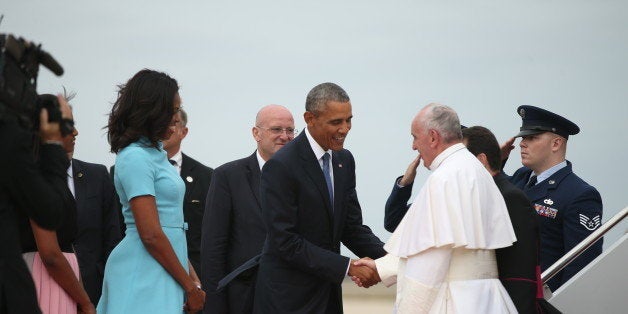 This week, His Holiness, Pope Francis, is making his inaugural trip to the United States and will deliver the first ever speech by a Pope to a Joint Session of Congress. It will be a historic visit, and I believe I speak for the majority of my colleagues when I say that we are truly honored that Pope Francis has accepted our invitation.
The pontiff's message of compassion and human dignity has brought together people of all faiths and backgrounds. His teachings, prayers, and very example inspire us to refocus on our sacred obligation to serve our neighbors. And there's reason to hope that his address will have the same effect on Congress.
Pontiff literally means "bridge builder," and while it's unlikely that the Pope's words will change the minds of America's elected representatives on any specific issue, when the Pope speaks, I hope he reminds us of our common purpose in Congress - to enact policies that serve the people, bolster our communities, and better our nation. I hope he inspires us to work together to recapture some of the values that made our nation great: the diversity, the generosity, and the compassion for those in need.
All too often we focus only on the politics of the issues we debate in Congress. Success is defined by scoring political points and winning the next election, as opposed to supporting middle class families and growing our economy. But Pope Francis has the unique ability to rise above the fray of politics and provide a moral legitimacy to important issues that are otherwise pushed aside.
The policies we debate and enact in Congress have a real impact on people across the country. Climate change, immigration, economic inequality - each of these issues have become hot button, partisan topics, but support or opposition on these pressing issues shouldn't come down to party. Climate change is not just about carbon dioxide levels and melting polar ice caps. It is about our public health and protecting our Earth for future generations. Immigration is not about visa numbers or building a fence. It is about reclaiming our roots as a nation of immigrants and a refuge for those who have been cast aside. Economic inequality is not about food stamps and homeless shelters. It is about being a devotee of social justice and equality. Pope Francis has reminded us that these issues are not political issues - they are moral issues. We must always strive to remember that fact.
I think leaders of conscience, particularly leaders of faith, who say what they believe in their heart, often make people uncomfortable. And we need that. We need more of that. All of us must do better, and I hope Pope Francis calls us to do that.
So, welcome to America, Pope Francis. I eagerly await your address.
Calling all HuffPost superfans!
Sign up for membership to become a founding member and help shape HuffPost's next chapter